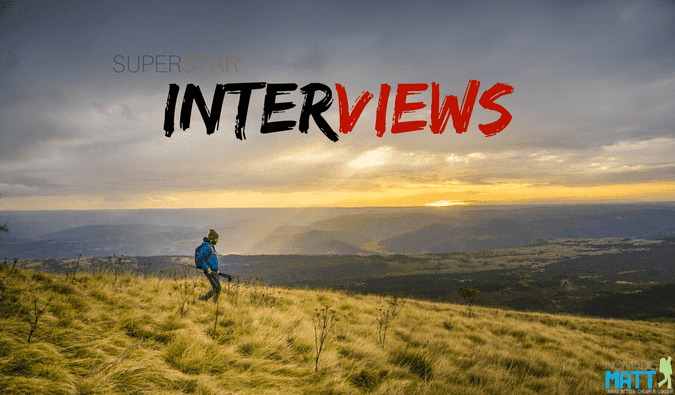 Each month we feature an interview with a member of the Superstar Blogging community. These interviews highlight the ups and downs faced on the road to success, illuminating helpful tips and tricks along the way. If you want to get inspired to succeed, then consider these interviews must-read material! This week we are featuring Terry and Maura from TravelKiwis!
Hi there! Tell us about yourselves!
Hi everyone! We are Terry and Maura from Wellington, New Zealand. We've been married 34 years and have three adult sons. Terry has a background in Business Management, mainly in corporate companies with an emphasis on sales, and Maura is an accountant who has worked in Chartered Accountancy, Commercial, and Not-for-Profit sectors. Most recently, we ran a business that focused on providing transport and support to the senior people in Wellington.
In our spare time, we enjoy keeping fit by jogging, walking, and cycling. We both love sports particularly Rugby, Cricket, Golf and Tennis. We also love animals, and housesitting enables us to be surrogate pet carers while we don't have our own pets.
And how did you get started traveling?
Soon after getting married in 1984 we travelled to Europe and spent three years based in the UK. Terry was a cricket player, and so he was engaged by clubs to play in London and Yorkshire during the summer. We would travel different parts of Europe for a month or two at the start and end of each cricket season.
During this time, we visited the UK, Ireland, many western European countries, as well as eastern European countries like Russia, Czechoslovakia, Hungary, and East Germany.
In those days the Eastern Bloc was a little scary, and we even drove through Checkpoint Charlie from East Berlin to West Berlin. It was quite confronting for young New Zealanders having machine guns pointed in our direction when our police force doesn't even carry guns openly.
Travel was an exciting time for us as New Zealand is so far from any other country — even Australia is a 4-hour flight away. We were seeing sights and tasting the food we had only ever read about or seen on television. New Zealand is a very young country (our oldest building dates to 1822), so to see buildings and structures in good condition dating back 2,000 years is mind-boggling.
Having been away for three years from New Zealand, we decided to return for the southern summer and found we were pregnant, putting an end to our travels in the short term. Over time, we extended our family to three sons and pursued careers. We always knew we would return to Europe, but we didn't think it would be 30 years later!
Did you travel at all in the interim?
We had taken various holidays to Fiji and Australia, but these were limited to two-week vacations. As we approached our 50's, and our sons were all in their 20's, our desire for extended travel was reawakened.
But we were stuck. Our material possessions, daily spending, and security were holding us back from achieving our travel dream. We had the mortgage to pay as well as your standard day-to-day expenses: home renovations, occasional shopping, dinner out, etc. All these choices required a healthy income.
However, we didn't want to wait until we retired at age 65 — we wanted to travel while we still felt young, confident, and adventurous. What could we do?
Then a perfect storm of events happened that led us to a life-changing decision.
First, the international corporation that Terry worked for restructured, and his region was absorbed into another region with the office now to be in Auckland. We had no desire to move to Auckland, and so Terry opted to be made redundant and started working as a sales contractor.
Second, Maura had been running our business for five years from a start-up and felt it was a good time to sell before she burnt out.
Third, our sons were all in their 20's and became independent adults. We had often talked to them about our traveling days of our youth, and our desire to revisit those days (at a slower pace).
The fourth item came about due to talking with people about our plans. It was incredible how many people had thought to do what we were planning, but for many reasons had never done so.
The final event that made us decide to sell everything and travel was the tragic death of Maura's older brother. Peter was working on a farm when he was killed in a scrub fire incident. His death at only 52 years of age shocked us both and was particularly devastating for Maura. It sent us the message that life can be unpredictable, and you should make the most of every day.
We decided to sell not only the business but the house and a lot of our possessions too. Decluttering each room in the house (and also the garage) was liberating. We only kept a small portion of what we once owned.
We then embarked on a 4-month trip through Asia including Singapore, Malaysia, Thailand, Laos, Cambodia, Vietnam and China.  From there we have spent more than two years housesitting and road tripping in Europe.
Selling all your things to travel is a huge change. What tips do you have for someone thinking of doing the same?
It was a huge step for us to sell our lovely home and most of our possessions. We loved our 5-bedroom house that had been our family home for 10 years. We would miss the spa pool that gave us many evenings of relaxation winding down with a wine and a chat after a busy day at work. But we were looking ahead to exciting times, and that is what we focussed on when we would put up a loved item for sale.
And this is the most important part to help you get through the emotion – to have your 'why' clear in your mind. Why are you doing what you are doing? When this is crystal clear then you have all the motivation you need to make some of the tough decisions that follow.
Once you have your departure date set you can then decide what items you want to keep and what are less important. For us, we had 15 months to sort our lives out before heading away.  We started decluttering by getting rid of items we hadn't touched for a year. We then identified all the precious items we knew we wanted to keep. These were boxed up and given to a family member to look after.
As our departure date got nearer we started selling, donating to charity, or giving away those items we could live without. If we hadn't used an item in the last 3 months, we took it to recycling or a charity shop. We also had a garage sale to add some money to our travel fund.
As we sold our home 6 months before our departure date, we had the opportunity to do a big clear out. We moved from our 5-bedroom home to a 2-bedroom apartment, and we were forced to cut right back on our stuff.
With 3 months to go, we started selling furniture we didn't really need and our living room became quite spartan. During the last month before leaving New Zealand we started selling off the major appliances, beds, TV and everything else we still had left. We negotiated with buyers the pick-up date to suit us so that we could use these items right up until the last minute.
We moved out of the apartment 2 nights before we left New Zealand and stayed with a family member, with only our excitement and 10kg of carry-on luggage.
What have been some of your favorite destinations so far? 
We have recently spent a month based in Croatia and loved the country. This was our second visit after completing a 2-week road trip through Croatia the previous year. We love the beautiful long coastline and its crystal-clear blue water that is warm from May right through to October.
The National Parks of Krka, Plitvice, and Paklenika all provide something different if you are into waterfalls, hiking trails, or spectacular views then you will be delighted.
There is so much history to see in the towns of Zadar, Split and Dubrovnik, and the charming towns of the Istria Peninsula are worth spending a week exploring.  A morning with a coffee and some burek enjoying a view of the Adriatic is just about perfect.
During our time in Asia we had a wonderful time in Laos. We really didn't know what to expect and were totally surprised by what we found. The people were friendly, the sights stunning, and the food delicious (especially the barbequed meats).
Some of the accommodation was a little rustic, but that made it even more charming. We were especially taken with Luang Prabang with its many striking temples, the visually stunning Kuang Si Falls, and the challenging Bamboo Bridge, washed away by floods each year and then is rebuilt.
What places/activities are still on your bucket list?
We have drawn up a road trip for 2019 that will include Estonia, Latvia, Lithuania, Belarus, Ukraine, Moldova, Romania, and Bulgaria. We have yet to visit any of these countries but are drawn to them as we have met people from most, and they have been so friendly and enthusiastic about their homeland that we had to find out more.
One activity we would love to do is to fly around Lake Constance in a Zeppelin. We stayed in Friedrichshafen and saw these elegant airships flying around the lake. We discovered that this is where Ferdinand von Zeppelin created the first Zeppelin at the beginning of the 20th century.
We would also love to have done a parachute jump. 'Have done' are the keywords as the thought is quite terrifying. If you read our post entitled 'How Travel Helped Me Overcome my Fear of Heights' you may get an idea of the challenge a parachute jump will present.
Where are you planning to travel to next?
We have a short trip to Portugal with a friend who is visiting from New Zealand. We then head to South and West France where we will be house sitting in a variety of towns (Fumel, Revel and Montpellier) until late January 2019.
The early part of 2019 will be Spain so we can get an early start on summer. We will also be catching up with fellow travellers in Spain during March 2019. We met these lovely travellers on a trip to China in 2016, and, we seem to meet up in different parts of the world once a year.
That is one of the cool things about travel, meeting like-minded people you share adventures with and it creates an ongoing bond.
Have you had any misadventures on your travels? What lesson did they teach you?
Forgetting to get visas for India!
We had been travelling for over a year; we got a little casual. We had no problem getting visas at the airport as we entered Sri Lanka and Laos, and we just assumed India would be the same – how wrong we were.
Two days before we were due to fly from Colombo to Cochin we decided to check visa requirements and got a shock. We needed to have organised our Visas for India BEFORE arriving in the country.
The next shock was to find we had to pay for express processing – this tripled the cost, to say nothing about the stress levels because of our late application.
A clear lesson learned is to make sure we check these things out in advance. It is such a rookie error, but it just goes to show that keeping an eye on the basic will prevent this sort of situation. It is also a good idea to have passport-sized photos saved online, as the photos we had taken in the harsh Sri Lankan midday sun were the worst you are likely to see.
What's the most important lesson travel has taught you?
To enjoy the journey by taking things slowly.
When we first travelled in Europe, we bought a 60-day railcard. Eurail allowed us to travel on all the trains and even some ferries in most western European countries. So, we saved money by taking overnight trains on 30 of the 60 nights!
We ended up seeing a lot of Europe, but because we travelled so fast we didn't see any of these cities in depth. We would stay day, sometimes one or two nights, and then move on.
These days we prefer to stay a minimum of three nights (often longer) as we can get a feel for a place before we move on. It is also much more relaxing, when not spending so much time unpacking then repacking.
We may not see as many places, but the quality of our travel experience is much greater.
Our travel motto is now this: Travel Often – Stay Longer – Experience More.
Tell us about your blog!
We have two blogs www.TravelKiwis.com and www.GoHouseSitting.com
TravelKiwis is our travel site where we post blogs about places where we have been, what to do, where to eat. We are learning; a blog also needs to help others negotiate their travel experience. And because of our housesitting assignments, we have visited many places off the beaten track. It is these places we want to share with others on our Blog, Instagram, Facebook and Pinterest. And Terry's photography has helped us to secure some online work, as well as to have some of our travel photos requested by Tourism offices in Europe.
GoHouseSitting is our site dedicated to all things about Housesitting. We have been housesitting in Europe for more than two years and are often asked what is house sitting? Basically, we stay in other people's homes for free when they are away. In exchange we look after their pets, their plants and provide security.  We have had more than 25 housesits in seven different countries and love the experience.
Housesitting has helped us to stay travelling for much longer than we thought we would when we first set out.
What tips do you have for new housesitters?
Becoming a housesitter is an exciting and daunting thought but there are some things that can help someone get started housesitting.
When we first started applying for housesits we didn't have a lot of luck, in fact we did not even get to the interview phase, it was a little depressing.  We did some research and some thinking, we changed our approach and started to get interviews and even booked our first housesit – hooray!!
Here are some tips that will help someone to get started with fewer disappointments than we suffered:
Write a compelling housesitter profile. Focus on telling the homeowner why you would be a great housesitter for them, rather than saying why you want to be a housesitter.
Do some housesitting for friends, then get them to provide references for you. This is important as it provides a third-party endorsement of your trustworthiness.
Provide some non-housesitting related references. These may be from an employer, a person of high standing in the community, a landlord you rented from – anyone who will add credibility to your profile.
Target house sits in less popular locations. We have found that housesits advertised for Paris, London, New York etc tend to get huge numbers of applicants, while housesits in small out of the way villages get very few or even no applicants. So if you target the less popular places you are more likely to be successful. As your record of a housesitter grows, you will have more success applying for those dream destinations.
Why did you decide to start a blog?
We wanted to have a travel diary for our friends and family to read when we first set off on our Asian Adventure in 2016. Kiwi is the nick name for New Zealanders – named after the national bird of our country (not the fruit!), hence the name TravelKiwis.
After a year we found out many of these people had travel envy and were not reading our blog. We changed tack and started writing for fellow travellers, hoping to provide inspiration and information.
We started GoHouseSitting as so many people were asking us about housesitting and wanted to know more. So, we built a new website to provide as much information as possible to help people get started in this awesome travel lifestyle.
What has been your biggest struggle so far?
We have three sons who were in their 20's when we left New Zealand. While we keep in touch regularly on Messenger and Skype, it is not the same as being there in person. Our middle son and wife live in the UK temporarily, so we love catching up with them both a few times a year. They also have the travel bug and have visited many European cities in the year they have been in the northern hemisphere.
Our eldest son is making his second trip to Europe next year. He joined us for Christmas in Zurich last year and experiencing the Christmas markets in France, Switzerland and Germany was a real highlight.
Our youngest son is still to be convinced to see more of Europe and his parents of course. He has told us he will come over during 2019 as long as his involvement in the New Zealand film industry allows him the time.
We hope we are an inspiration to our boys, and that they learn the world is wonderful and needs to be explored.  Travel also provides a great understanding of how wonderful our homeland is – it is one of the best countries in the world.
What is one thing you wish you knew before you started?
Every country has a bargain shop and supermarket. So, pack less and enjoy less stress lugging your stuff around. Most people bring way too much luggage when they travel, so the old saying, "pack what you think you will need and then remove half" is close to the truth (we think remove two thirds!).
Time for the Lightning round!
Favorite meal abroad?
Malaysia has had the best food of any country we have visited. We particularly enjoyed the Nasi Lemak we had in Ipoh. Nasi Lemak is the national dish of Malaysia and we love the fragrant rice dish cooked in coconut milk, with all the little added bits like hot chile sauce, fried anchovies, fried peanut, sliced cucumber or tomato and an egg on top.
Favorite hotel/hostel/accommodation abroad?
La Niche D'Angkor Boutique Hotel in Siem Reap was like heaven on earth. This may have been because we had just had 15 nights in northern Thailand and Laos staying in some very average places, so by comparison this hotel was luxurious.
Aisle or window?
Window – Terry likes to take photos of the views, so airlines please clean your windows!
Lastly, where can we find you online/on social media?
You can find us online at www.travelkiwis.com, as well as on Instagram, Facebook, Pinterest, and Twitter. And you can also check us out at www.gohousesitting.com