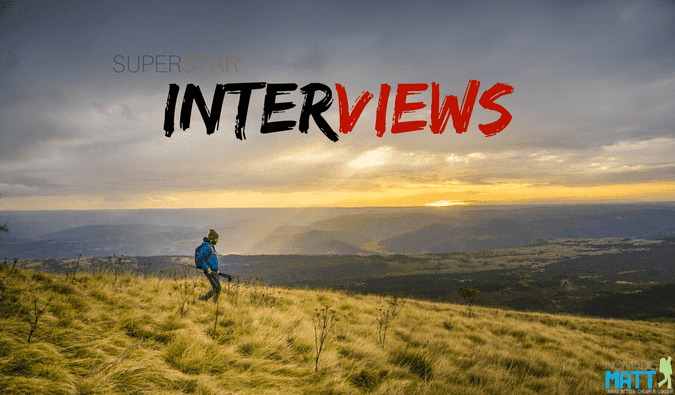 Each month we feature an interview with a member of the Superstar Blogging community. These interviews highlight the ups and downs faced on the road to success, illuminating helpful tips and tricks along the way. If you want to get inspired to succeed, then consider these interviews must-read material! This week we are featuring Maya from Travel with the Smile.
Tell us about yourself!
Hey, I'm Maya, an adventure travel blogger at Travel with the Smile. Originally from Slovakia, I now live near the Canadian Rockies with my partner Michal. As a kid, my dad always made sure I have enough hobbies to keep me busy after school and I spent a lot of time outside which continues to this day. Outdoors is my favourite place, and expanding my physical and mental limits as well. I've adopted his mantra to my adult life as well: "What doesn't kill you makes you stronger."
It must be true because, with this mantra in mind, I also persuaded my partner, who is afraid of heights, to try mountaineering near Huaraz in the Peruvian Andes. Due to the incredibly high altitude of more than 5,000 meters, it was challenging to say the least. But neither of us is regretting it. It's one of the most incredible things I've done in my life. The mantra has been incredibly helpful in the most challenging situations.
I love our adopted home in the Canadian Rockies, it's a giant adventure playground. You can usually find me jumping in ice-cold lakes, running in the mountains, mountain biking, stand up paddleboarding or road tripping. Despite the long winters, I like to embrace the weather and learnt cross country skiing, tried ice climbing, visited ice caves, attended a running race in -18C, and play ice hockey every winter.
How did you get started traveling?
Growing up in Slovakia, we were travelling around Europe ever since I remember. I was also a dancer in a folk group and toured festivals in Canada, US, Taiwan, and many European countries. Being in new environments is very natural for me and I like to immerse in a new culture. That's why after finishing my Master's in Economics in Slovakia, my partner and I applied for Working Holiday visas and moved to Banff National Park, the oldest National Park in Canada. Canada is a very multicultural country and sometimes I don't hear English language all day.
I remember one day at work when I had an incredibly lazy day, I was browsing the internet and stumbled upon a travel blog. I was so hooked on all the blog posts that explained how easy it is to travel the world without being rich. So we started to save on a big trip. And in 2016, we left Canada for a 2-year trip around the world.
What have been some of your favorite destinations so far? Why?
There's so many, I don't have just one favourite place. Every country or specific region has something special.
I love the diversity of Venezuela – jungle adventures, table mountains, Caribbean beaches and wildlife.
Backpacking Peru was a blast – Andes and beaches on the west side, jungle, Machu Picchu and other historic structures on the east. The rich and colourful culture is so interesting that I got a little obsessed with their handicrafts.
When we were backpacking Chile, we soon found out it's an outdoor paradise, literally. Either on the sea or in the mountains, it hides incredible natural wonders. I've never seen so many glaciers and untouched beauty, especially along the scenic road Carretera Austral.
Italy and their dramatic-looking Dolomites stole my heart. Everything is easily accessible; you can just choose a mountain peak and go via ferrata (climbing route) or hiking by yourself and stay overnight in a mountain hut which always serves tasty home-cooked meals.
Nicaragua has a lot of active and dormant volcanoes that you can climb. And what I've learned is that even the Caribbean can be done on a budget – Little Corn Island is a Nicaragua's best-kept secret.
What places/activities are still on your bucket list?
I would love to see Gran Sabana, a savanna region in Venezuela where jaguars and other wildlife roam free. I'm also looking at some mountaineering routes I would like to try in the Canadian Rockies. With the lower altitude, it should be easier than in Peru where I had a terrible headache and got bronchitis at the end. Chilean Patagonia has plenty of hiking and running trails and glaciers I'm planning to visit. They also recently opened Route of Parks, an epic 2,800 km long road connecting 17 national parks.
In Venezuela, I almost conquered my fear of spiders when a local kid handed me a tarantula. I got as close as holding it on the other side of a stick but I would like to visit the jungle again and see if I can go a little further. Maybe let the tarantula climb all over me. It's a game that local kids play and they make it look so normal. I'm getting chills just writing about it so maybe it's too soon, haha.
Where are you traveling next?
Early next year, we're travelling to Chilean Patagonia. We have the goal of road tripping as much of the Route of Parks as possible. Most of the route is very remote and I haven't found a lot of information about it online. I know it's going to be an unforgettable adventure because that's what Patagonia always delivers.
Have you had any misadventures on your travels? What lesson did they teach you?
A few misadventures which very also quite terrifying. For some reason, none of those easily fixable like having lost a passport, for example.
One that always comes to my mind is being stranded on a Venezuelan airport just a day before they closed the border with no valid money. Venezuela has been in a serious economic crisis for some years now. After talking to an expert on Venezuela travel, we were encouraged to visit despite many problems tourists may face, like checkpoints on the roads, short food supply or ridiculous hyperinflation.
At the end of our 3 incredible weeks in Venezuela, we were in a jungle for three days. We returned to the civilization before flying to our next destination with the news that the 100-bolivar bills were deemed invalid, and that's all we got. We were unable to buy food or pay for the hotel. Due to the extreme difference between the official exchange rate and the one on the black market, we couldn't just easily withdraw money from ATM. Luckily, we managed to exchange our bills on the black market and buy food to survive until the next day when we were flying out of Venezuela.
Due to a lack of research from our side, we were denied to board our plane because we didn't have proof of onward travel from Colombia, our next destination. It happened once before in Panama, before flying to Venezuela, but we just found wifi and bought some flight tickets out of the country. This time, there was no wifi and absolutely no help from the airline. I've tried to do the only thing that I could – I used my sister's flight tickets from Colombia back to Europe I saved on my phone, as proof of onward travel. But because I had to cut out her and her boyfriend's names, the check-in lady didn't believe they were ours. We couldn't fly another day because this was before Christmas and flights were ridiculously high. We also couldn't leave the country by bus because they were closing the border the next day.
Thanks to the huge help of a local lady who helped us translating, we found another employee of the airline and showed her the flight tickets I created from my sister's. She let us board the plane the very last minute before departure.
This story and many others taught us that the genuine kindness of locals is endless and if you try hard enough, it will all work out at the end.
What has been the most surprising destination so far?
The biggest surprise for me was Venezuela. It is a stunningly beautiful country with table mountains (the oldest in the world), the tallest waterfall in the world, which is an amazing jungle experience and not an overrun tourist attraction. They have white-sand Caribbean beaches and natives living in the jungle. People are very educated, many knew where our home country Slovakia was and most people talked to us in fluent English. It was the only country in South America where this happened. Even though we've visited during the economic crisis and locals were daily facing hard situations which most of us can't even imagine, they were very welcoming, curious, and friendly.
What's the most important lesson travel has taught you?
An open mind will open doors to people's hearts. No matter the language or culture, a genuine curiosity about people's lives will lead to experiences you can't buy through a tourist agency. And when you get to that tiny local village with seemingly suspicious locals towards tourists, a smile goes a long way.
Tell us about your blog!
I didn't know what blog was until I stumbled upon a travel blog 6 years ago. With so many interesting stories these travellers had, I realized we have plenty of stories as well. It looked like a great way to show our families and friends at home what we've been up to. So I researched how to start a blog and started writing about my biggest passion – outdoor adventures from around the world. That was 4 years ago and I still love blogging.
Has blogging been easier or harder than you expected?
Setting up a blog was easier than I thought but the overall journey over the years has been hard. For a long time, I couldn't see the results of my hard work. Now I know why: SEO.
Once I learnt more about it, I changed my workflow and more readers discovered my blog. It's a ton of work and now with the boom of travel bloggers, it's not getting any easier.
What's been your biggest success so far?
Every email or message I get from readers saying how my posts helped them plan their trip is a success. That what keeps me going. I've also had several paid campaigns with brands promoting or reviewing their products.
The biggest success was creating another business — Smile Campervans — thanks to the blog. Because we cover the Canadian Rockies so much on the blog, we also started renting out small campervans and now have our first very successful season behind us. Our guests very much appreciated the fact that we are a one-stop-shop for their trip to the Rockies – transport, accommodation, and travel tips.
What 3 tips do you have for new bloggers who are just starting out?
Write about what you love and put your whole heart into it. In case of travel blogging, if you're doing it to get free trips or Instagram fame, you will soon find out short goals are not as fulfilling as long ones.
Find a mentor or several. I love reading books and following all these people on social media for business advice – Simon Sinek, Jesse Itzler, Andy Frisella.
Don't compare your journey to others. Often times we don't know the full story of what it took to where they are today. Track your own improvement.
Where can we find you online/on social media?
You can check out my blog at Travel with the Smile. On social media, I'm most active on Instagram and Facebook.