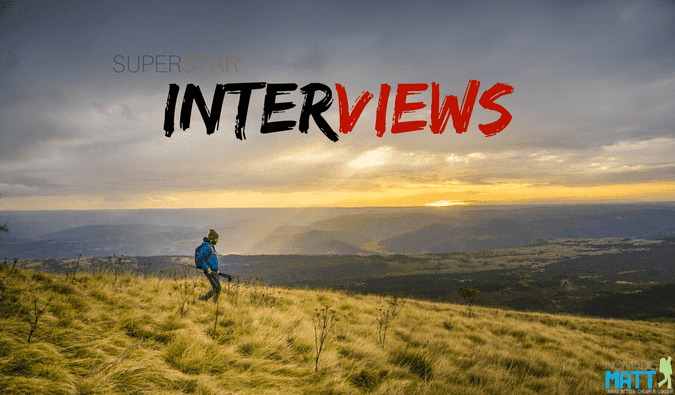 Each month we feature an interview with a member of the Superstar Blogging community. These interviews highlight the ups and downs faced on the road to success, illuminating helpful tips and tricks along the way. If you want to get inspired to succeed, then consider these interviews must-read material! This week we are featuring Stephanie from The Scenic Suitcase!
Hi Stephanie! Tell us about yourself!
I was born in Bozeman, Montana but moved around quite a bit growing up for my dad's job. His work took us to California, Pennsylvania, Tennessee, and Colorado (three times). After finally settling in Colorado, I graduated college from CU Boulder with a degree in advertising and marketing with a minor in business. I then fell into a career in finance (which is just about as boring as it sounds).
Consequently, I let off steam with more engaging pursuits that include photography, writing, travel, and outdoor adventures.
How did you get started traveling?
I saw quite a bit of the US when I was younger, with a few trips to Canada, Mexico, and Puerto Rico sprinkled in. But it wasn't until I took a trip to Italy and Switzerland when my dad was living in Geneva, that I started to fall in love with seeing the world. The history, languages, different foods, and contrasting cultures were absolutely fascinating!  And that was it — I was hooked!
What have been some of your favorite destinations so far?
I recently returned from a photography tour in South Africa with Kiersten (aka The Blonde Abroad) and was blown away by the country. Its varying landscapes, welcoming locals, and plethora of activities (like wildlife encounters, wine tasting, hiking, and history) made it unlike anything I'd ever experienced before. It quickly became my favorite adventure to date.
A few other destinations that are high on my list include Australia for its laid-back atmosphere, Bali for its lush landscapes, France for its art, Cuba for its culture, and Germany for its architecture (and the best Italian food in the world! I basically ate my way through the entire country!)
And what places or activities are still on your bucket list?
I have an extensive bucket list, and make a point to check off at least a few things each year. The #1 right now is photographing Antartica (and then experiencing the polar plunge and camping on ice while I'm there). I've heard it's the most stunning scenery in the world, so I'm dying to see it for myself!
That will also allow me to check off seeing all 7 continents (which has been a goal of mine for years). I'm working on putting that trip together for late 2019.
Have you had any misadventures on your travels? What lesson did they teach you?
I've had so many travel mishaps that I had to break them up into two separate blog posts on what NOT to do when traveling. I can be a bit of a walking disaster, so I've learned all kinds of "life lessons" along the way.
A few of these pearls include never eating fruit without a peel in countries where the water isn't safe to drink (thanks to a weak stomach in Cuba); keeping valuables securely in front of me in crowds (thanks to a pick-pocketer in Rome);  always having at least some local currency on me at all times (thanks to no vendors accepting my non-chipped credit card in Belgium);  leaving landscapes as I found them and not taking natural keepsakes home (thanks to being attacked by a venomous cone snail in Hawaii); paying close attention to what trains I board (thanks to getting on the wrong ones in Amsterdam and Cinque Terre); and never taking a pedicab in New York unless I'm only going a block (thanks to a $156 bill for a 12-minute ride through Central Park).
Just to name a few!
Now, why did you get started blogging?
I started my blog just a little over a year ago as a way to help people with their own adventures, as well as work on my photography. I found I had a lot of people asking me the same questions when planning their own vacations, so it made sense to write down my tips in one place so I could help everyone at once. Everything from where I go to book cheap airfare to what experiences they shouldn't miss, I love helping others get the most out of their trips!
What has been the biggest struggle so far? How did you overcome it?
There was definitely a learning curve, and times when I wanted to dropkick my computer and quit. I sometimes struggle with technology (I'm basically a 90 year old trapped in a 30-something body), so figuring out how to put my site together was a huge hurdle.  It required HOURS of YouTube tutorials, help guides, and chat rooms.
But I've loved the opportunity to learn! I now look back on things that were hard for me in the beginning and feel a great sense of accomplishment that I can now do them in my sleep (and basically do, since I fall asleep almost every night working on my laptop…sometimes even typing in my sleep!)
What is #1 thing you're really proud about, regarding your blog?
I'd say how far I've come since I started only a year ago. From an extremely basic site with no branding and embarrassing graphics to one that's cohesive and user friendly. It's been fun to develop my branding, design, writing, and photography into something I can be proud of.
It's also taught me a lot about things like SEO, which I focused all my Type A OCD energy into.  After months of work, I now appears on page one of Google for several search terms (even gaining the #1 spot out of over 4 million for one topic in particular!)
And then being featured in places like Lonely Planet, Nerd Wallet, National Geographic, etc is always a thrill.  I hope that kind of excitement never wears off!
What are your blogging goals for 2018?
My #1 goal right now is to increase traffic. Something new and different for a blogger, I know. In addition to the obvious goal of helping more people, I also want to develop my own product (I'm still working out what would be most beneficial for my audience). And finally, to really hone in on my photography.  I'm still far from where I want to be with it, so it's a work in progress.
What are your top 3 travel blogs that you like to read?
I follow a lot of blogs for different reasons, so it's hard to choose just three.  But here it goes…
Nomadic Matt (obviously).  It has fantastic tips on traveling for less (and has led me to some of my favorite booking sites like Momondo), as well as destination information so I know where to go when I travel. Plus, I love his focus on helping those less fortunate see the world with his foundation, and the community he's created through meet-ups, courses, etc.
The Blonde Abroad.  Kiersten's blog is a reflection of her personality – fun, adventurous, supportive, and honest. I followed Kiki's stunning photography and helpful female travel tips for years before I had the opportunity to learn from her at her blogging retreat in Bali. Now having seen how business-savvy and driven she is, and learning more about photography from her in South Africa last month, I have immense respect for her as a business woman.
Travel In Her Shoes. I just love Aggie's style and the photos from her amazing adventures.  She brings her readers along on her journeys with humor, striking imagery, and a focus on visiting off the beaten path locales. Experiencing different cultures through her blog and Instagram posts is always fascinating. Plus, I love her motto: "The secret to living is giving." Exactly.
What is one thing you wish you knew before you started blogging?
I really wish I knew how rewarding the blog would be, and what an incredible community it would connect me to.
If I hadn't started my blog, I wouldn't be friends with some fantastic bloggers who inspire me everyday (and who now meet me halfway across the world for more amazing adventures!) I wouldn't have met personal heroes like Kiersten Rich, Rick Steves, Anna Lysakowska, and our very own Matt Kepnes. I wouldn't have a creative outlet that compels me to jump out of bed at 5am (somehow finance just doesn't carry the same level of excitement…) And most importantly, I wouldn't be able to help as many people who want to travel but don't know where to start. I'm so grateful for all of it!
Had I known where the blog would lead, I would have started years ago!
What skill, in your opinion, is the most helpful or beneficial when it comes to blogging? 
Persistence.  It's not so much a skill as it is a mindset, but I think being able to stick with it even when things get hard is essential to becoming successful.  Because things will get hard.  Your site will crash, you'll have writer's block, you'll become overwhelmed, and life will get in the way.  And when that happens, it's easy to push blogging off to the side.  Don't!  Look at it as you would any other job and put in the time.  Other skills like writing, time management, photography, and technical expertise can be developed over time.
Time for the Lightning Round!
– What has been your favorite accommodation that you've stayed at? 
The Gondwana Game Reserve in South Africa.  Unbelievable accommodations and an incredibly knowledgeable and friendly staff.  Plus, it has all the animals!
– What has been the best meal you've had abroad?
The Nutella crepe at Creperie des Arts in Paris is the stuff dreams are made of.  Come to think of it, I'm pretty sure I heard about that place from Matt… And the gnocchi at Profumo di Pasta in Rothenburg ob der Tauber, Germany is perfection!
– What is your favorite way to travel? Planes, trains, automobiles…? 
I know people hate to fly, but I absolutely love it!  The exhilaration of speeding down the runway to new, exciting adventures is almost like a drug.  (And it probably helps that I'm small enough to curl into a ball and sleep if I want to!)
Final question: what's the most important lesson travel has taught you?
Travel has taught me a lot over the years. To be more patient, how to handle adversity, to be open to new experiences, to not be fearful just because someone or something is different…but I think the lesson that sticks with me most is to appreciate things I once took for granted, and to focus on what really matters.  Seeing others around the world who have far less but are far happier really makes you take a step back and reassess your priorities.
Now, where can we find you online and on social media?
You can check out my blog at www.TheScenicSuitcase.com, and I'm also on Instagram, Facebook, and Pinterest.