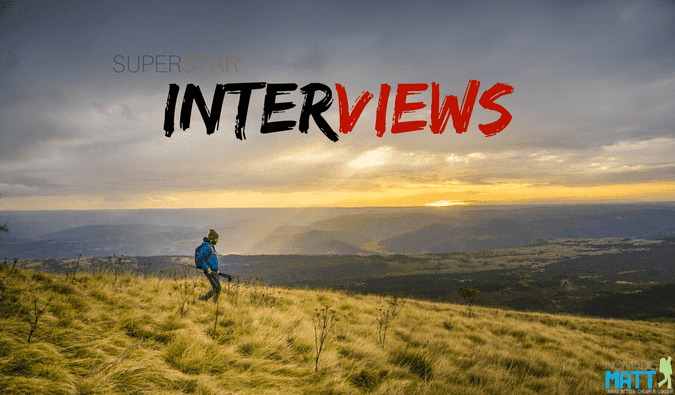 Each month we feature an interview with a member of the Superstar Blogging community. These interviews highlight the ups and downs faced on the road to success, illuminating helpful tips and tricks along the way. If you want to get inspired to succeed, then consider these interviews must-read material! This week we are featuring Ilana from Life Well Cruised!
Hi Ilana! Tell us about yourself!
My name is Ilana and I'm from Montreal. I'm a wife and mom to two growing (young adult) boys. I work full time as an Early Childhood Educator and part-time as a Cruise and Travel consultant. I love all things creative including painting and writing, although much of my "free" time these days is focused on learning about the various aspects of blogging.
And how did you get started traveling?
As a child, my parents always spoke of travel and really valued it. However, our travels as a family consisted mostly of long road trips to my grandparent's condo in Florida and long weekend trips in the summer to Lake George or New Hampshire.
For my high school graduation, I had the opportunity to do a 3-week backpacking trip around Europe. It was amazing, and truly ignited my love for travel. Going to different destinations, eating the local food, speaking to people in another language — I loved it all (although truly I could skip the backpacking)!
After that, I traveled on occasion, but when I got married and had a young family (and funds were tight), we started a tradition with our own kids of annual road trips to Florida. So many good memories were made, so I never discount road trips!
15 years ago, my husband and I went on a cruise for the first time for our 10th anniversary. We thought it was something we'd do once, but we were hooked. We brought our kids on a cruise a year later and the rest is history. We've gone on over 20 cruises since that very first one and I can honestly say it's played a big part of our lives.
What have been some of your favorite destinations so far?
I have a few favorite destinations, however, 2 stand out.
One of my absolute favorite places to be is Bermuda. It's just gorgeous, with its blush pink sand beaches. It's as pretty in person as it is in photos. A clean and safe destination to travel, we've been 6 times and it's just somewhere that we feel at home. The people are also friendly and so polite, with the quirkiest sense of humor — you've got to check out a historical re-enactment to know what I mean.
I also have a few favorite cities in Europe, however, Barcelona really left an impression. I adore the eclectic architecture and vibrant feel of this city. I'm someone who could live off appetizers and wine, so having little tapas bars was so much fun for me! As beautiful as it was during the day, the city and people really came alive at night.
What places or activities are still on your bucket list?
There are a couple of travel experiences are high on my wishlist. I really want to go on an Alaskan cruise and go whale watching. I hope it's something we can plan for next year.
My husband and I have also always wanted to go to Venice, so this too is something I hope to plan as well. Ideally, I'll have a chance to visit Kotor, Montenegro and the Greek Isles as well.
Finally, if I was really reaching for a true bucket list item, it would 100% be a world cruise!
Where are you heading in 2019?
So far, I have an 11 day Bermuda and New England cruise planned on the Celebrity Summit for early summer. We'll visit Bermuda for 3 days, then onto Boston and Maine. As you may have guessed, my favorite mode of travel is by cruise ship — I do have a cruise travel blog after all!
Later on in the year, I'd like to visit some areas close to home including spending some time in Quebec City.
Have you had any misadventures on your travels? What lesson did they teach you?
Absolutely! My husband and I booked our very first cruise in September 2004. We knew this was hurricane season, but since we were assured by our travel agent that the ship would divert to different ports in the unlikely event that there was a hurricane, we opted for it anyway (it was a great deal!).
Now, if you google September 2004, you'd find out it was sort of the year of the hurricane. As luck would have it, there was a hurricane that actually hovered over South Florida and then hit the weekend of our cruise. This caused the cruise ships to make major changes to the Caribbean itineraries. Our 7-day cruise which was supposed to leave on Saturday was shortened to a 5-day cruise which could only leave Monday.
Not great news — we were really stressed about this at the time. However, the cruise line was great and offered a refund if we canceled or a large onboard credit if we sailed. Plus, they gave us a voucher for 50% off our next cruise, which we had to take within the next year. We totally needed this vacation and opted to cruise, and added on a couple of extra days in Miami.
Of course, we had the most amazing cruise vacation and we were hooked! Due to this "misfortune," we had the opportunity and push to bring our 2 boys on a cruise the next year, which became the first of many family cruises.
What did I learn from this? That no matter how you plan and research (which I absolutely do!), sometimes things happen that you just can't plan for and you've got to roll with it. Often, when I think of it, good things come unexpectedly. 
From this first cruise, came a passion for cruising that led me to decide to work in the industry helping others with their cruise planning, which also allowed us to have more travel opportunities.
What's the most important lesson travel has taught you?
Travel has taught me that people are kind of the same wherever you go. They may do things differently or even think differently, but their motivation comes from the same place. People want to be happy, to feel safe, to provide for themselves and their families. Travel has taught me to be open and sometimes just to listen.
Now tell us about your blog!
I started my blog Life Well Cruised in March 2018. I love to travel by cruise, and after working as a cruise consultant for more than a decade, I felt I had a lot of helpful tips and information to share. What better way to reach more people than online?
Life Well Cruised caters to both new cruisers, who are seeking useful and practical advice, as well as seasoned cruisers who want to talk about #allthingscruise.
It focuses on all aspects of cruise travel: destination guides, cruise reviews, and helpful cruise tips, all through from a cruiser's perspective. I truly believe that we can all have amazing travel experiences; all while enjoying ship life of course!
Has starting and running a blog been what you expected?
Yes and no! It's been way harder than I thought and everything takes longer than I ever expect. This is one thing that looks way easier from the outside looking in! Not only is there the tech part to deal with, which is definitely challenging for me, but there are so many moving parts and steps to take.
However, I thought I would enjoy it — and I do! It's as much fun (most days) as I thought it would be.
What is #1 thing you wish you knew before you started?
I wish I connected with other bloggers sooner, both in travel and other niches. As soon as I did, I learned things quicker and had some support and encouragement from someone else who was walking in similar shoes. From simple tips that helped to be more productive, to feedback on Pin design (Pinterest), to motivation as I could see other's successes.
What are some of your biggest successes so far?
I'm just really happy that I have readers that like my content. It's so simple, but I love that what I write and share, has an impact on others. My readership has grown steadily over the last few months and I love that!
I've collaborated with some other bloggers in my niche, which has been nice. I've been featured on a podcast a couple of times, and really enjoyed that.
On the business side, I finally made some income for the first time a couple of months back. I'm thrilled to see this increasing as my audience grows. As much as I enjoy blogging, the reality is I hope to make an income from it. After so much hard work, it's nice to see it paying off.
What is something you're struggling with as a blogger?
I struggle with being patient, along with time management. I always want to do more and have more hours in the day to accomplish my goals. But the reality is that it just takes time. I'm trying to be happy and just keep moving forward a step at a time.
In reality, I probably have a new "struggle" every couple of months. As I learn new things, it's always hard for me. For a few months, I was really trying to wrap my head around all things related to SEO. Now, I'm certainly no expert, but this is becoming easier.
What are your blogging goals for 2019?
Lofty goal? I'd like to increase my impact throughout the next year and move into other areas of content creation. On a very practical level, I hope to increase my organic traffic, as I'm working on SEO.
What 3 tips do you have for new bloggers just starting out?
Know that everything can be done with some guidance, time and patience. Ideally, enroll in a course (like this one) to go through what you need to know and do, so you have direction. Ask for help when you need it.
Pick a couple of goals at a time and the tasks that will help you accomplish them. For a certain period of time, allow yourself not to get sidetracked with other projects and future goals.
Worry less about blog design, colors and the aesthetic elements of your website. Just write and publish regularly (ideally once a week). It will keep you moving forward and progressing and improving. Later, you'll have a better idea of what you like and what you need in your website.
And where can everyone find you online and on social media?
You can find my blog at lifewellcruised.com and you can also find me on Facebook and Instagram!