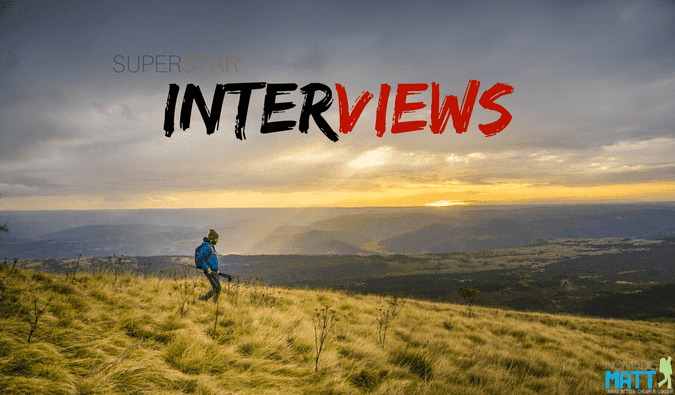 Each week we feature an interview with a member of the Superstar Blogging community. These interviews highlight the ups and downs faced on the road to success, illuminating helpful tips and tricks along the way. If you want to get inspired to succeed, then consider these interviews must-read material! This week we are featuring Katie from Just Chasing Sunsets!
Hi Katie! Tell us about yourself!
I am born and raised in the San Francisco Bay Area. I moved to upstate New York after college for graduate school, to experience the change of seasons, and a different way of living. I definitely got that the first winter in Syracuse! After completing graduate school, I got my first job as an Athletic Trainer at a university in Detroit. I lived and worked in Detroit for 6 years, until this July 2017 when I handed in my resignation with plans of traveling long term.
I have a passion for health and fitness. I enjoy coming up with workouts I can do anywhere I happen to be, using just my body weight. I also completed a 200hr Vinyasa teacher training the summer of 2017 and have found yoga to be an excellent way to stay sane and healthy while traveling.
Additionally, I've found a budding love of photography. I am still very new to it and learning as I go. I am one of those people who will stop every few steps to try a different angle. I am grateful for those who still agree to go on walks and hikes with me when I bring my camera along!
How did you get started traveling? What inspired your first trips?
I went to Greece for a week in college and Mexico twice, once for a family cruise, and once for spring break! While in college I remember coming across a study abroad article about Prague. I did some preliminary research on it, but eventually it just fell by the wayside. I needed to get into a specific Athletic Training program in a specific time so I figured taking off for a semester abroad just wasn't in the cards. I still remember that photo of Prague.
I tabled overseas travel as I went through graduate school and got my first job. I mean, I had loans to pay back and bills to pay – I couldn't travel! At least, that's how I rationalized it. While I lived in Detroit, my trips were always back to California to visit friends and family and a respite from the bitterly cold winters.
My first trip, and the one that really sparked this travel bug, was my trip to Ireland in May of 2015. As someone with Irish heritage and who grew up friends who would travel to Ireland to visit family, it was always a bucket list destination. I wrote it down for New Year's resolutions every year and was always waiting for a friend or significant other to travel with me.
I began to realize that my plans may not align with someone else and why not just go? I decided to book myself a flight to Ireland and celebrate my 28th birthday there, "alone" in a foreign country.
It was hands down, the best experience I've had. As soon as that plane touched down in the midst of green fields and sheep I knew it was the right decision. It was hard, I was lonely at times, but it was incredibly freeing. I had planned it pretty well, each day for two weeks I knew exactly what I was going to do. There was a time when I arrived at my next city and realized I didn't want to be there and I wanted to go back to Galway. So I made the most of it, used it as a rest day and the next day hopped back on a bus to Galway and spent the remainder of my trip there. I met incredible people, danced the night away in a pub for my birthday, helped them celebrate them being the first country to vote to legalize same-sex marriage. I fell in love with the craic. I didn't want to leave.
But, I did.
I realized I wanted more of that. More of learning about different cultures and how they live. But just to be sure it wasn't an Ireland specific experience, the following summer I booked a different trip, this time to Costa Rica. After spending 10 days in beautiful Santa Teresa I still wanted more.
What have been some of your travel highlights so far?
Celebrating my 28th birthday in Galway Ireland and having the band make me get up and dance to a traditional Irish song. Meeting local Irish the night of the pro same sex marriage vote and joining them in their celebrations in a part of the city I'd never been before.
I went to Costa Rica during the rainy season and one day took an ATV to a neighboring town, Montezuma, to hike to a waterfall. On the way back to Santa Teresa – about 45 minutes – I got caught in a massive rain and thunderstorm. The only thing I could do was laugh and enjoy the ride.
Another night in Costa Rica was a massive thunderstorm that knocked out power for a few hours. It started after dinner, which was in an open air (but covered) space. All of the guests stayed for hours just watching the rain and light show in the dark. It was amazing.
Any particularly memorable misadventures?
I packed the absolutely wrong shoes to Ireland. I wore cute boots on the plane and when I arrived in Dublin, I got lost trying to find my hostel. So after walking through airports all day and getting lost for a few miles, my feet were killing me! My only other shoe options were Nikes that I barely wore at home and were completely unsupportive. I walked a lot around Dublin the first few days and then did a cliff walk from Bray to Greystones. It was the first, and only, time I've ever had shin splints and plantar fasciitis. However, I stubbornly refused to get new shoes.
In Costa Rica, I broke my surfboard while failing to catch a wave. I was getting rocked by waves and when I finally came up for a quick sip of air, my instructor was telling me I broke my board. I didn't believe him, but the front half of my surfboard was chilling on the beach and the other half was still strapped to my ankle. I watched my instructor surf the broken half back to the beach as I struggled on his tiny board. Anyway, he was cool about it, got me another board, and we went back out and the next wave was mine!
Why do you want to keep traveling?
I'm an introvert by nature and like being pushed out of my comfort zone. I love facing my fears and I think travel is a great way to do that. Experiencing different ways of living has been incredibly impactful in my day to day life as well. Realizing that the tiny inconveniences I experience at home are really not a big deal in the grand scheme of things.
Tell us about your blog!
My blog is called Just Chasing Sunsets. The name came about when texting with my sister in law. She asked what I wanted to do and I was like I don't know – chase sunsets?! It officially started in July, although I was tinkering behind the scenes quite a bit before that. I blog about maintaining physical and mental well being while traveling through fitness, yoga, and meditation. I also discuss fears that arise when planning travel or on the road.
Why did you start blogging?
I started blogging because I want to inspire people to chase their dreams. I was stuck in a, "this is what I'm supposed to do" mindset and realized, just because it's what I'd been doing (and "everyone else" is doing), doesn't mean it's what I need to continue doing.
What have been some struggles you've had along the way?
I have a science background. I took a computer course in college because I had to and designed a terrible website. I am not a tech savvy person. But I've learned. I invested time and funds into learning about how to integrate services and I'm slowly learning coding as I continue to develop my site. I also have no marketing background, so I struggle with figuring out how to get my content out there so people CAN be inspired.
Can you share a recent blogging success?
I recently had my first guest post called Benefits of Practicing Yoga While Traveling published on a yoga website!
I was doing personal research on yoga and found an article I enjoyed there. Upon further perusing of the site, I noticed on the bottom of the page there was an option for "contribute." I'd already written a blog post on my own blog about the benefits of yoga for travel and thought it would interest them. So I followed their guidelines, sent them an updated version of my post, and they accepted it! The day that it was published I saw a spike in my traffic, the highest it's ever been (new blog!).
If you are interested in guest posting find websites that you resonate with and consider if you have something unique to offer. Then, search their site for contributor links or a contact person to email with your specific post idea. When they respond, respond within a timely manner and be professional.
What are your blogging goals for 2018?
To increase my readership and develop a community of fit and fearless travelers. I also develop monetization for my blog.
I need to develop my marketing in order to increase readership. I am doing that through social media outlets, specifically Pinterest for direct links to blog posts and Instagram to generate interest. I am also going to do more collaborative posts and am brainstorming ideas for other guest posting opportunities. In terms of monetization, I have affiliates set up through World Nomads and Amazon. Additionally, I have an ebook I've been working on focused on healthy travel, as well as an online course to help people just get started with overcoming fear surrounding travel. The bottom line though is marketing, I can have everything set up, but if there aren't eyes on it and if I'm not providing valuable free content then it will be harder for the rest to fall into place.
What are some things travels can do to stay sane and healthy on the road? Things travelers can do to stay healthy on the road are make time for workouts and for recovery. A workout doesn't have to take an hour, even 30 squats, push ups and lunges or moving through sun salutations for 15 minutes is a great start. It's also important to recover, not from workouts, but from travel. The sights will still be there even if you nap for an hour. And it'll probably be more enjoyable when rested. In terms of food, my biggest tip is to eat like locals. Shop the local markets and cook with the ingredients you find. My final tip is hydration. Flying, being on buses, and even in hotels drys us out. Staying properly hydrated, especially on travel days, is essential.
Lightning round!
What's your favorite travel blog?
2. What's the best food you've had abroad?
It wasn't abroad, but in New York I had bone marrow Blue Ribbon Brasserie – heavenly!
3. If you could have VERY LIMITED (but free) super luxury travel or UNLIMITED (but free) budget travel, what would you pick? Why?
Unlimited and free budget travel. It's not about super fancy hotels and restaurants for me. It's about seeing the way locals live. Most of my favorite experiences have occurred while hiking or getting involved with local events. If I had the opportunity to see the world in the same way I plan to travel now (budget) then I'd be all over that!
Last question: What is the most important lesson you've learned from blogging?
If there's an opportunity that you stumble across that you know would help you grow, but is uncomfortable – whether that's due to the financial or time investment, or to the vulnerability of being seen… do it. It is usually totally worth it!
Where can everyone find you online and on social media?
You can check out my blog, or find me on Facebook or Instagram.