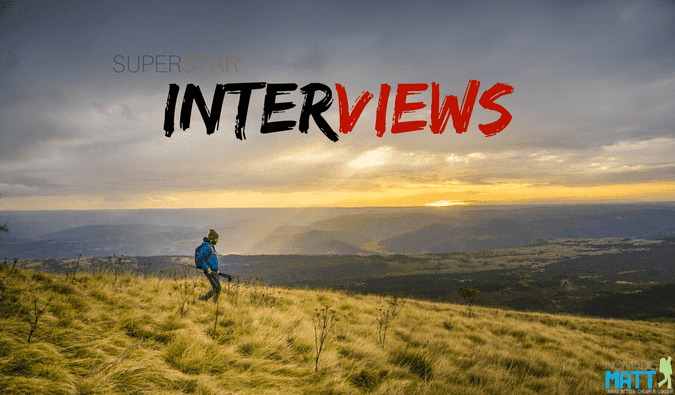 Tell us about yourself!
Hi, I'm Claire and I'm originally from the UK but I've been living and traveling in Latin America for 2 ½ years. Before I left the UK I was a professional dancer, choreographer, and dance producer. I ran my own professional dance company in the south of England and produced national level dance events in the UK.
Before that, I spent 5 years in the British military traveling around the world on a warship. So I've had some pretty diverse and interesting jobs before becoming a full-time blogger and writer. I hold a degree in Dance Theatre and a postgraduate in Education and dance research. If I hadn't decided to travel I would have continued on in academia and would probably be a doctor by now.
How did you get started traveling?
My first experience of traveling without my parents was when I was 16. I booked a long weekend to London with a friend, armed with an A-Z map of the city. Later that year I traveled abroad with a group of friends to Greece to party for 2 weeks. I traveled to Europe when I could normally once a year at least.
While I was in the Royal Navy I traveled down the coast of Africa to Antartica and then up the coast of South America. It was an amazing experience but I missed so much as we only had a few days in each place. Then when I was in my late twenties I started traveling more and more with work as I was invited to speak at Universities or teach other dancers internationally.
I realized the more I traveled the more I wanted to experience other cultures and to learn a second language. So I decided to give my dance company to one of the dancers who worked for me and I bought myself a one-way ticket to Guatemala. That was back in 2016 and I haven't looked back since!
What have been some of your favorite destinations so far? Why?
This is such a hard question as there have been so many. But Antigua in Guatemala and Medellin in Colombia are both places that hold a really special place in my heart. Colombia, in general, blew my mind. It was not somewhere I had ever planned to visit. I completely discounted it as I felt it was too dangerous for me to travel alone.
But while I was in Guatemala I spoke to so many people who raved about it. Then I was offered a job choreographing on a dance company there so I decided to take a chance.
At first, I lived in Bogota and I didn't have the best time. But when I moved to Medellin it felt like a different world. It's noisy, colorful, vibrant, and oh so complicated. But Colombians are some of the most friendly people you can ever hope to meet, the landscape is beautiful and so diverse.
I mean where else can you travel from the mountains, through the jungle to the Caribbean ocean, and then through the desert all in one day?!
What places or activities are still on your bucket list?
Easy, Everest Base Camp, Mt Kilimanjaro, and The Inca Trail. Oh and diving the Blue Hole in Belize.
Hopefully, I'll at least be able to tick off the Blue Hole this year.
Where are you heading in 2019?
I'm actually not traveling so much this year as I'm focusing on writing a few books and travel guides. But I'll be heading back to Guatemala in May, then traveling in Mexico for a few weeks before heading to NYC for a month and then back to Playa del Carmen in Mexico where I'm based right now.
But even though I'm a bit more settled this year I'm away a lot scuba diving and visiting places close to me here in Mexico.
Have you had any misadventures on your travels? What lesson did they teach you?
Haha so many. So, I had actually planned to stay in Colombia much longer than I did, but I accidentally became illegal. Bad idea in Colombia as they are very strict so I had to leave.
I was in 3 big earthquakes while living in Guatemala, and I got stung 3 times by a scorpion in my sleep and thought I was going to die as I couldn't move for 12 hours. So I learned that Colombian Immigration shouldn't be messed with, it's not a good idea to sleep through an earthquake, and I don't react well to scorpion stings!
What's the most important lesson travel has taught you?
To roll with the punches! You plan as much as you can to be as prepared as possible to change your plan at any moment. It has also taught me a lot about just how capable and emotionally strong I am. It takes a lot to rattle me after everything I have experienced in the past few years.
Now, tell us about your blog!
My bog is Claire's Itchy Feet and it came about as it is a very common saying in the UK and something my Mum always said to me. That I had itchy feet and could never stay still, I always wanted to travel. I started blogging over 3 years ago after a backpacking trip to Thailand.
I just did it as a way to document what I did there and also to fill in some gaps in information that I looked for and couldn't find while I was traveling.
Has starting a blog been what you expected?
It is so much more work than I ever expected. I'm not really sure what I expected when I first started. My blog has gone through many, many transformations over the years as I have evolved and learned more about blogging. I had already run several successful businesses before the blog, so I expected that eventually, I would succeed in blogging as I don't give up easily.
But I honestly had no idea just how hard it would be.
What is #1 thing you wish you knew before you started?
To treat it as a business from the off. About a year into blogging I had to sit down and really take a good look at what I had done so far, and what I wanted to achieve. Who was I writing for, and what do they want from me.
That was when I stopped writing for my friends and family and focusing on writing engaging content people wanted to help them plan their trip. I wish I'd figured that out earlier, it would have saved me a lot of editing!
What are some of your biggest successes so far?
It's always really nice, but a little weird, getting recognized by people who have read my blog. It happens a lot here in Mexico and even more so in Guatemala. I have so much content on both countries that most backpackers come across my blog.
I also had a girl messaging me to ask for some more info about a place in Thailand as she was there following my itinerary. That was really cool. I suppose my biggest successes are all about helping people, as that was why I started in the blog in the first place.
What is something you're struggling with as a blogger?
Time, always time! I am also an SEO consultant and Copywriter. So I'm often in a position where I neglect my blog and have to take freelance work instead.
It's been even harder this year as I'm trying to juggle writing books at the same time.
Since you work in SEO, what are some beginner SEO tips you can share?
My number 1 tip for beginners is this: if you are feeling overwhelmed by finding keywords, one thing you can do that is really simple is, before you publish a post, take one last read over your post and think about things that people are going to search for and edit them in.
For example, you may have written: "Finding accommodation here can be tricky."
But that is too vague. Try changing it to something like this: "Finding accommodation in Guatemala can be tricky."
The longtail keyword here is "accommodation in Guatemala." It's a really quick and easy way of getting in some keywords without having to do a lot of research. There is a good chance you will get lucky and are able to rank for some of them.
If you want to learn about SEO check out Digital Nomad Wannabe. She is the queen of SEO and has so many free resources. She also runs a fantastic Facebook group you can join.
What are your blogging goals for 2019?
To get all of my old posts updated for SEO and to publish a travel guide to Guatemala and one to the Riviera Maya.
What 3 tips do you have for new bloggers just starting out?
Always remember who you are writing for.
Focus on SEO – it takes time to fully understand it, but it will pay in the long run.
If you want to be a professional blogger then start acting like it from the start. If you can't take yourself seriously no one else will.
Where can we find you online and on social media?
You can find my blog at www.clairesitchyfeet.com. I'm also on Facebook, YouTube, and Instagram!