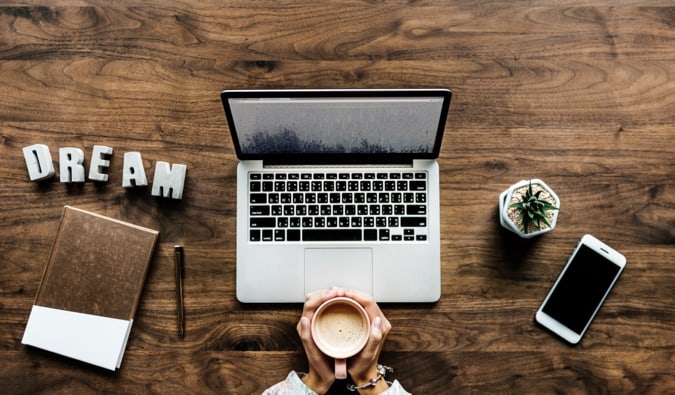 Updated: 10/29/20 | October 29th, 2020
When I started my travel blog in 2008, I didn't know what I was doing. I had no résumé, no experience, and no audience. Like you, I had no idea how to turn my love for travel into something more. But, over time I learned how to turn my blog into a business and grew it into a six-figure website and one of the largest travel websites on the Internet.
There is a seemingly endless pool of travel blogs out there. Each day hundreds of people think, "Hey, I travel, so I'm going to start a blog and try to make a living out of this."
The field seems so cluttered, right?
Wrong.
There are a lot of travel blogs out there but, let's be honest, most suck.
Why? Because they go in with delusions of grandeur and don't stick it out long enough to become a success. They think they will start a blog and money will pour in the next day.
I've been running my travel blog for over ten years. I know that there is always room for quality blogs out there and I am going to help you start a travel blog that doesn't suck and will stand the test of time as well as earn you money.
I am going to share with you some advice on what you need to know before you start your travel blog — and then give you resources to start your blog TODAY in less than thirty minutes!


6 Things to Know Before You Start Your Travel Blog
Blogging is work – If you're hoping to create a profitable travel blog and/or use your blog to support your travels, you're going to have to dedicate time and effort to it. You're going to spend a lot of time in front of your computer. There are many time management skills you can learn to ensure you always have time to do this and you don't get stressed about your blog!
Your first stuff will suck – Years from now, you'll look back at your first articles and go, "Who the hell wanted to read this? This is horrible!" Or you'll look at the first version of your website and go "What the F was I thinking!!!" It's only natural. It means you've grown as a writer (and a blogger). It's about progress, not perfection. In the beginning, don't obsess about your work. Why? You'll only get better by doing. Never wait for perfection. If you wait for perfection, you'll never start your blog. There's virtually no cost to putting up a website. Just get it up there and fix the problems later!
Creating products is key – If you want to make money from your blog, it's beneficial to approach your blog as a platform to sell something else. Sure, there are people who will create a profitable website through ads, sponsored posts, links, and other passive streams. But the most reliable way to make money off a blog these days is through products like books, ebooks, courses, consulting services, design work, photography, art, etc. It might seem like a lot of work to create a product but once it's available, you can rely on it to continuously make you money while you relax on a beach.
You will fail — and that's OK! – I've run sales that didn't go anywhere. Launched books no one bought. Hosted webinars no one showed up to. Made shirts no one wanted. Redesigned parts of my website that caused conversions to crash. Hired consultants that didn't do anything but sap my bank balance. I've failed constantly — but it's never stopped me. Failure is a teacher. Sure, it sucked wasting time and money on all these projects that didn't work out but those failures taught me what not to do. If you believe in your mission, just pick yourself up, dust yourself off, learn, and move forward.
People will be really mean – The Internet brings out the best — and the worst — in people. They will get really mean. So mean that you'll want to curl up into a ball and cry. You have to learn to develop a thick skin. It takes time to learn to do this, but don't take it personally. It's never about you. It's about their problems and their lives. People like to troll to make themselves feel better. You're just their current target.
Collect emails from day one – It's easy to get caught up in the page views per day game. It can also be REALLY exciting when a post gets a lot of love and suddenly your numbers soar. But to develop a sustainable, dedicated audience, you've got to capture those emails. When a reader gives you their email address, they're telling you that they want more. They want to know when you post new content, and when you release a new product. They don't want to forget about you. It might feel fruitless to start an email list in the beginning, when your numbers are low and the growth of your list is slow. But every single reader counts.
How to Create Your Travel Blog in 6 Easy Steps
Step 1: Pick Your Domain Name
The first thing you need to do is pick a domain name (i.e your website name). When picking your domain name, there are no hard and fast rules on what to pick. There's no such thing as a "wrong domain" but there are a couple of things you should know to help you pick the best domain:
Make a name that can last – If you pick "JohnsAsiaAdeventure.com" and then you leave Asia, the domain won't make sense anymore. Make sure you pick a name that isn't so focused that if you decide to shift gears or change your focus, you can keep the same domain name.
Try to avoid words like "nomad," "vagabond," "wanderlust," and "adventure." They have been done to death.
Pick a name that describes what you do as much as possible – I was a nomad so "Nomadic Matt" was the best pick for me. If you're into luxury, put words in your domain that convey that. You want people to see the name and go "I get what that website is about."
Keep it short – Use 3-4 words maximum. You want the name that rolls off the tongue. Even Ramit Sethi from "I Will Teach You to Be Rich" often abbreviates his site to "I Will Teach" or "IWT". The shorter the better.
Keep it simple – I'm not a fan of using jargon or slang in your domain name as I think that makes things confusing for people who don't know it. The last thing you want is something going "What does that mean?" or being confused. If someone has to think of the meaning, then you've already lost them. So don't try to be clever either!
Don't date your blog – Don't pick something related to your age either. "Twenty-Something Travel" becomes really irrelevant when you get older, which actually happened to a blogger I know. Pick a name that can be used no matter your age!
Step 2: Sign Up for Hosting
After you've picked out your domain name, you'll need to register it and buy hosting (the little computer in the sky that's going to power your website and keep it on). There are a lot of basic hosting companies out there but the two I like the best are Hostgator and Bluehost (they are also the biggest out there too). Best of all, you can get started for as little as $3.95 a month!
Though owned by the same parent company, I lean towards Bluehost because they have amazing support, are easier to use, and have fixed a lot of their structural issues so websites stay up longer (no one wants their website to go down).
Below is a step by step walk-through of how to register your new domain name with Bluehost:
First, just head on over to Bluehost's website and click the green button that says "Get Started Now."
You'll have three options when it comes to getting started. As you can see, the Choice Plus plan offers the best value, but choose whichever plan you feel is best for your situation. If you're just blogging for a fun, the Basic plan will suffice. If you're planning to get serious, I'd suggest the Choice Plus plan as it will give you more space for your site, among a handful of other perks.
Next, you'll just have to input the website you want. If you already have purchased the name from a third-party provider you can choose the "I have a domain name" option. If you haven't purchased your website name yet, you will choose the "New domain" option.
Now you'll just need to fill out all your details. Input everything here and then scroll down the page.
Here you'll input your credit card details and choose whether or not you want any additional perks. I 100% recommend getting domain privacy. By law, website registry information is public. If you don't opt for domain privacy, your information will be on public record – and you'll probably get annoying calls from people trying to help you with your website. If you click domain privacy, Bluehost's information is the public information not yours!
Step 3: Install WordPress
After you've registered your domain name and got your hosting package, the next thing you want to do is install WordPress. WordPress is what will actually run the website. The host is simply the computer your site sits on. To set WordPress up:
Log in to your Bluehost account and go to "My Sites." Then, click on the "Create Site" button in the top right corner.
Next, choose your website name and the tagline for your site (you can skip the tagline part if you want to).
You can skip this next page, as you don't need to set up a directory right now. Leave the boxes checked for the free plugins as you may want to use them later on.
If you want a full walkthrough of the platform, you can click the "business" or "personal" button. If you're comfortable just following my instructions, just click the "I don't need help" link.
Now you'll be at the main WordPress dashboard, where you can create pages, posts, and install plugins. That's it! Now your website is up and running and you're ready to start blogging!
Step 4: Install Your Plugins
Now that you're all ready, we can now install some plugins. These will give your site additional functions and benefits that will help you get started. To start, head to your main WordPress dashboard.
There are over 57,000 plugins listed in the WordPress Repository and many more premium options available from developers, there are endless possibilities as to what you can do with your site. From the main screen, click Plugins –> Add New on the left-hand column:
If you can think of a feature you'd like to have on your site, I can almost guarantee there is a plugin for it but here are my favorites:
Akismet – Just like getting junk mail in your mailbox, your website will get spammers looking to leave junk comments on your site. Akismet seeks to reduce the amount of this by automatically filtering it for you. This plugin comes installed with WordPress, and all you need do is activate it and sign up for an account at akismet.com.
Yoast SEO – The best SEO plugin out there. This combines the ability to create meta tags and descriptions for your posts, optimize your titles, create a sitemap for search engines to read, customize how your posts appear across social media and do a whole lot more. It's simple, easy to use, and comes with foolproof instructions.
Relevanssi – While WordPress does a lot of things well, what it fails at is adding search functionality to your site. Relevanssi seeks to fix this and give your readers the most accurate results when searching on your site.
UpdraftPlus – You can never back up your site too much. The WordPress database holds every word you've ever written, and if your blog has started to make you a few dollars, you would be nuts not to keep regular backups. UpdraftPlus does it perfectly. With the ability to schedule backups, you needn't worry about doing it manually (especially useful to the more forgetful among us). There's also the option to upload backups to Dropbox, Google Drive, and other cloud storage services, ensuring that if the worst does happen, your data will be safe.
Google Analytics and Search Console – Adding analytic tracking to your website is an important move in finding out who your readers are, where they are coming from, and what your most popular content is. When you sign up for Google Analytics, the site asks you to place a snippet of code into your website. For most people, that can be difficult, which is why there's Google Analytics for WordPress. This adds a lovely graphical interface to your site where you can click a couple of buttons and set up your tracking without any hassle.
Grow by Mediavine – A great social sharing plugin for your site. It comes with great a simple set of icons that work well on both desktop and mobile.
Cache Enabler – This plugin works by creating saved copies of your site, saving WordPress from having to generate them for every new visitor. This, in turn, cuts down on the amount of work your hosting server has to do and makes loading your web pages much much faster.
Step 5: Install Your Theme
Next, you need to make your website look pretty. One of the most important things a blog needs besides good content is a good design. People decide in seconds whether or not they trust your website and choose to stay. A visually unappealing website will turn off readers and reduce the number of return visits you get. So to accomplish a good design, you will need an amazing WordPress theme (i.e., design templates and files). There are two options new bloggers have:
Free Themes – Free themes are plentiful and for budding new bloggers looking to make their mark online, they seem like a great option as it allows you to keep costs low. There are many great free themes available online but most of them are not amazing. If you plan on blogging for a long time, this might become a problem as your website grows. However, if you just need a simple design to blog for your friends and family, then go the free route.
Premium Themes – The next step up from a free theme is a premium theme. Premium themes are paid themes that offer a bit more uniqueness, flexibility, and functionality. These cost from $25 USD and up, depending on the developer and features. With a premium theme, you almost always have a support forum that can help you begin to learn how to customize your site yourself. This can be a great way to introduce yourself to PHP and HTML code (which is what your theme and WordPress is created with) without having to worry about breaking your site and not having anybody to help you fix it.
I highly recommend a paid theme because of the support it comes with as well as how much easier they are to set up. When you aren't tech savvy, that's really important! The two best companies to buy premium themes from are Elegant Themes and StudioPress.
My personal favorite is StudioPress as it is more SEO-friendly, a bit sleeker, and cooler. Elegant Themes are great for photographers and more "fun" personal blogs.
To install your theme, simply go to the left-hand column, click Appearance –> Themes –> upload. Whatever theme you picked will come as a .ZIP file for you to easily upload. From, there you just activate it and it's turned on. All themes come with a manual and help file so you can customize your design to your specific needs.


Step 6: Create Your Main Pages
After you've uploaded your theme, you're going to want to make a few basic pages on your website in addition to the blog posts. To create these pages (or posts), go again to your left sidebar and click Pages —> Add New. (Or, for blog posts, Posts –> Add New.)
The difference between a page and a post is that a page is a static piece of content that lives separate from the blog. A post is a blog post that gets "buried" as you write more and more.
For example, this post is a blog. When I update again, another post will get put on top of it and it will be pushed down in the archives, making it harder to find. But a page like my about page lives on the top of the website, right off the main URL, and does NOT get buried. It's a lot easier to find.
I recommend creating 4 basic pages to start:
About Page – This where you tell people about yourself, your history, what your blog is about, and why it will help them. This is one of the most important pages on your website so make it personable!
Contact Page – People need a way to reach you! Be sure to be very clear on what emails you will and won't respond to so people don't send you spam.
Privacy Page – This is a standard user agreement page letting people know what the applicable laws on your site are, that you use cookies, etc etc. You can find out of the box examples throughout the Internet.
Copyright Page – This is a standard page letting people know you own this work and not to steal it. You can find out of the box examples throughout the Internet.
(If you look in my footer, under the "About" section, you can see examples of all 4 of these pages!)
***
A lot of people don't take that first step toward making their blogging dream happen because they think "there are too many blogs" out there but think of blogging like the restaurant business: new ones pop up and old ones die all the time.
Restaurateurs and cooks don't think they shouldn't start a new restaurant because there are "too many Italian places already." They think: "There are a lot of places already — but I can do it better."
That's the mentality you need to have with blogging. Sure, there might be a lot that exists already, but the world always wants more quality places. It always wants that amazing new restaurant.
Don't look at the field and say "I can't do it." Look at the field and say "I can do it better!"
You may be thinking "What can I add?"
The answer is your story.
That is unique to you. No one can share that except you. Your story, advice, expertise, and passions are unique to you, and that will help you stand out from the crowd.
So jump.
Take the leap and create a travel blog that's better than what's already out there!

Helpful Resources
To help you get your blog started on the right foot, here are some of the go-to companies I used (and still use) to get my blog where it is today:
For more recommended companies to help you launch your blog, check out my complete list!