Learn to create world class-travel videos!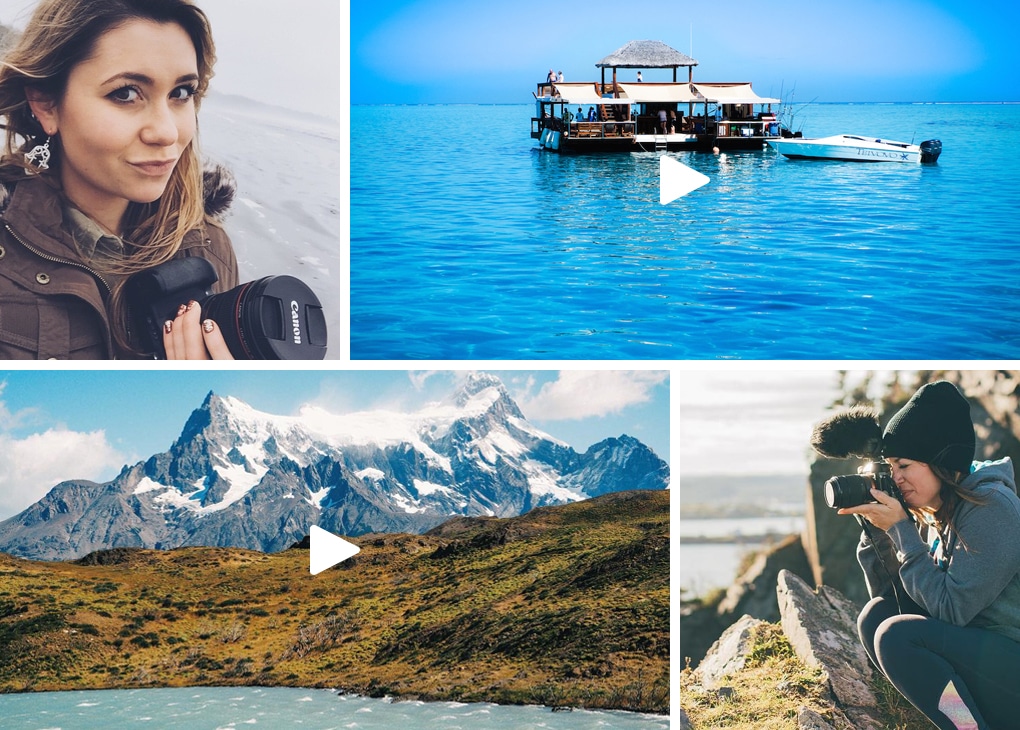 ONLINE VIDEO is the future of travel content.
Humans love video. We are visual creatures. Video gives us a special connection to what we are watching. It's engaging and exciting. Video makes everything seem more real and alive.
Nowhere is this more apparent than travel. People love to see and experience places, not just through words but with video too. We love imagining ourselves in far-off places. It's why the Travel Channel is so successful.
And it is why online travel videos are so popular.

Video is the wave of the future in the travel industry. It is such a truly wonderful, different medium for storytelling. If you've been thinking about getting into the travel video world, NOW is the time to kickstart your career making travel videos.

This Course Is Your Roadmap
Nadine and Kristen are experts at video — but they didn't start out that way. They were just like you: with a desire for travel, a passion for video, and an idea. They had a dream.
Like you, they didn't know where to start.
Like you, they were a bit unsure of their skills and nervous about being on camera.
In fact, Kristen used to be so afraid of filming, she couldn't do it in front of people for fear of embarrassing herself. (And yet now she's one of the biggest travel YouTubers out there!)
Maybe what's stopping you is that you don't know what gear to get, or how to edit, perform on camera, connect with established brands, or make money.
That is why we created this amazing online travel video course where Nadine and Kristen have compiled everything they have learned through trial and error and which helped them become some of the biggest YouTubers out there. You don't need to worry about failure because you have two of the top travel YouTubers in the world walking you through creating and growing a channel, video production, and making money, as well as answering your questions along the way. They will make sure you know what works, help you limit your mistakes, and provide guidance so you can get a leg up on the seemingly endless supply of new vloggers.
No other course online features the experts, interviews, materials, and first-hand experience we've assembled here! (We know this because we checked!) Through video instruction, step-by-step guides, photo and video examples, and at-home exercises, this course gives you a complete understanding of how to succeed with video online.

What You Get With This Course
The art of filmmaking
How to develop shots and paint a visual story that others want to watch.
How to become a superstar on camera
Get over shyness with proven tips and advice.
How to become an expert on video gear
Know what to use and why.
Advice for filming outside
What to do to keep your gear safe, and how to be on the right side of the law by understanding permits.
How to conduct great interviews
The secrets to growing your channel faster with interviews.
How to grow your channel
Increase viewership through networking, marketing, and social media. Learn where to spend your time and where NOT to spend your time.
How to collaborate with others
Learn what to do and what not to do when connecting with influencers (a vital part of any YouTuber's career).
How to make money with your videos
Learn successful ways to make money — collaborating with brands and tourism boards, and creating your own products.
A private Facebook group
Network, collaborate, and get advice — not only from fellow students but also Nadine and Kristen.

Expert Interviews
Plus, you get interviews with 5 other major YouTubers and video producers
on how to edit, market, and create videos people want to watch.
Abby Fuller
Director, Netflix
Abby has won awards for her documentary shorts and films. Previously a producer of shows on MTV, she is now a director on Netflix's Chef's Table.
Matthew Santoro
5,700,000+ subscribers
Matthew is a Canadian YouTube personality. He focuses his video on comedy. He also frequently keynotes at major video conferences around the world.
Mark Weins
600,000+ subscribers
Mark runs the blog and YouTube channel Migrationology. Tasting food from around the world is his passion. He and his wife shoot videos about Asian food, culture, and activities.
Alli Speed
520,000+ subscribers
Alli is popular vlogger who focuses on travel, comedy, and daily life. She's widely considered one of the most successful general vloggers on the web.
Mike Corey
27,000+ subscribers
Mike is a breakdancing marine biologist turned travel videographer. He is the founder of Kick the Grind and one of the biggest up-and-coming travel vloggers on the web.

Not so long ago, it was nearly impossible for artists to make a living. Today, platforms such as YouTube have allowed creatives to thrive and make a living from their art. In fact, there are online video creators making millions and replacing the faces of television and film in some of the largest brand campaigns.
If you are looking to get started with video but aren't sure where to start and want some direction, this course is for you. No other travel video course features as many experts sharing their secrets to success in one place. If you're going to learn video, learn from the best!
With this course, you'll be able to avoid the mistakes newbies make, find out what works, and start growing your video empire right away — instead of just fumbling around in the dark!
This course is an investment in your video future that will help you leap beyond the competition and will give you MORE value for LESS money than any other program out there!
This course is for people who are serious about learning the technical side of video but don't want to pay thousands for a college video class. It is for people who understand that it's going to be a lot easier to succeed, grow, and monetize their videos if they have two experts pull back the curtain and walk them through it all step by step, answer their questions, and help them meet other YouTubers (because online success does NOT happen in a bubble).
If you want to save time, get instant connections, learn from the best, and INVEST IN YOURSELF, get instant access today!
OR
Money-Back Guarantee
I'm fully committed to helping you improve your blog and become a success. You can test-drive the course for 30 days, read the material, listen to the webinars and interviews, and check out the case studies. If you complete the assignments and do the homework but still don't feel the course is right for you or will improve your blog, I'll happily refund 100% of your money. (See the FAQ for more detail.)
Meet Your Instructors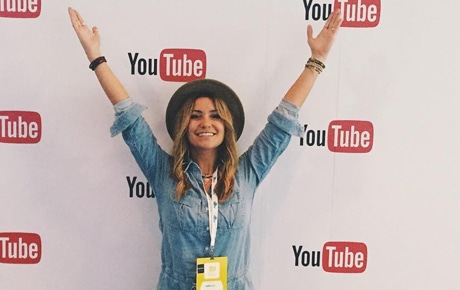 Nadine Sykora
Nadine (Hey Nadine) is one of the top travel videographers and travel video content creators on YouTube. Since 2008 she has made over 900 videos, gaining over 37 million views and over 300,000 subscribers to her YouTube channel. She has been named one of USA Today's top travel experts and one of the most influential digital media outlets by the White House. She's also been on expert business panels and has given keynotes at numerous video and travel conferences. Over the years, she has written, produced, and created dozens of video campaigns for some of the biggest international brands, companies, and tourism boards.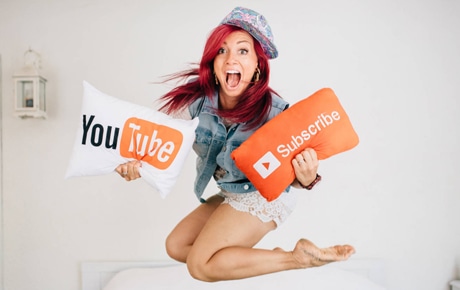 Kristen Sarah
Kristen is one of the top travel videographers and travel video creators on YouTube. Her channel, Hopscotch the Globe, has over 16 million views and over 100,000 subscribers. Kristen may have only started her YouTube channel four years ago, but she's been creating professional video content for the past ten. She's worked both behind and in front of the camera for major Canadian and US television productions such as MTV, YTV, and Much Music. Kristen has been named one of USA Today's top travel videographers, one of Matador's top travel YouTube creators, and one of the most influential women in travel by Flight Centre; she also creates regular video content for Lonely Planet and Mode.com.
Frequently Asked Questions
How is this course structured?
This course is unit based. Each month, you'll get one new unit sent to you — and you'll always be able to access previous units and lessons. You can try out the course for 30 days.
Can I jump ahead right away?
Each unit is meant to be worked on and focused on individually. I can tell you after eight years of blogging that you simply can't digest all this information in a short amount of time. Between all the lessons, tasks, webinars, and interviews, you'll find the structure helpful in avoiding being overwhelmed. However, we do make exceptions for established bloggers on a case-by-case basis. Simply contact us and we can give you access to more advanced lessons.
I don't have a lot of time. Is this course for me?
This course is meant to be completed at your own pace. There's no weekly time limit. Go as fast or slow as you want. Take your time on each lesson. There is no rush. You have lifetime access to all the material and any future updates.
What if I get really confused or stuck?
We're here to be your mentor to help. You can email us as often you as you need to and we'll help troubleshoot your problems. We want you to succeed, not be confused.
How often do I need to travel to make this work?
You don't need to travel all the time. If you aren't exploring the world, explore your backyard. You can vlog about the local area. As long as you have some travel experience, a passion, and take at least one trip a year, we can show you how to make it work.
How long is each expert interviews?
Each interview is between 45 minutes and one hour.
Is my payment secure?
We collect payments via the 256-bit encryption payment provider Stripe. Our website and your payment are secure, so no one takes your data! We know how important this is!
If I don't like the course, can I get a refund?
Yes. I'm fully committed to helping you improve your blog and become a success. You can test-drive the course
for 30 days
, read the material, listen to the webinars and interviews, and check out the case studies. If you do the work and don't feel the course is good or will improve your blog, I'll happily refund 100% of your money.