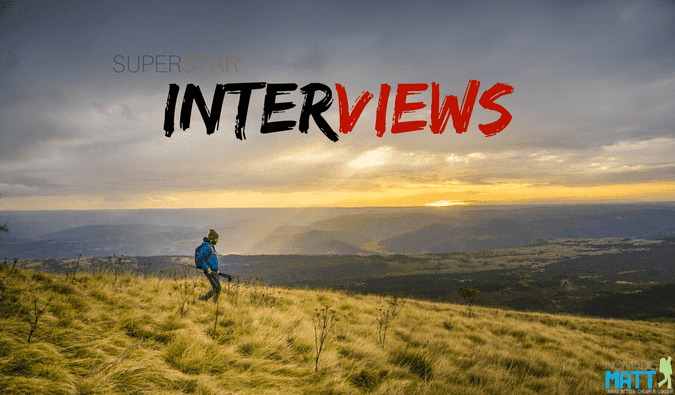 In this inspiring community interview, we sat down with Svet from svetdimitrov.com and 33TravelTips. He shares his travel advice and blogging tips in this insightful interview. Check it out!
Tell us about yourself!
Hi there! My name is Svetoslav, but my friends call me Svet. I come from Bulgaria, a gorgeous country in Eastern Europe that prides itself on a combination of jaw-dropping mountains and shimmering beaches.
Although I have a Master's degree in European Policies and Politics, I never had a political job. Six years ago, I quit my office occupation to become a full-time freelancer. Now, I help businesses sell through the power of words.
My hobbies include:
Traveling (obviously). However, I like to take things slowly. For instance, in 2018, I spent four days exploring Bratislava – a city people usually visit for half a day.
Writing. I've always loved writing and turned it from a hobby into my profession. Besides my travel blog, I write in the following niches: health, real estate, entrepreneurship, and digital marketing.
Learning foreign languages. In addition to my native Bulgarian, I speak English, French, and Spanish. I also have a basic knowledge of German, Italian, and Mandarin Chinese. Now, I'm trying to get a similar base in Korean.
Cooking. If there's one thing that I might love even more than traveling, it's food. So, it's not an unusual occurrence for my friends to ask, "What gourmet delicacy have you prepared for our palates tonight, Svet?" when they're visiting. When I was in Jerusalem, locals got incredibly jealous of the hummus I prepared for them.
Working out. There's hardly a day I don't do any exercise. My specialty is doing push-ups or squats in the open while traveling.
How did you get started traveling?
The first country I visited was Turkey. I accompanied my father on a business trip and had a chance to quickly go around Istanbul.
Although I spent less than a day in Turkey's largest city, it amazed me with its unparalleled allure and inimitable beauty. I was super excited for my next country!
Two months after my visit to Istanbul, I went to the U.S. for a work and travel program. I spent three and a half months working and traveling around the East Coast.
This experience completely changed my life. The friendliness of the people, the different scale of everything, the gorgeous sights I discovered – all these left a big impression on me. That's when I developed my love for traveling and exploring the world with thirsty eyes.
Since then, I've lived on three continents, visited 26 countries, and tasted the local food in several hundred cities around the globe. And I can't wait to hit the road again once the quarantine is over!
What have been some of your favorite destinations so far? Why?
For every eager traveler, this is always a tough question. Each place has its own distinctive appeal.
However, I found China to have a charm like no other so far. And that's a bizarre statement to make, especially now when the whole world is hating on the Middle Kingdom.
But if we can forget about the virus for a minute, and focus on what's captivating, there's a TON of things I can tell you about it.
In fact, at the end of 2018, I created the largest China travel guide online with 151 tips. In December 2019, I also published it as an eBook on Amazon.
China fascinated me with its gargantuan boulevards, enchanting landmarks, and delectable food. But what really boggled my mind was the hospitality of the locals. As a matter of fact, it was an invitation of a Chinese girl whom I met in Geneva that made me visit China in the first place.
In Europe, my favorite destination is Barcelona. I've been to the Catalan capital several times already. With every visit, I spend more time than before, and I still find new and exciting things to explore, as well as stunning buildings to admire.
What places/activities are still on your bucket list?
Before COVID-19 hit the whole world, I was planning to visit South Korea in September 2020. At the moment, I might have to put that plan to a halt.
South Korea has been on my bucket list since 2010, but I postponed my trip because I wanted to visit it for at least a month. Now that I have the means to do so, the only thing standing in the way are the travel bans. When it's safe to traverse the globe again, I'll plan the trip.
Why South Korea exactly? There are a few reasons:
I love traveling in Asia. That love grew even more after I visited Israel and China.
I like eSports (video games), and the best eSports players are in South Korea.
I've watched dozens of Korean movies and TV series/shows, which further instilled my love for the country.
I recently started learning Korean – tons of fun!
As regards activities, I'd love to try ziplining and hot air ballooning at some point!
Have you had any misadventures on your travels? What lesson did they teach you?
I've had some minor challenges with Airbnb accommodations in Europe, but nothing that's worth mentioning.
I guess I've been blessed to travel safely and unproblematically, and I wish that to all travelers!
What are 3 destinations that either impressed you or that failed to impress you?
New York, Miami, and Beijing all took my breath away with their cosmopolitan feel. Barcelona flabbergasted me with its stunning architecture.
On the other end of the spectrum, Venice, Paris, and Milan didn't impress me at all. I'm willing to give them a second chance, though, because I either didn't have enough time or the weather was bad during my visits.
What's the most important lesson travel has taught you?
Travel is the best education you can get. It taught me so much that I can't share just one lesson. So, here's a short list:
Leave all your prejudices at home. It's a cliché, but that's why it's SO true. There are amazing people, amazing cultures, and amazing places everywhere. Go with an open heart and mind, and you'll find them.
Make plans, but also allow time for random encounters and casual strolling to suck in on every inch of the destination you're visiting. The real charm of a place lies beyond the crowds and the landmarks.
Do what the locals do. You can't go wrong with that. The locals know better. So, it's always a good idea to ask a local what places they like eating at, what's the hottest bar in town, or when to visit a specific landmark/hidden treasure.
Don't just check things off your bucket list. Give yourself time to explore them slowly. If you visit 10+ landmarks on a single day, will you remember anything from any of them? Thus, choose a few and give them the time needed, leaving the rest for your next visit.
Learn the basics of the country's language. Just a few words go a looooong way. I can't tell you how much the Chinese loved when I spoke (or tried speaking) Mandarin. On my second visit, I got some very hefty discounts because I could haggle using my very basic Mandarin.
Tell us about your blog!
I started my blog SvetDimitrov.com a few months after I came back from my second trip to China in 2015. In the first year, it was all over the place.
At the beginning, I didn't have a good idea behind my blog. So, initially, I blogged about the places I've been to, without any particular plan or order. Later, I started producing big travel guides (150+ tips and 10K+ words). Now, 50% of my website traffic is coming from three of them alone.
Besides travel, I have a dozen or more articles about lifestyle and motivation. As you can see, the website is not niched down, which is not a good thing if you want to make a living out of it.
What's been the most challenging part of starting a blog?
Monetizing it was one. And the other one was finding a niche or a theme.
I realized that last year. So, after I finished my largest travel guide about Spain, I decided to team up with a fellow travel blogger to create a new travel website and put our combined experience to good use.
We constantly look for ways to improve our craft and accumulate new skills. For that reason, I signed up for Nomadic Matt's Superstar Blogging. (I actually wish I signed up at the beginning of my blogging career as I'd have done a much better job with all the invaluable information in the course.)
The blogger I partnered with is Naddya from NTripping. The new site, which we launched less than two months ago, is called 33TravelTips.
It focuses on providing readers with smart, practical, and easy-to-digest travel tips. We have big dreams about it, and we believe, with our combined travel blogging experience, we will make them come true.
What 3 tips do you have for other bloggers/digital nomads?
Here are the most important ones, in my opinion:
Quality over quantity If you can do both – great. But it's better to post a good, high-quality, long-form blog post once a month than four short, lower-quality ones. This applies to social media, too. It's best to focus on a few channels and develop them, rather than being on dozens of social media with no notable progress anywhere.
Learn SEO, but don't write like a machine. Before you start writing your post, do some research to see whether it's even worth writing about a specific topic. And make sure whether it's possible to rank on the first page. If not, move to another one. Keyword research is crucial, but even more so is writing to humans, not to search machines. I know it's tricky, but practice makes perfect.
Start an email list and nurture it well. This is probably the most important piece of advice I can give bloggers and digital nomads who're starting now. I've been doing email marketing for my copywriting clients for a few years already. Email still is and will continue to be the medium with the best Return on Investment (ROI).
IMPORTANT: In your emails, don't just tell them about your adventures. Readers don't care about you. They want to know how you can help them travel in a better way. Make sure you always provide value and center it around them, and you'll have raving fans everywhere.
What are your blogging goals for 2020?
I have a few. And while simple, they'll require a lot of work.
The first one is to rank the new travel website on Google for the targeted keywords, mainly for European destinations.
The second one is to start building and growing an email list. As I mentioned above, it brings the best ROI. And it's the best way to connect to the reader.
The third one is to make the brand memorable. This will be a combination of everything – articles, social media presence, and emails.
And the fourth one is to monetize the website when the time comes. The travel industry has taken an enormous blow from the current crisis situation, so this will be the most challenging of all.
But I'm optimistic that with enough work and the help of the travel blogging community, the website will be very successful.
Where can we find you online/on social media?
When I'm not working on my websites, you can find me sharing stories on Instagram or entertaining my followers on Facebook.