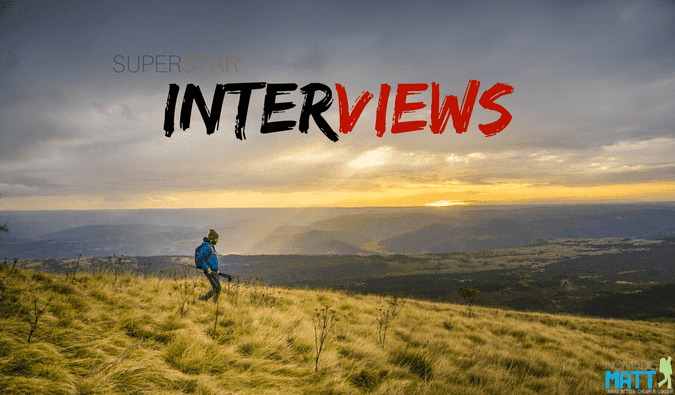 Each month we feature an interview with a member of the Superstar Blogging community. These interviews highlight the ups and downs faced on the road to success, illuminating helpful tips and tricks along the way. If you want to get inspired to succeed, then consider these interviews must-read material! This week we are featuring Di from Slight North.
Tell us about yourself!
Hi, I'm Di! I grew up in Ohio in the US and went to Boston College where I majored in Political Science. Some of my favorite things (besides writing and traveling, of course) are hiking, drinking craft beer, and petting any and all dogs that I have the good fortune of passing by on the streets.
How did you get started traveling?
I went to Canada a few times as a kid and studied abroad in Italy in college and loved every second of every trip. So I told myself I would move abroad when I graduated in 2014 and I've been traveling ever since! I started as a teacher for two years in Abu Dhabi and now my husband and I work remote and travel full-time as digital nomads. In 2017 we lived in Colombia and Peru, in 2018 we traveled through Mexico and the Balkans, and 2019 began with five months in Turkey and Ukraine.
What have been some of your favorite destinations so far? Why?
I loved Mexico so much that I'm returning for another five-month stay in the second half of 2019. Every city and state offers a completely different travel experience and the natural sites like underground caves, active volcanoes, pristine beaches, and lush jungles are all spectacular. Do I even need to mention the food?!
Theth National Park in Albania is another beautiful place that I feel lucky to have experienced. It's so remote that only one dirt road leads in and out. We slept in a guesthouse and ate homecooked food from the family that ran it while hiking every day in the beautifully imposing peaks of Albania's Accursed Mountains.
Finally, Lviv, Ukraine was a total surprise for me. The architecture was gorgeous and the food was so good that Ukraine rivals Mexico as one of my top favorite food countries. I ate a lot of dumplings and drank a lot of craft beer and really enjoyed the cozy ambiance of the city.
What places/activities are still on your bucket list?
Most are major tourist sites that I'd really like to see before I die, like the salt flats in Bolivia, Table Mountain in Cape Town, the Great Barrier Reef in Australia, and pretty much just everything in London.
Have you had any misadventures on your travels? What lesson did they teach you?
I made my biggest travel mistake in 2015 when my husband and I were flying to Nepal with a layover in India. The layover required leaving an international terminal and entering a domestic terminal, which meant we needed a visa that you can only get from an Indian embassy! We were abruptly informed of this when we were denied from boarding our flight at the gate.
It was stressful trying to find and buy new international flights at the last minute and I ended up shelling out more than a thousand dollars for the second set of tickets. So, I guess there were really two lessons learned that day – always have emergency money available while traveling (because, at some point, you will probably make a costly mistake) and always, always, always check the visas in EVERY country you're passing through before you fly!
Where are you traveling in 2019?
I spent the first two months of 2019 in Istanbul and then spent five weeks in Lviv, Ukraine and six weeks in Kyiv. Now I'm back in the US for the summer before rounding out the year with five months in Mexico split between Mexico City, San Miquel de Allende, Oaxaca, and Puerto Vallarta. There are a few short trips to Manchester, UK, Caye Caulker, Belize, and Austin, Texas thrown into the mix as well.
What's the most important lesson travel has taught you?
I'll probably forget most of my trips when I'm old and the photos of them will get lost (or the tech to display them will be outdated), so I've realized there's really no point to traveling unless I enjoy it in the moment because there's nothing I can take with me permanently. That realization has seeped into every part of my life and has helped me chill out a bit and stay present in the present rather than worry about the past or the future.
When did you start your blog? Why?
I started my blog in March 2017 just for fun because my husband and I were embarking on the next stage of our lives as digital nomads. It has since evolved along my life, travels, and changing career goals and it's cool to have such a clear diary of that. Even if it never has another reader or makes another dollar, all my memories are captured in it so the hard work was still worth it 🙂
What has been the hardest part about blogging so far?
The technical aspect of it all can be confusing. I've learned a ton about SEO and the behind-the-scenes workings of WordPress but it's still annoying when I have to troubleshoot various issues (like trying to reverse the damage when our site was hacked!).
What's your #1 most popular post? Why do you think that is?
My most popular post is "How to Visit the Coba Ruins from Tulum". It's gotten about 8,000 views in 1.5 years and I think it's because it's just really detailed and helpful. It was difficult to figure out how to visit the Coba Ruins in Mexico because most of the articles I found about it were a bit vague about how to get there. So, I shared the exact details of the bus, collectivo (shared van), and taxis in mine. I also included a budget estimate for the day trip, recommended nearby restaurants, and even created a DIY guide to visit the nearby cenotes (underground caves) by bike, so all of that came together to be a helpful resource for future visitors.
If you could pass on 3 tips to a new blogger, what would they be?
1. Learn SEO.
SEO (search engine optimization) just means improving your site so that Google ranks your articles in the top results when people search for the topics you're writing about. This generates free traffic that continues to grow over time as you improve your SEO efforts and create more content. It can seem scary at first if you're not a techy person (like me) but it's actually pretty fun — this guide to basic SEO for travel bloggers can help you get started!
2. Be you.
I know this is the most overused advice in history, but it's true. My first articles were so embarrassing I actually had to delete them because I had this idea of what a travel blogger was and tried to be like her. It's taken years, but I'm finally comfortable writing in my own voice and writing about topics I love (like beer or dogs) rather than trying to mold myself into the preconceived 'blogger persona' I originally set out to be.
3. Comparison is the thief of joy.
When I first started out I never, ever dreamed I'd be where I am today. The notion of people actually reading the articles I wrote was insane enough and the thought of making money was positively overwhelming. My mom used to say 'inch by inch it is a cinch and mile by mile it is a trial' and no advice is more fitting for bloggers.
Take baby steps and don't compare your blog to others who have been around for years. It's hard, and something I still struggle with, but now when I start that downward spiral of self-judgment I try to actively notice it and channel that energy toward chasing my goals instead.
Since you've been brushing up on SEO, what's one key SEO tip you can share with new bloggers?
Take the time to edit and update old posts once a year. Every summer I go back through all of the articles on my website to update the content and SEO. It takes weeks, but updating old content is just as important as writing new content.
What's one thing you wish you knew before you started blogging?
Things will go wrong, so keep cool and don't panic!
Once, my site was hacked and it took hours to get access again. Another time I accidentally published a single blog post that copied itself over ALL 200 posts on my site and my hosting company had no backups (lesson learned, always keep your own backups with services like UpDraft or CodeGuard) so it sat like that for 24 hours before I figured out how to manually reverse each post, one by one.
Both times I panicked (it's hard to see years of work go up in flames) and worried that our traffic and rankings would take a huge hit but it was absolutely fine. Remember that Google has seen every issue a thousand times and it will really all be ok.
What are your blogging goals for the next year? What are you looking to achieve?
My biggest blogging goal for the upcoming year is to begin working with brands to drive income with sponsored content and brand partnerships. I'd like to land a few large, months-long partnerships in 2020 rather than small, one-time projects.
What websites/books/resources have you found helpful as a digital nomad? 
First, I couldn't be a digital nomad without Airbnb because it makes renting long-term, furnished apartments around the world so easy. Plus, we usually get discounts for long-term stays.
Upwork.com made it easy to find freelance clients and launch a location independent freelance marketing and writing career.
I also like the Nomad List which ranks cities around the world to determine if they're good or bad for digital nomads based on nomads' ratings for factors like internet speed, safety, level of fun, and more.
Where can we find you online/on social media?
Check out my blog at slightnorth.com or connect with me on Facebook and Pinterest!