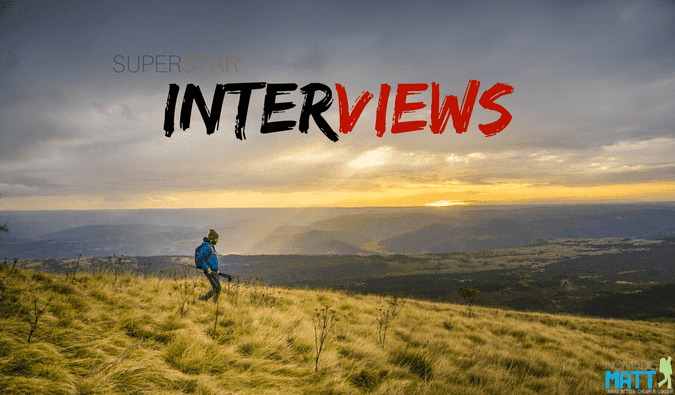 Each month we feature an interview with a member of the Superstar Blogging community. These interviews highlight the ups and downs faced on the road to success, illuminating helpful tips and tricks along the way. If you want to get inspired to succeed, then consider these interviews must-read material! This week we are featuring Kylee from Passports and Preemies!
Tell us about yourself
My name is Kylee Nelson, I am originally from Omaha, Nebraska – the land of cows and corn. I graduated from Emory nursing school and have worked as a neonatal intensive care (NICU) nurse for 4.5 years. I am currently a travel nurse, moving every 13-weeks across the United States. In between my contracts, I take as much time off as I can to travel!
And how did you get started traveling?
My love for travel, especially solo travel, began in 2017. I was bored at work one night and started to Google, "How to be a nurse in a different country."  I came upon a volunteer opportunity with Project Hope to work in the NICU in Skopje, Macedonia. I spent eight weeks in Macedonia; traveling solo to different countries on the weekends. That's where it all began!
What have been some of your favorite destinations so far?
My favorite destinations include Macedonia; while I was there I was living with locals, which is a different experience for me. I was able to see what was truly special and unique about the country and felt as though I was doing more than "scratching the surface." I was able to see why Macedonians were they way that they were. And a plus is that I was taken to many local spots (where I wouldn't have thought to go on my own) and had a truly local experience.
My next favorite destination has been Myanmar. A country that is worlds different from anywhere else I have been.  A place that hasn't yet, been completely overrun by tourists. Where the locals are kind and helpful and aren't looking to scam you. A country so uniquely different in terms of the landscape; from pagodas springing from the ground in Bagan, to floating through houses on stilts on Inle Lake. From rolling green hills to winding dirt roads…Myanmar feels like the most unique country I've visited.
What places/activities are still on your bucket list?
There are so many places! The shortlist includes Portugal, Jordan, Oman, Greece, Georgia, and Montenegro. I'd like to visit the coast of Portugal and wine taste through Georgia.
I'd also like to see ancient ruins in Jordan and visit mosques in Oman.
Have you had any misadventures on your travels?  What lesson did they teach you?
 I've been truly lucky to not have anything go horribly wrong while traveling.  One misadventure that sticks out the most was when I rented a car in the UK. I didn't call ahead to confirm and was given a manual instead of an automatic.  Which in turn resulted in waiting for an automatic car to become free. A few hours later an eight-seat van became free, and I ended up driving it through small countryside roads. I canceled the last part of my trip and turned the van in early because it was too hard to drive such a big car on the different side of the road.
The lesson I learned is that you can never over-prepare. Always call ahead to confirm plans!
What is the most important lesson travel has taught you?
Travel has taught me to open my mind. That it is a great big world out there…full of people and places that challenge you, allow you to grow, and teach you lessons. It has taught me that by simply listening to people that are "different" from you, you can learn a lot. And that maybe a more peaceful world simply begins with an open heart and listening ear.
Now tell us about your blog!
My blog is Passports and Preemies, combining travel and nursing. My aim is to prevent nurse burnout by utilizing travel on days off. Nursing is a unique profession in that you only work three days/week with a potential for eight days off in a row without taking any paid time off.  On my blog, you can find many travel guides, but most importantly you can find eight-day vacations, how to become a travel nurse, and why it's important to utilize time off; which is unique compared to other travel blogs.
I started blogging when I volunteered in Macedonia.  What began as a way to remember my time, turned into a passion to help and encourage others.  My blog began in May of 2017, but I didn't start to think of it more seriously until September of 2018 when I joined Superstar Blogging.
Has starting and running a blog been what you expected?
Absolutely not. If you're only in it for the money and you don't have a true passion and connection for what you're trying to do…you'll burnout. It's been nearly two years and I have yet to make a cent off of Passports and Preemies. Yet I am still motivated to keep going, and truly believe that I will eventually get there.
I also believe that anyone can get there if they have a true passion for it!
What is one thing you wish you knew before you started?
I wish I knew it was okay to seek help. For a year and a half, I did EVERYTHING on my own without seeking help or advice. I saw it as a sign of weakness and wanted to prove that I could literally do it on my own. But my expectations were unrealistic, and I couldn't…and that is more than okay.
What are some of your biggest successes so far?
My biggest successes have been pitching multiple guest posts and being approved for them. Slowly learning SEO and having one of my articles show up on the first page of Google. Doing Instagram takeovers with accounts that have over 100K followers.
But my biggest success is gaining the confidence to keep going. To stop worrying about what others may think or being embarrassed that my blog has yet to monetize. But having the confidence to know that I can do it.
What tips do you have for bloggers looking to pitch guest posts?
Decide who it is that you want to pitch and always look at their blog first. See if they already have content on the subject your pitching, how could your content benefit their website? I also recommend finding something you can relate to so when you send your email it sounds more personal. For instance: "Hi X! I see that you just spent time in X and I've always wanted to go! I noticed that you don't have any content on X and just spent X days there. Would you be interested in me writing a post for you? My blog is X and this is my writing style (send link)."
Usually, that does the trick and if it doesn't it at least starts a conversation! I have also joined two really great Facebook groups: "Travel Collab Post Opportunities" and "Guest Post Request Group (Travel)" which have been game-changers as far as getting my name out there.
How did you go about getting those Instagram takeovers? Any tips or tricks to share?
Whenever I go to a new destination I always search the destination on Instagram and make a list of each Instagram page dedicated to that destination. For instance, if you search "Seattle" you might find VisitSeattle, SeattleWashington, SeattleBucketlist, etc. I then find their emails (if email isn't listed send a message), and explain why I want to do a takeover and list any experience I've had in the past.
While most people don't respond I have now successfully completed 5+ story takeovers, gaining me hundreds of followers. If you land a takeover make sure to list your IG name right away in the first story, if the account has over 10K followers link one of your blog posts (pick one that is RELEVANT, do not be spammy), and always send a thank you email when you're done.
What is something you're struggling with as a blogger?
Some days I feel stuck on "where to go next". It's been a long learning process and I know that eventually I always get to the next step. But some days, staying motivated can be difficult.
What are your blogging goals for 2019?
My blogging goals are to work with a tourism company. I want to get better at pitching people; I still struggle with confidence now and again. Plus, I want my blog to continue to grow and to reach more people.
What three tips do you have for new bloggers starting out?
1. Do NOT give up!
The journey is long and hard and to successfully get there you have to take it one day at a time, one step at a time. There is no easy fix or way to bypass this part of blogging. But you'll feel immensely proud of yourself for building your blog and following the right way.
2. Ask for help. Seek a mentor! You absolutely can't do this alone. And the sooner you realize that, the closer you'll be to reaching your goals.
3. It's okay to take a break. If you start to feel burned out…take a week off! Regroup and remember why you started in the first place. Don't beat yourself up for taking care of yourself.
What are some of your favorite blogs — either travel blogs for inspo or blogs to help you level up your skills?
Love this question! My recent blog obsessions include Postcards by Hannah and Twins that Travel!
Where can we find you online?
You can find me on my website Passport and Preemies. I'm also on Instagram, Facebook, Pinterest, and Twitter.