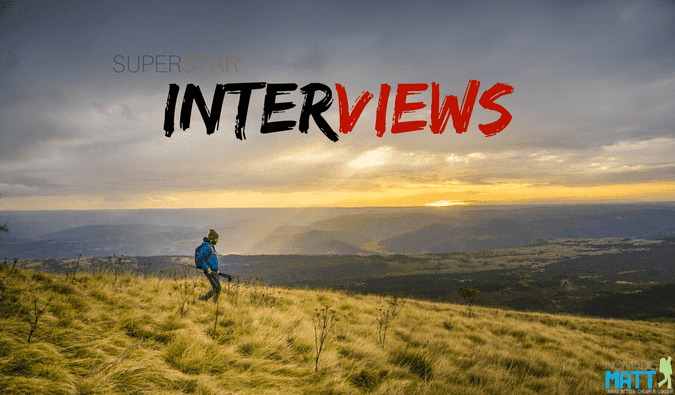 Each month we feature an interview with a member of the Superstar Blogging community. These interviews highlight the ups and downs faced on the road to success, illuminating helpful tips and tricks along the way. If you want to get inspired to succeed, then consider these interviews must-read material! This week we are featuring Andrew from Food and Fork and Lap of Tasmania!
Tell us about yourself!
I always do a double-take whenever someone asks me where I'm from. As a child I moved around a lot, following my parents wherever their work took them across Australia and Southeast Asia — but now I call Tasmania home.
I graduated as an electrical engineer and after leaving university spent the next 15 years working in the electrical industry, slowly climbing the corporate ladder. At the same time, in 2012 I took up blogging as a hobby and over the next 4 years Fork and Foot grew to become Tasmania's #1 food blog.
Despite our success in the corporate world, a few years ago my wife and I had reached the point where we simply couldn't handle the frustrations that came with it, and we decided to leave and start a life of travel with the blog as our focus.
'Interesting' is probably an understatement when it comes to describing the last few years, as it has pushed us into directions we never could have imagined when we left Tasmania.
It only took a matter of months for me to realize — to my horror — that despite blogging for years, despite my way with words, and despite my photography skills, I was clueless when it came to monetization. And who knew 'global food and travel' wasn't a niche? Social media was my sole source of traffic, and I thought my abilities to tell a great story would 'somehow' translate to epic organic web traffic.
As panic set in I tried my hand at so many different types of jobs. Social media management, freelance writing, and other jobs at hourly rates that would have put me waaaay below the poverty line back home. Upwork, online magazines, travel sites, digital marketing…and so many more. And of course, the blog suffered. Big time! Which meant it grew even slower than I'd hoped, which pushed me to find even more sources of revenue…a vicious cycle.
And yet, despite the negatives, it was a trial by fire that over time showed me what really mattered. Where my time was best spent. How it is our readers or customers that are #1, and that so long as you're giving them what they need, it doesn't matter if you know the difference between their, they're and there, or that you can take a pretty picture. Knowing your niche, and satisfying that niche is all that matters.
It also made me realise that my true niche had been staring me in the face since the day we left Tasmania.
It may have all started with food and travel, but it finished with Tasmania. Road tripping Tasmania, to be precise.
And so, the Tasmania road trip was born. Using all those experiences — positive and negative — I've finally found something I love, that I know, and that has an audience. It's early days, but I'm really enjoying seeing my months of planning pay off, and the traffic start to grow.
What have been some of your favorite destinations so far? Why?
There's something special about Japan. Perhaps it's out naturally reserved natures finding an affinity with the Japanese culture, or maybe we just can't get enough sushi in our lives. Either way, we hope to return one day.
Another favourite is our current location: Sibiu in Romania. We knew next to nothing before deciding to make Sibiu our home for a couple of months, but the friendly Romanians, delicious food and wine, and gorgeous city have been an absolute dream.
And of course, who can say no to Mexico?! Mexico City has such a terrible reputation, and yet we fell in love with the sounds of the streets, the street food and their whole way of life.
What places/activities are still on your bucket list?
We would love to spend an extended period in Spain, or Iceland (if we could ever afford it!).
Where are you heading in 2019?
We've just finished booking our Balkan odyssey, which will take us from Romania to Hungary, Croatia, Serbia, Montenegro, Albania, Bosnia and Slovenia.
Have you had any misadventures on your travels? What lesson did they teach you?
2018 was a crazy year for us both. If the challenges of being a digital nomad weren't enough, my wife broke her ankle while cycling in Thailand.
First lesson learned, World Nomads insurance is fantastic and well worth the investment — they saved us tens of thousands of dollars.
But more importantly, it also helped us realise what matters most in life, and how easy and unnecessary it is to sweat the little things.
What's the most important lesson travel has taught you?
That at heart we're all the same.
So, it's fair to say that starting a blog has not been what you expect?
Not at all. I very quickly realized that the writing — which is the really fun part for me – is barely 10% of what is needed to be successful. To nail the other 90% you need to learn and invest a lot of time into marketing, SEO, sales, PR, coding and so many other skills.
What's an average day like for you as a blogger and digital nomad?
Average? Ha! There's always something coming at me from left-field, but this is how I mostly spend my days. Monday to Friday is my working week, with weekends for exploring our current location and getting our shopping/chores done.
I'll typically start work at around 8:45am, beginning with a review of all emails that have come in overnight. Emails are assessed for importance and urgency, with only those meeting both criteria being actioned immediately.
After that, I'll spend an hour or so in my Tasmanian Road Trip Facebook Group and Facebook Page interacting with everyone. I try to spend a few hours on one of the weekdays 'batching up' all my posts for the week and scheduling them all in one hit, as this is a more efficient use of my time than doing it every day.
Once my social commitments are out of the way I may go back to some of the other emails, or to my To-Do list on Asana to allocate a few tasks for the day. This will vary between planning content, writing posts, publishing posts, promoting posts, backlink generation, website maintenance and reaching out to potential affiliate partners to establish new relationships.
Most days I try to finish up around 5:30-6pm, but often I will keep tinkering on non-urgent or non-important stuff throughout the evening, or do some writing for my other blog (by that time of day the creative mojo is often gone). My wife starts later than me, and this works well because, by the time she finishes her work for the day, I've generally finished tinkering!
I try to do as little work as possible on a weekend, but I will always check my emails for anything important that comes through from my affiliate partners or readers. I will also spend a little bit of time on a Saturday and Sunday responding to questions and comments in my Facebook Group/Page. The group is still growing and hasn't yet got a momentum of its own, so I need to keep poking it to make sure everyone is as engaged as possible.
My wife has a fully remote job that requires her to be available during the week, so we try to schedule any move between cities/countries for a Saturday. That way we can get the move done that day, and we have the Sunday in our new destination to set up our office space in our Airbnb, to get our shopping done for the week at the local supermarket, and to explore our local neighbourhood.
Is it hard to balance travel and work?
It is — unless you slow down! We travel very slowly, typically spending 4-8 weeks at each destination. Not only does this allow us to explore in a more relaxed manner, but it allows us to generate greater destination 'authority' because we've got more to write about, and it also means we aren't spending all our time planning our next move at the expense of getting work done (not to mention the stress of it all).
Very early on we tried moving between locations every 1-2 weeks but found ourselves quickly getting burnt out and stressed. So we put a stop to that pretty quick, and it also means we can get bigger discounts on Airbnb for stays longer than a month.
How are you monetizing your blog? Do you have monetization tips for new bloggers?
I have a destination travel site, specifically focusing on travellers exploring Tasmania by car or campervan. I use a combination of traditional affiliate providers (CJ.com, Booking.com, Motorhome Republic, etc) and customized affiliate agreements to monetize the booking process for accommodation and vehicles.
Setting up the customized agreements is really interesting and pays off big time. To do this I've been working with local business around Tasmania to establish my own agreements with them. Often these entail a commission on sales in return for the opportunity for them to become a 'partner' of my brand (and comprehensive promotion), while in other instances it is far more simple and involves them providing additional value for my readers in return for a little bit of promotion. It takes more work, but so far these have already proven to be far more valuable than the traditional affiliate programs that most bloggers use.
My key tip for new bloggers is to forget what you think matters, and instead ask your readers and then give them exactly what they want. Send out a survey to ask them which service providers they use, and why they use them. Put the same questions to your FB Group or Page. Ask your friends and family. You'll be surprised at how differently everyone approaches the buying cycle.
Oh, and don't just apply and implement every single affiliate program you can find because 'it might make me some cash on the side'. Not only will you be wasting your time, but without strategic focus, it probably won't make you a cent. Just look at all the tales of woe regarding Get Your Guide and Viator on Facebook and you'll see a common thread: they aren't targeting the buyer at the right point in the sales funnel.
Be smart. Be focused. And give your readers what they need, when they need it.
What is #1 thing you wish you knew before you started blogging?
Blogging as a business requires you to learn a completely new set of skills compared to a hobby blog, and it is highly likely you will need to be prepared to make some form of ethical and/or artistic compromise to achieve your financial goals.
What are some of your biggest successes so far?
I was thrilled to win the 2018 John Muir Trust Living Landscape Photography Award (Scotland), and to see my work published in one of my favourite travel journals, Roads and Kingdoms. But more recently it's the satisfaction of seeing my digital efforts translating to tangible benefit in the Tasmanian travel community.
What is something you're struggling with as a blogger?
Balancing the art of writing with the business of blogging. It's such a shame that crafting a delightful turn of phrase so rarely translates to SEO success.
 What are your blogging goals for 2019?
To increase traffic to the Lap of Tasmania through highly optimized SEO-focused articles, and to build a community of like-minded road trippers through our Facebook group. If I can achieve that then affiliate income and corporate sponsorships will follow.
 What 3 tips do you have for new bloggers just starting out?
Understand whether you want to write for pleasure or for business.
Choose your niche wisely. Don't be afraid to ask the community for advice — and then dive deep.
Allow yourself time to plan, learn, and succeed. Blogging is a marathon, not a sprint.
 Where can we find you online/on social media?
You can find me at Lap of Tasmania, as well as on Facebook and Instagram.