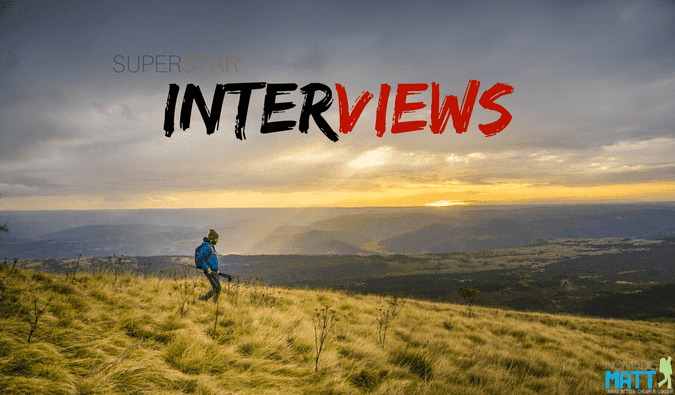 Each month we feature an interview with a member of the Superstar Blogging community. These interviews highlight the ups and downs faced on the road to success, illuminating helpful tips and tricks along the way. If you want to get inspired to succeed, then consider these interviews must-read material! This week we are featuring Shellie from KidTripster!
Tell us about yourself!
I'm a Midwestern girl at heart, born in western Michigan. My family struggled financially when I was growing up, so big extravagant vacations were not part of my childhood. Instead, my family and I spent most summers at my grandfather's cottage on Torch Lake in northern Michigan. They were happy times spent with family and friends. I attended Northwestern University in Evanston, Illinois, where I majored in Radio/Television/Film. I would go on to get my master's degree in Broadcast Journalism from Northwestern, as well.
I spent the first few years of my television news career working as a producer in Allentown, Pennsylvania and then Philadelphia. I moved on to become an on-air reporter in Michigan and Connecticut. In 2000, my husband and I had our first child and moved to Portland, Oregon. We love the Pacific Northwest and have lived here ever since. I worked as an investigative television reporter at KATU until 2015, when I started KidTripster!, combining my experience as a journalist and my love of travel.
Most importantly, I'm the mother of two boys. My oldest is a college freshman; my youngest is a high school sophomore. My husband and I are not the least bit prepared to be empty nesters!
How did you get started traveling?
While I didn't travel much as a child, I had an intense interest in geography, history, and culture. Fortunately, my husband shared these interests, so when we got married, we started traveling together. As our kids entered the picture, we continued to travel — albeit in a different way. With the kids, we started small and then grew their experiences and confidence. By the time my youngest child was 5 years old, we were traveling to places like the Australian Outback and rural China.
What have been some of your favorite destinations so far? 
That's a difficult question; it's like asking me to choose a favorite child!  I can honestly say that I've been enriched by every new place that I've visited. I think that the place that's touched my heart the most is Cambodia. The people of Cambodia are the friendliest that I've ever met. Learning about their recent and horrid history, seeing the Killing Fields firsthand, talking with people who lost their entire families – you really feel for this country. But the people have new hope, and they're so eager to share their country's treasures with you. I really do love Cambodia!
The Galápagos Islands are worthy of their bucket list status. My family and I took a small ship cruise, visiting some of the more remote Northern Islands. The wildlife here is extraordinary and unusual. My kids still talk about swimming with marine iguanas and Galápagos penguins. I'm even able to look past my initial seasickness!
Just this past month, I was fortunate to explore another favorite: Antarctica. My son and I celebrated visiting our 7th continent together. Antarctica is so serene and still untouched. And the wildlife viewing is spectacular. It was definitely a once-in-a-lifetime experience.
Closer to home, I'm a big fan of Alaska and its national parks. In particular, I highly recommend ice climbing in Wrangell-St. Elias National Park. It's worth the effort to get there!
What places/activities are still on your bucket list?
The more that I travel, the more places get added! Domestically, my family and I have a goal of visiting every national park in the U.S. So far, we've traveled to 44. Three of the ones that are difficult to reach are on my bucket list: American Samoa plus Gates of the Arctic and Kobuk Valley in far north Alaska. Internationally, I'd like to see the polar bears in Churchill, Petra in Jordan and the cherry blossoms in Japan.
Have you had any misadventures on your travels? What lesson did they teach you?
Oh, I've had plenty of misadventures! When my sons and I were in Nepal, my youngest got violently ill (he vomited 20 times in six hours!) the night before we were to leave on a 5-day trek to the base of the Himalayas. He was so weak and dehydrated the following day that I ended up carrying him uphill in a monsoon (no joke!) during the last hour. I decided that he wouldn't be able to continue and — much to my older son's disappointment — canceled the rest of the trek and returned to Pokhara to recover. The lesson was really learned by my older son. Sometimes, you have to put your own wants and desires aside for the good of your family.
Another time, I crashed a "scooter" on the island of Moorea in French Polynesia. In my defense, the scooter was actually a full-size motorcycle. The worst part? My son was on the back of the bike and went down, too. Our scrapes and cuts keep us out of the ocean for three days. Lesson? Don't rent scooters on vacation! Period.
Finally, I was recently kicked off a flight on my way home from visiting my son at college. I, unfortunately, had gotten food poisoning a few hours earlier. During the safety briefing, I had to get up from my seat and head to the lavatory. While I felt much better afterward, the flight attendant reported the incident, and — long story short — I was deemed "unfit to fly." In the process, I ended up delaying the flight by 20 minutes. The "walk of shame" down the aisle and off the plane was excruciating. Lesson? Don't get up during the safety briefing!
What's the most important lesson travel has taught you?
Wow, I'm constantly learning from my travel experiences. But if I had to pick just one lesson, it would be this: the world does not revolve around me. I think that Americans especially can get caught up in thinking that what happens in the U.S. has paramount, worldwide significance. Yes, the U.S. has great influence, but it's not as far-reaching as one might expect. As I travel to other parts of the world, I really try to tap into what's important to the people who live there.
Where are you traveling to in 2019?
I do love to plan to travel! In March, my family is meeting my mother and brother's family for our first ever vacation together in Orlando. I can't wait to introduce my nephews to The Wizarding World of Harry Potter at Universal. In May, my family and I are off to Ireland for an itinerary heavily influenced by the country's bucket list golf courses. We'll also be visiting Northern Ireland and touring several of the locations from Game of Thrones.
On our return trip, we'll be taking advantage of a free stopover in Reykjavik and spending four days ice climbing and glacier hiking in the southern part of Iceland. Over the summer, we hope to check off a few more national parks, including Mount Rainier. Plus, my younger son and I will be embarking on a two-week college road trip of the East Coast and Midwest. Finally, we hope to be on a Christmas market cruise of the Danube over the holidays before dropping my oldest son off for a study abroad experience in Florence.
Tell us about your blog!
In 2008, I was diagnosed with an aggressive form of breast cancer at age 38. Pretty scary stuff, but I survived. While my family and I had always been avid travelers, it was time to do something big. After nearly two years of saving and planning, I took a sabbatical from my job and set off with my sons (ages 10 and 13 at the time) on a 72-day backpacking trip around the world: England, the Netherlands, Tanzania, Dubai, Nepal, Thailand, Cambodia and French Polynesia. (My husband joined us half-way through the trip.) It was memorable, to say the least.  For me, planning a trip is a lot like investigative reporting. I really love digging into a place and unearthing the best family experiences possible. So why not put those skills to work for other families?  After the trip, I started to freelance as a family travel writer.
At the time, I was an Emmy award-winning investigative journalist for a television station in Portland.  After 20+ years in television news, I had paid my dues and had a pretty good gig. But like many parents of teenagers, I saw the window with my children closing…quickly. I couldn't stand for another breaking news story to prevent me from attending my sons' soccer or lacrosse games.
So in May 2015, I left television news and founded KidTripster, an online family travel resource that provides expert information and inspiration to families traveling with children anywhere in the world. The content is written by me and a group of real journalists who travel to the destinations with their kids. Those journalists? Former colleagues (and their colleagues) from 20 years in television news – most of them, moms. We also have a "staff" of KidTripster Teens — teenagers who write about their families' travel experiences from a teen perspective. The site recently was honored as the winner of the 2018 Lowell Thomas Silver Award for "Best Travel Journalism Website" from the Society of American Travel Writers (SATW), second only to BBC Travel.
What has been the most rewarding part of starting a blog?
As a journalist, I'm a sharer. When I make a new discovery that I believe would be perfect for families, I can't want to tell someone. I've been so gratified by parents who say to me, "We would have never thought of going there, but then we read your article, and now we've planned a trip!" I love being a part of families sharing new experiences together.
On the personal side, starting KidTripster has allowed me to continue pursuing my passions for journalism and travel while also being more available to my children. My oldest son left for college this past fall, so I'm keenly aware of how quickly time with your children passes. I've never regretted making the decision to take control of my professional life and my time.
And the most challenging part?
I've really had to push myself to expand my skill set to include editor, website builder, website manager, social media manager, travel agent, sales executive, and accountant. I certainly didn't have all these skills when I started! I just decided to plow through and learn. Fortunately, there are resources out there, like Nomadic Matt's courses, that offer help.
It's also been a challenge to force myself to spend time on areas that bring me less joy. Content is my sweet spot; I love creating content. Monetizing the site? Not really my jam! However, you can't have one without the other.
What's one piece of advice you have for all the new bloggers out there?
If you're deciding to blog as a hobby, brilliant. However, if you blogging or creating a content-rich site like KidTripster as a business, know that it's going to be work… a lot of work. And while you may be setting your own hours, there'll likely be more of them, at least in the beginning. In order to be a professional content creator, you need to love it.
Where can we find you online/on social media?
You can check out our blog at KidTripster.com. I'd invite you also invite you to follow KidTripster on Facebook, Twitter, Instagram, Pinterest and YouTube.