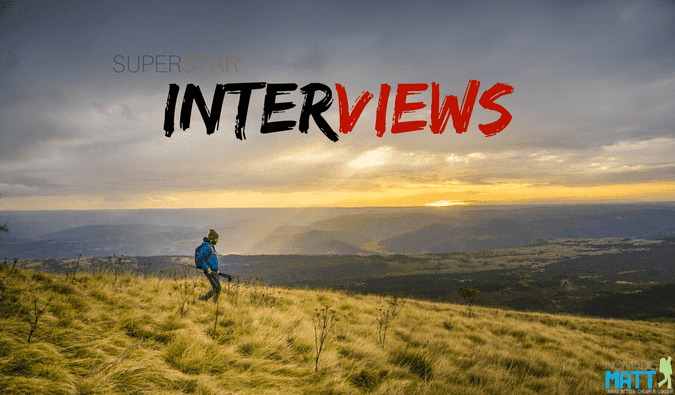 Each week we feature an interview with a member of the Superstar Blogging community. These interviews highlight the ups and downs faced on the road to success, illuminating helpful tips and tricks along the way. If you want to get inspired and succeed in the world of travel blogging, video, writing, or photography then consider these interviews must-read material! This week we are featuring Angela from The Business of Blogging course.
Tell us about yourself!
I'm Angela, from Angela Travels, a travel blogger and outdoor enthusiast. I worked for NASA in Cleveland and was traveling around the U.S for my training. I thought it would be cool to start an online journal of my travels.
I knew I wanted to be close to the mountains, so I moved to the PNW and eventually got a job for a co-op called REI. My blog got me in the door and I was managing freelancers to write for the Journal, along with publishing their stories to distribute on the company's social media channels. Little did I know that content marketing was becoming a trendy career path. I just wanted to share outdoor stories.
Now, I live in London with my husband who is on a work assignment for six months. We couldn't pass up the opportunity to have access to Europe's budget airlines this the summer!
How did you get started traveling?
Travel was never on my radar until I took an "Introduction to French" course in 7th grade. It was fascinating and even though my brain doesn't learn language well, I knew I wanted to study in France one day.
Fast forward to when I was about 15 years old. My family hosted a foreign exchange student from Venezuela. It was fun teaching her English and watching her see snow for the first time. Another reason why I travel is to get experiences I may not have got in a little regional area of rural Pennsylvania.
Eventually, I got my first passport and lived in Venezuela for a month. After our exchange student completed the program, my parents and her parents worked out that my twin sister and I would go down and live with her family (it wasn't part of the program). A country I didn't know at the time or realize how political unstable it was. It was a fun month of mainly playing cards in the house and hanging out with our new family's friends. We returned home just one month before 9/11 happened.
Years later, I applied for my university's Study in France program. Unfortunately, I was not selected. I put the $1,000 into a savings account figuring it was the universe's sign that it wasn't going to happen.
Honestly, I was a bit angry. I wasn't about to quit on my dream, so I applied for a program in Aix-en-Provence for six weeks through CEA. My procrastination meant I had one week to get my application and documentation together. It was quick, but I got a loan and was able to go!
What kinds of experiences do you find the most rewarding and enjoyable?
Travel isn't something that is handed to you (well maybe it is if you grew up traveling or have money). I've really had to work on it but have made it a priority. It pushes me to learn more about myself while getting out of my comfort levels. It may be stressful at times, but I never regret it.
I'm not a solo travel. Usually, my husband is with me on my travels. The biggest reward is becoming closer with him; you learn a lot about your travel partner on the road! Traveling with friends and family is also rewarding because I share my passion of travel with them. Don't get me wrong, I like to have alone time as well and enjoy going my own pace.
Another reward is just learning more about myself. Most of my earlier travels were planned to the T. I like to be organized and didn't like surprises. The more I travel, I learn it's ok to not have it all figured out because that is what makes it an adventure. You'll only cause more stress when things don't go as planned!
What destinations are on still your bucket list?
Nepal and Antarctica. I love mountaineering and the cold. I'm not a beach person at all. I'd love to climb some of the mountains in Nepal, but I don't have interest in doing Everest due to the overcrowding. Antarctica has been on my list longer because it is one of the hardest continents to travel to, but I want to go for the wildlife and marine life, along with seeing a place most people only see in pictures or videos.
Tell us about your most memorable trip!
All my trips are memorable different for many reasons, but I'd probably say New Zealand. After graduating college, I spent 2.5 weeks living in a campervan with my boyfriend (now husband) and two friends. I fell madly in love with mountains and aqua-blue lakes. It wasn't like anything I had ever seen and I wanted more outdoor adventures I just couldn't get in Cleveland.
Have you had any misadventures during your travels?
Even though studying in France was something I had dreamed of, I regret staying in student apartments instead of a homestay. I enjoy fitting in and would do what others in the program were doing. I didn't experience Aix how I would as a traveler today. My memories of that trip are studying and classes during the day and partying at night.
Also, for my last few days in South America before saying goodbye to my husband (he was traveling for another 2 months), we hired a car to go back into the Cochamó Valley. After flying into the airport and finding out the company had no more rental cars (nor did any of the other companies at the airport) we had to make other plans. We spent the last few days of my trip in the quaint town of Puerto Varas going to a German beer festival and paddling the fjords. It taught us to make plans on the fly!
Where are you planning to travel to this year?
I have a bunch of travel planned, fortunately! Besides weekend trips around Europe from London, I'm going to Asia for the first time in June and am planning on meeting friends in Norway in August. I'll be moving back to the States in September, and I'm hoping to get some rock climbing trips to Utah or California in the fall.
Why did you start blogging?
Being from a small town, I actually thought I was traveling a lot for work and wanted a place to share my adventures. My early blog posts consisted of chronological writing at its finest. It made me feel like I was sharing my life with others and including them in my adventures, which if you know me, I like everyone to feel included.
What has been your number one struggle so far?
I've been blogging for six years and still haven't seen any growth, but that is my own fault. Prioritizing my personal blog over my professional work has been the struggle. My free time was spent volunteering with an outdoor club or spending time with friends. I was blogging 40+ hours a week for work and didn't want to go home and do more.
Confidence is also a big struggle. I was told I can't write, which was very discouraging. I was in the "big leagues" now, but needless to say it took a toll, especially since I'm more logical than creative in my writing. I've worked on that as much as possible. I read stories over and over again for clarity and also re-read them before publishing them making sure all the edits were thorough. However, when someone doesn't have confidence in you, it spills over. I'm trying to surround myself with people who are more encouraging.
Have you had any recent blogging successes?
I've gotten a few press trips, tours, and accommodations. My biggest success is probably getting the full-time job with REI managing their blog. I helped launch it and was my baby until a month ago!
What has been your most successful blog post?
My most successful blog post to date is 5 Road Trips to Take with Your Mountain Collective Pass. I tagged Mountain Collective in my Facebook post and on Twitter, and they picked it up and shared it with their audiences. I also wrote one more on tips and planning with your pass.
What is one thing you wish you knew when you started blogging?
How to be a brand (I still don't know!) I've been a master of all things, so it is hard for me to focus only on one topic. I've written about city travel and outdoor travel. Though most of my "travel" happens in the PNW since I've only had 10 days of vacation the last few years.
What other blogging resources have you found helpful?
Reading other successful blogs has been helpful, such as Young Adventuress, A Dangerous Business, and Be My Travel Muse.
I use Buffer to schedule content I'm reading (mainly on Twitter) and my own content across my social media platforms. I've taken a few courses with Travel Blog Success and was a pilot for Amanda's (of A Dangerous Business) Travel Blogging 101 course. Amanda's pilot was basic and geared towards newer bloggers getting started, but I did learn a few nuggets here and there and was happy to learn more from a successful travel blogger.
Has blogging changed how you travel?
Most definitely! I'm always trying to find the story angle or document my travels with my camera. Crafting stories can sometimes be hard since my husband and I are usually fast and light travelers. He's supportive of my blog. but I sometimes feel the pressure of choosing between getting the right story angle and content or managing my relationship.
Secondly, I'm not much of a city traveler (most people are), so I wouldn't have spent time in a museum or an extra day in the city if it wasn't for blogging. It makes me expand my knowledge of where I'm traveling where I learn things through research and post travel research to be the best informed for my readers.
Why do you continue to blog?
It's always good to have an outlet. My family and most of my friends doesn't share my love of travel, so I can't talk to them about it. I guess writing about it makes me feel like I'm part of a community of travelers.
I'm a creative person that had a procurement/finance career. I needed to escape from the numbers and share stories. I'm building a career in content, and my blog is my personal portfolio. Companies like to see you have side projects these days outside of work.
What are your blogging goals for 2017?
Now that I have more time to dedicate to my blog, my main goal is to improve my writing (a niche and voice) and to read more. I'm working on my writing confidence and have joined some communities to help ramp up my social media presence.
Do your family and friends support your travels?
Not exactly. I stopped talking about it with my family. I felt guilty that I was taking vacations when they complained about never having the money. The thing is, no one has the money. Recently, I've given up on trying to make people happy and tried to focus on making myself happy. I was anxious to share my writing on my personal Facebook, but I'd say friends and family are going to be your first supporters before strangers. They'll get used to you talking about it or you'll figure out who not to talk to about it. They'll come around!
What advice do you have for a new blogger?
Have a plan. I'm sure you've heard this before but in a viral world, everyone thinks they are going to have insta-success. Sure, it happens, but it takes work! Also, be confident. Confidence is something I definitely lack, which is probably why I'm not growing…I'm working on that.
Tell us about your blog and where we can find you on social media.
Thanks for asking! You can find me at angelatravels.com. I'm also on Instagram, Facebook, Pinterest, and Twitter!