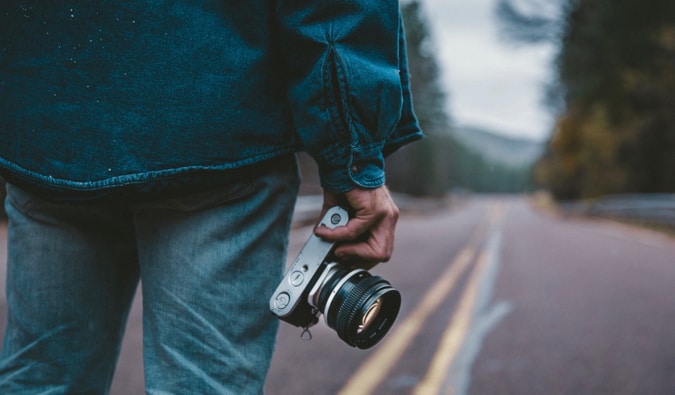 This post is a short excerpt from a larger and more in-depth lesson on Instagram in our Business of Blogging masterclass.
Travel photography is one of the largest and fastest-growing niches in the travel industry, all made possible by the massive popularity of Instagram. While the platform has had its challenges, it is the go-to social media site for showcasing travel photography and connecting with your audience live (via Instagram Stories, Reels, and Live video).
While the platform isn't great for referring traffic back to your blog or website, it is nonetheless a vital platform for any brand. Regardless of whether you're a blogger, photographer, writer, or vlogger, chances are you have an Instagram account. And chances are, it has caused some headaches as you work hard to grow your reach and expand your engagement.
Instagram can be a struggle, it's true, but it's definitely still possible to grow and connect with your audience. While the platform isn't as easy to grow on as it once was, there are still opportunities. To keep you on track, here are some tips to help you succeed on Instagram.
1. Know how often to post – Not sure how often to post on Instagram? Should you post daily? Every other day? Multiple times per day? According to studies, the sweet spot is a consistent 1-2 posts per day. This is the best way to engage your audience without oversaturating them with content. To find out which works best for you, pay attention to your follower's habits.
How? Insights.
As a Business Account on Instagram, you'll have access to helpful analytics that will give you insight into your audience's habits. Use this to find out when your audience is most active. This will show you the best times to post each day, giving you maximum exposure to your audience (and therefore an increased chance at engagement.) accordingly, ensuring your posts continue to appear at the top of their feeds.
Instagram's rewards users that post consistent content because they want their users to be regularly using the app. If you help Instagram achieve their goal, you'll get pushed up higher in the newsfeed, ensuring more likes and comments. (This means posting consistently on the main feed as well as in Stories/Reels).
2. Add a compelling CTA – CTA stands for "call to action." You've likely seen it on all sorts of posts on social media. It simply refers to the action of asking your followers to do something or answer a question in response to your post. This could be something small like asking them a question that generates a comment, or something larger like asking them to click a link and register for something (an email list, a contest, etc.).
You're essentially ending your post with an action they can do to take part, which generates engagement for you and keeps the conversation going.
Here's a simple example from my Instagram account where I asked a question to boost engagement.
As you can see, the caption ends with a CTA that asks the audience to chime share their travel plans. This is a simple way to boost your engagement on Instagram. Remember the more likes and comments your post gets, the more people will see it — either directly in their feed or via the Explore Page. Either way, that means more eyeballs on your page. Always make sure you have a CTA that gives your post a boost in engagement.
3. Collaborate don't compete – The Instagram landscape has become more and more competitive over the years. For that reason, it's more important than ever to reach out and collaborate with other influencers/bloggers/travel photographers in your niche. While it's possible to grow an account all by yourself, collaborating with other people will make the process easier and faster.
By networking within your niche you'll also be able to come across opportunities you may not have heard of otherwise. Spend some time going through your favorite hashtags and find similar accounts and accounts whose content you enjoy. Engage with their content, start a conversation, and who knows – you may even end up meeting and collaborating in real life.
I've found one of the best ways to expand my audience is by co-hosting Instagram Lives with other creators. It exposes me to a new audience, helps me connect with other creators, and boosts my Instagram presence. Triple win!
Instagram makes it easy to foster connections with other users and brands, so find someone or a few people within your niche that are at a similar place in terms of engagement and/or following. Working on projects with other creators helps bring new people to your account. Just make sure you are working with people who would be relevant to your audience!
4. Use Instagram Stories & Reels – With over 400 million people using Instagram Stories every month, it shouldn't come as a surprise that one-third of the most viewed Instagram stories actually come from businesses.
Stories enable you to post a mix of photos and images in a single post that disappears after 24 hours. But their benefits can last much longer for your reach and engagement rates, pushing up your chances of appearing in the Explore section and helping you gain new followers in the process.
Use Instagram Stories throughout the day once you gain a decent following. This will keep your brand top of mind and top of the feed. Make stories as interactive as possible with polls, location tags, mention tags, GIFS, etc.
Also, prompt people to DM you, respond to your posts or stories, etc. Instagram rewards you for creating content that receives replies, DMs, and comments from your followers! Additionally, save your best stories as "Highlights" so people can view them after the 24 hours have expired. That will give you a ton of content for your IG homepage to keep people interested and engaged.
I find people engage most with personal, behind-the-scenes content that isn't as polished as what you put on the main feed. Experiment to see what works best for you!
For the best engagement, use Instagram Reels. It's IG's rival to TikTok and is heavily favored by the algorithm. I dislike video so I never use it, however, Instagram will reward you with massive engagement if you do use it since they are fighting hard against TikTok's dominance. Try it out and see how you like it — it might be worth it for you!
***
While Instagram can be a slow platform to grow on, it's definitely a platform you want to engage with. Just don't expect it to convert well when it comes to website traffic. This is a visual platform that grows best when you put a focus on stunning travel photography alongside a unique voice, compelling story, and consistent use.
Don't get dragged into the follow/unfollow game or worry about your growth rate. Just focus on producing consistent content and collaborating with others. Do your best to engage honestly with your readers. Because at the end of the day, that is what will set you apart and help you grow on the platform.