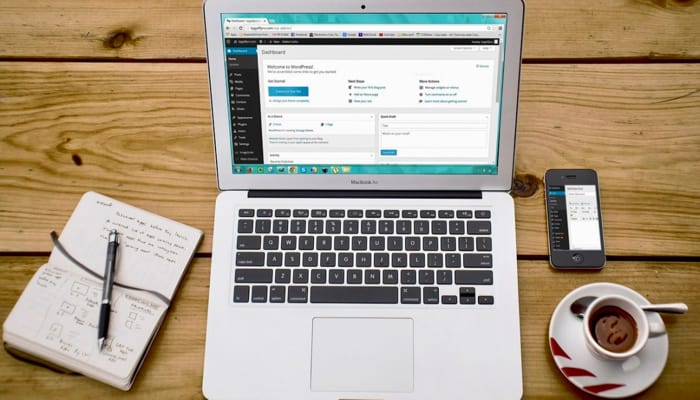 The following post is taken from a much larger and more comprehensive lesson on SEO from our Business of Blogging program.
When I started blogging, I had no idea was SEO was. I just wrote posts about whatever I wanted to. Sometimes I shared my thoughts and reflections about life and travel, other times I shared detailed, helpful content about specific destinations.
Usually, I just wrote whatever was on my mind. It was my blog, after all. My blog, my rules!
When I started to take my blog more seriously, I learned about Search Engine Optimization. After that, I had a big decision to make. Should I go back and edit my older blog posts to make them more SEO friendly? Would that help me boost my traffic?
Yes. Yes it would — it would help a lot!
Updating old content is such an easy and beneficial way to boost your traffic and authority in Google that, to this day, I still go about updating my older content each and every year. The team and I have a dedicated spreadsheet where we can keep track of what posts are updated and what posts I need to review. Yes, it can be tedious. But the results speak for themselves.
After updating old content, we always see a spike in traffic (and often affiliate sales, too). While tedious, there are clear benefits to making sure your older content gets optimized for SEO.
To help you boost your Google rankings and boost your traffic, here is how to make your old posts more SEO friendly.
1. Can I add more words to this?
Ask yourself, "Have I written as much detail as I possibly can? Is there any more historical information, opening hours, tips, tricks, or practical data I can add to this? What would make this the ULTIMATE guide to this one subject?"
Remember, Google loves detailed content! Long posts = more words = more potential keywords. And that's what Google wants to see!
The more facts and information you can include in your article, the more people will go, "Wow! This person knows their stuff!" and the more people will stay on your site and click to other pages. Even if people skim that content, the fact it is there will be a powerful psychological signal to users. And Google will love it too. Win-win!
2. Can I add resources to this?
The more resources you can add to your post, the more you make the most definitive article on that subject ever and the more you signal to Google that this is the best content! Ask yourself:
What companies can I add or suggest readers look at?
What helpful resources can I suggest?
What books can I recommend that relate to the topic?
What travel guides (either blog posts or physical guides) can I recommend?
The world's best content is going to have tons of resources that help the audience get the most from the post. Content with lots of extra resources tells Google that this page is the hub for information on this one topic.
Don't be afraid to link out to other resources. It makes your article stronger in Google's eyes.
3. What photos can I redo?
Make sure our photos are beautiful, high-res, colorful, and have really, really detailed ALT tags. You don't need to have a ton of photos in your posts, but having a few to break up the text always helps.
If you need to use stock photos, some great free resources are:
4. Are there videos or podcasts that can be added?
Creating content that has multiple ways to appeal to users keeps people on the page more and sends positive signals to Google that this the best content.
Find relevant, helpful content and link out to it. Embed YouTube videos on your page to increase the amount of time users spend on your post. Try to add as much value as you can.
If there are podcasts about the topic, link them as well so your readers can easily access them.
5. Can any information here be turned into a chart?
Having some simple graphics to go along with your post is something Google (and readers) enjoy. If you have a very informative post, look for charts or graphics to add. If you want to make your own, use Canva or hire a designer from a site like Fiverr or Upwork. A little variety goes a long way!
6. How do you make the content more Google/user-friendly?
Make sure you redo the headers so they are clear and SEO-friendly. Number them when applicable.
Add section headers (using h3 tags) to make your post scannable. Most people read on mobile so you need to ensure your post is easy to read.
Add a table of contents. Google loves posts that are organized and readers like to be able to find what they're looking for quickly. Include anchor links so readers can jump ahead to what they are looking for.
Redo your image's alt tags so they are long and descriptive. The more detailed and descriptive your alt tags, the happier Google will be (alt tags make your posts accessible to the visually impaired as, instead of them seeing the photo, they will be read the description).
Use a free plugin like Yoast to ensure you've included the metadata (chiefly, that you've written the post's description that appears in Google's search results).
Compress your photos so they are under 300kb. Large photos slow down your site — something Google will penalize you for.
Your goal is to make this the best post on the entire planet on that one subject. Think of everything that can be added and add it. One of the things you can do is to look at other content and try to emulate and improve on that.
SEO 101 for Travel Bloggers: Helpful Apps and Tools
To help you get ahead and level up your SEO game, here are a few helpful tools I use (or have used) to keep my blogging pristine in the eyes of Google:
Moz – This is a great free tool that can give you some basic information on your site. If you are just starting out or are on a budget, this is the tool you'll likely want to start with.
They have a lot of articles, videos, and breakdowns about how SEO works as well as a few free analysis tools that can give you the big picture of how your site is doing SEO wise. If you just want to learn more about SEO, this is a great resource to start with.
SEMRush – This is a good keyword-finding tool that lets you explore keywords in depth. I use this for the little keyword research I do. It's an intermediate tool, so if you've been blogging for a while and want to step up your SEO game, give this a try.
Click here to get a free 14-day trial!
Keywords Everywhere – This is a really helpful free chrome plugin that will show you keywords a particular page ranks for and can give you keyword ideas. It automatically pulls it up and shows you a lot of basic information. It's a great starter tool.
SEO Simplified – This SEO training course is by my friend Sam McRoberts. He is the guy I turn to when I have SEO questions and is the one that performs site audits for me to make sure my website is in compliance with all the newest Google algorithm changes. We discuss SEO a lot in this course but if you want to go one step further, this is the only course I recommend.
***
Updating your old content can be tedious, it's true — especially if you have a lot of content! That's why the sooner you can start writing more SEO-friendly posts, the easier your life will be down the road.
If updating all your posts is too much work right now, just start by updating your top 25 posts. Optimizing them for SEO will not only boost your traffic but it will show Google your blog is worth recommending, ranking you higher in the search results.
SEO is a never-ending process. I'm constantly updating old posts to make sure they give my readers the best value and are SEO-friendly for Google. It may not be the fun and sexy side of bogging that you see on social media, but it will yield results.
So if you're looking to take your blog to the next level, start reviewing your old content. Google will thank you for it, I promise!
Want more SEO tips? We have an entire comprehensive unit on the topic – with content for both beginners and advanced bloggers. To learn more, click here!