What is superstar blogging?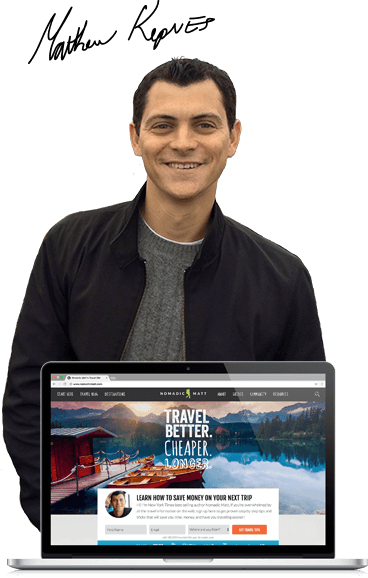 HI, I'M MATTHEW KEPNES. You might know me as Nomadic Matt, budget travel expert, blogger, and New York Times best-selling author of How to Travel the World on $50 a Day. Each year, I help millions of people achieve their dreams and travel on a budget.
When I started blogging in 2008, I didn't know what I was doing. I had no résumé, no experience, and no audience. Like you, I had no idea how to turn my love for travel into something more. But I learned how to make my blog a business and grew it into a mid-six-figure website.
I WANT TO HELP YOU DO THE SAME.
Together with my friends – expert travel writers, photographers, and videographers — I've developed Superstar Blogging to show you how we broke into the travel industry and teach you the skills, techniques, and strategies to do the same.

A few questions for you
What if you could build a business that allows you to LIVE THE LIFE YOU WANT every day?
If you had the FREEDOM to choose your perfect day, what would it look like?
How would it feel to create an online business that keeps running WHILE YOU TRAVEL?
If you're ready to CHANGE YOUR FUTURE, what's keeping you from achieving your dreams?
What if you could create something that MAKES A DIFFERENCE IN THE WORLD?
"From day one, Matt pointed me in the right direction. He not only equipped me with the tools to run a successful travel blog now but also with the knowledge I will need in the future. Matt's advice and guidance was invaluable, and his program is a must for anyone serious about getting into blogging."
—Stephen
You can learn how to do this.
You don't have to struggle to find a voice and be heard. It is possible to turn your blog into a successful business and help others.
I know it's hard. The Internet is filled with so much information that it can be overwhelming. Even figuring out those first steps: Where do you start? What's the right approach? What do you do when you're stuck, when your enthusiasm and momentum slow down?
I STARTED OUT THE SAME WAY.
Like you, I didn't know where to begin, how to improve my writing, use a camera, or produce and edit video. More importantly, I didn't know anything about business: Growing an email list. Marketing. How to create products. Branding, segmentation, or analytics.
People aren't "born" travel writers, photographers, bloggers, or filmmakers. They learn, practice, and acquire the skills they need to succeed. So I studied hundreds of successful people and websites to understand the techniques they used to become successful. And I found mentors who could teach me and IMPROVE MY SKILLS. The very skills and methods we've developed into Superstar Blogging.
The teachers in Superstar Blogging are all top people in their fields. They are considered among the best travel writers, photographers, bloggers, and vloggers in the world.
And we're here to be your mentors…and help you become the superstar we know you are.
Are you ready to change your future?
Superstar Blogging is a multifaceted school teaching you all aspects of running an online travel website. We have courses on travel writing, photography, videography, and most importantly, the business of actually running a business. Whether you want to turn your hobby into something more or find a way to move your career forward ten steps, Superstar Blogging courses will give you that insider's depth of knowledge you need.
Featuring industry experts, renowned writers, photographers, marketers, and YouTubers, these programs bring you the knowledge of some of the most successful online personalities in the world!
Click a course below to start growing your business, living your dream, helping others, and turning your hobby and passion into a profession.
Meet your instructors
You'll be learning from my mentors — renowned authors, successful entrepreneurs, and award-winning creatives who have been featured in some of the biggest media outlets in the world!
These are friends who share our passion for travel and have a strong desire to help you succeed. We'll take you behind the scenes so you can learn the techniques that took us years to master.
Matt Kepnes
www.nomadicmatt.com
David Farley
Author & Travel Writer
Nadine Sykora
www.heynadine.com
Kristen Sarah
www.hopscotchtheglobe.com
Chris Richardson
Tech Guru
Laurence Noah
Professional Travel Photographer

Freedom, Flexibility, and Success
EXPERIENCE THE JOY THAT COMES FROM DOING WHAT YOU LOVE, helping others, sharing your passions, and earning a living traveling the world. IMAGINE HOW IT WOULD FEEL IF YOU COULD…
…be your own boss and do what you love from anywhere in the world.
…work from a beach in Thailand, a café in Paris, or the comfort of your couch.
…explore the world and share what you've learned with others.
DON'T JUST DREAM. IT CAN BE DONE. Take your passion and career to the next level. Superstar Blogging is an investment in your future that will help you leap beyond the competition and will give you MORE value for LESS money than any other program out there!
How superstar blogging is different
In-depth video courses with webinars, tutorials, case studies, and interviews to make your blog a success. Including:
Instructor feedback
Proven methods
Lifetime access
Lessons at your own pace
Expert guidance
Real-world assignments
Learn anywhere
100% Guarantee
Get free tips for growing your travel business and stay up to date on upcoming events.