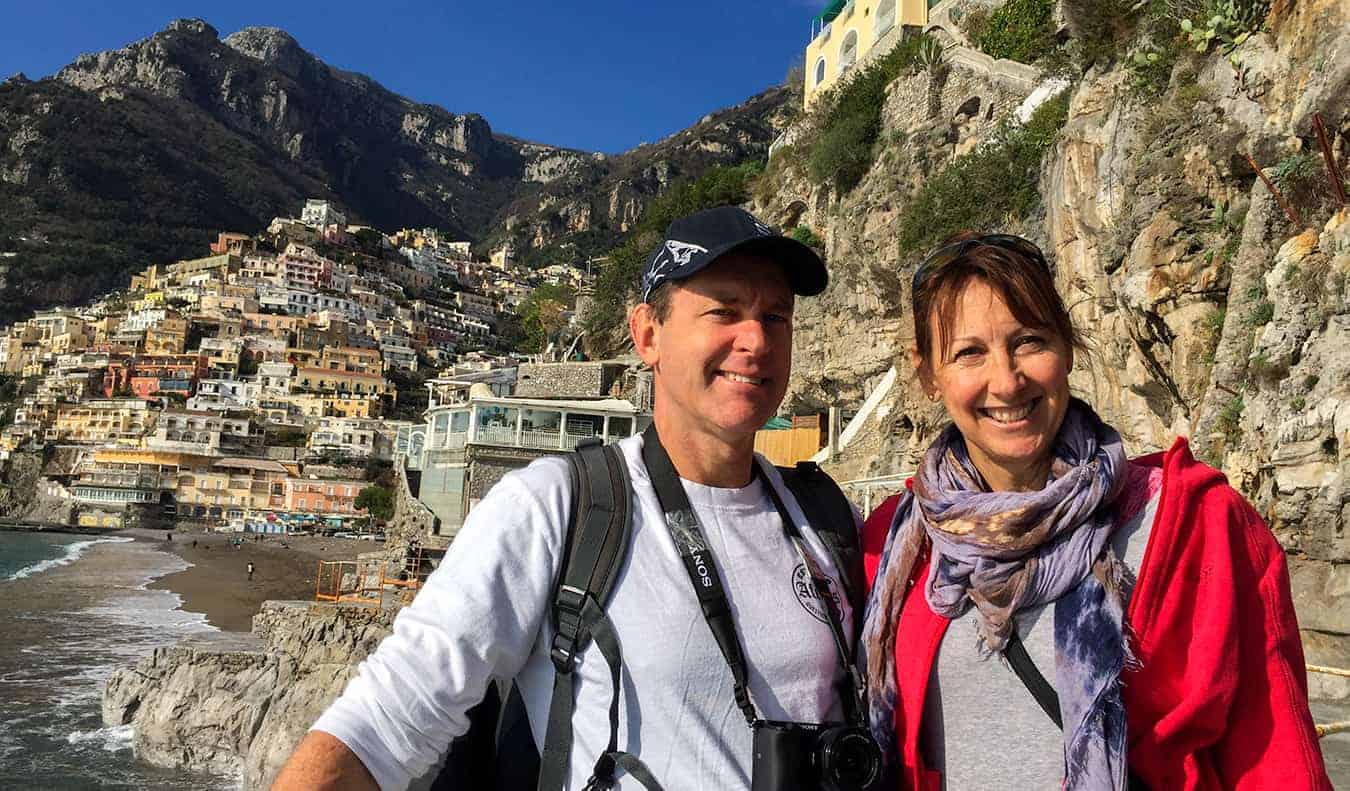 In this community interview we're joined by Shelley and Lars from Lifejourney4two. They share their travel journey, blogging advice, and tips for would-be full-time travelers. Check it out!
Tell us about yourself!
Hi, we're Lifejourney4two – Shelley and Lars.
Lars grew up in Australia in a small country town in Queensland called Stanthorpe, and I grew up in Plymouth in the southwest of England. Our childhoods, though at opposite ends of the world, were pretty similar.
We played records and recorded the top 40 from the radio using a tape recorder and a pencil to wind the tape back in place when it tangled – which happened quite often.
Colour TV and home telephones were the technological excitements of our youth, and we had to watch a tv show at the time or miss the episode. Can you imagine the frustration when your mum had dinner ready (which had to be eaten at the table, of course), and you were in the middle of watching your favourite show?
We'd spend all day playing outside, on our bikes or building cubbies. Our parents never knew where we were and only worried if you weren't back in your street by dark. Video games had been invented too. We had an awesome one where you could play tennis. The ball was a white spot on the black screen; the bat a small white line which moved vertically on the tv screen. To complete the immersive experience an electronic bleep rang out each time the bat hit the ball. Top entertainment of the day.
Luckily, in our teens, video recorders made an entry – Phew! You could now record your shows like MTV and watch your favourite film on a video cassette in your own home. Public opinion was that this would result in the demise of cinema — I guess they were wrong.
At university, we had to actually go to lessons – or you missed them. We spent an inordinate number of hours in the library doing research – and spent far too much money on overdue book fines. The threat of the new HIV disease curtailed student life promiscuity to some degree, and suddenly 'condoms' and 'safe sex' were the new buzz words. Internet still wasn't invented.
There was talk that one day we would be able to see the person on the other end of the phone. We pondered whether that was really possible – most likely not in our lifetime. I mean, how on earth would that work?
We both graduated with a degree, Lars in Science, me in Law, and we set out into the big wide world.
When did you start traveling?
Lars began his travels straight after university, working in different countries both on and offshore. I moved from the UK to Dubai and then to Australia. We both married and had kids – though that wasn't with each other. In our late 40s, we both found ourselves divorced, and destiny, fate or online dating brought us together in 2015.
Our first big trip together was four weeks in Canada, including Christmas in Banff, in December 2016, but by that time we had already begun planning for a bigger adventure.
One rainy afternoon, we sat down to map out our hopes and dreams for the future. The page soon filled up with names of countries. It seemed travel, obviously along with world peace, was the main agenda. Neither of us remembers who said it, but we looked at each other in the eyes, (as you do when you are madly in love), and suggested, "Why not now?"
And that was it. Six months later, we had sold everything – even down to the plant pots. It really is amazing what you can sell on Gumtree. We resigned from our full-time professional jobs and, amongst friends calling us crazy, brave or stupid, we again set off into the big wide world. Older, wiser and with purpose.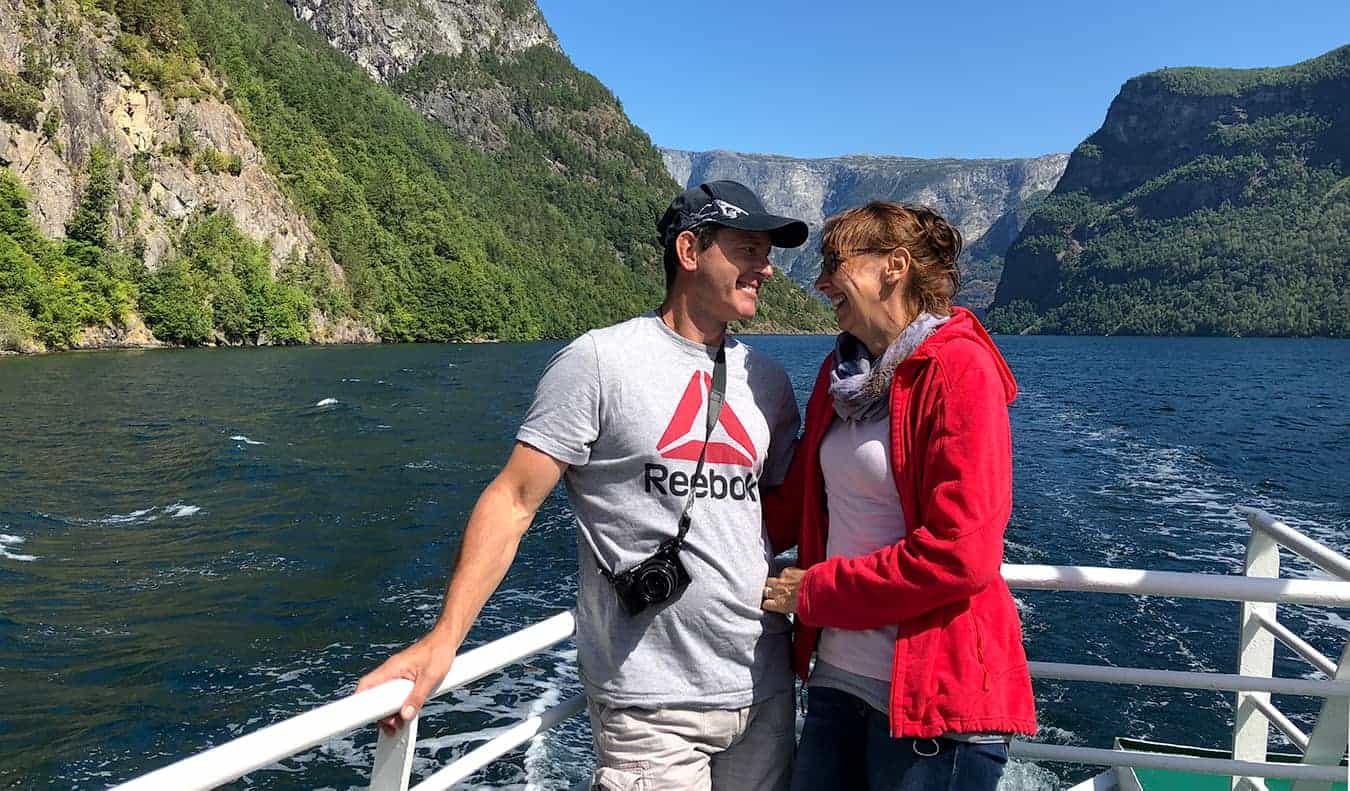 What advice do you have for anyone considering selling everything to travel? Anything you wish you did differently?
Enjoy the process! We found it extremely liberating. The minimalist lifestyle equals less 'baggage' — and that doesn't just mean in your backpack! Luckily for us we don't get too attached to 'things' but anything that was really important to us, such as a box of memories with drawings and cards my children had made when they were young and some old photographs, we packed up and asked a friend to store. It may be difficult to let go of the mindset of 'this may be useful one day' so ease yourself into it.
Lars sorted out his 'man shed' about four times, gradually releasing up its 'valuable' contents. He never did come up with a good enough reason to bring the chainsaw with us, so he reluctantly sold it to a good home on Gumtree… And so far we haven't had need of it.
We gave ourselves 6 months from making our decision to leaving Australia and we'd recommend at least that time frame, for your sanity. There are so many facets that need to be considered in amongst selling up life as you know it. Saving like crazy comes to mind, as well as organising: mail, paperless bank statements, travel insurance, breaking leases, resigning from work, updating driver's licence, bank cards, passport etc. so all had maximum time frame, international drivers licence and so much more…
It must have been the exact right path for us because everything went smoothly and we can't think of anything we would do differently.
What have been some of your favorite places or activities so far? Why?
Norway, Iceland and South Africa have been standout countries for us. We realised pretty early on that the cities don't really do it for us, and it is the landscape, nature and wildlife that brings us the most excitement. Saying that, we were intrigued by Uzbekistan, Albania and Serbia – those countries that are a little more obscure and have an interesting history.
However, unsurpassed so far are our experiences in Greater Kruger in South Africa. We had arrived in the country in January 2020 to begin our open-ended overlanding Africa trip. Three months in, South Africa went into strict lockdown due to COVID.
Luckily for us, we were house sitting at the time in a remote, small town on the edge of the Karoo Desert, Prince Albert. Our six-week sit turned into five months.
When the couple we were house sitting for managed to get home, they offered us to stay in their bush camp in Klaserie Nature Reserve. Klaserie is adjacent to Kruger National Park with no fences separating the two, with wildlife roaming freely between them.
Our time, both in Klaserie and our subsequent two-month Kruger self-drive safari, were the most extra-ordinary of our life. Being surrounded by nature and the incredible animals of Kruger National Park, forced us to live in the moment and made us feel more alive than ever before.
We also spent ten days volunteering in a monkey sanctuary, which was another incredible experience. I mean, who wouldn't want baby monkey poo and pee all over them in exchange for monkey cuddles with these tiny cuties?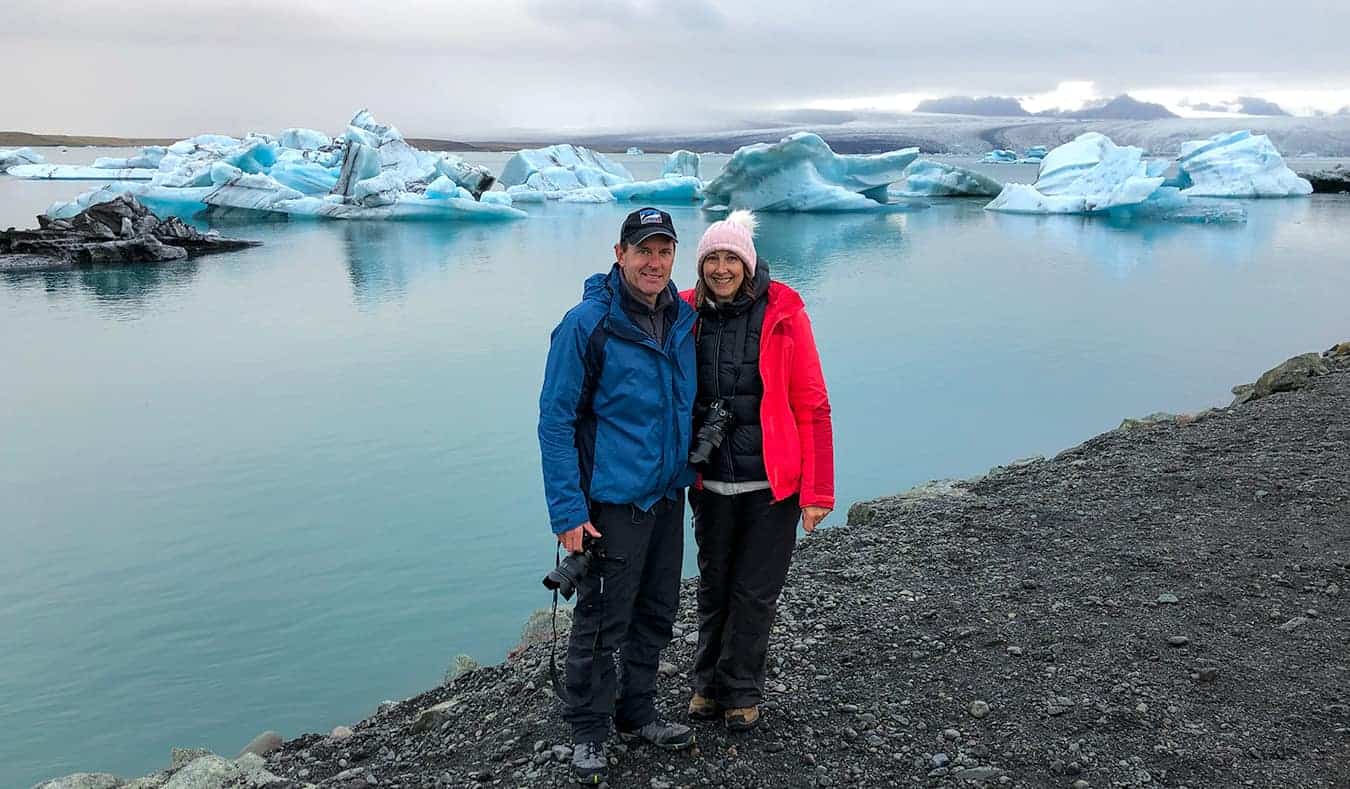 Have you had any misadventures?
We've been travelling since 2017 and have been fortunate to have only a few misadventures – but that's all part of the adventure.
Our push bikes were stolen in Rotterdam (luckily, we had travel insurance)
A parrot ate the shutter button on Lars's camera, rendering it unusable. The camera that is – but I expect the parrot also thought it a great misadventure when the button finally saw the light of day again;)
When campervanning in Europe, in our hired motorhome, we hit a few signs that were in the way and added a distinctive silver streak along the whole length of the van.
In Klaserie, with no fences around the bush camp, I unexpectedly came face to face with a growling leopard. Neither she nor I were particularly happy about the fact. As you might have concluded, I wasn't dinner that day.
What were your highlights from campervanning around Europe? Any tips to share with people thinking of doing that for a few months or longer?
Our year campervanning around Europe took us to over 20 countries. Our highlights were spending three winter months road tripping in Greece. Parking up on secluded beaches in the Peloponnese, hiking spectacular gorges, and driving through the delightful rural villages full of pink bougainvillea, whitewashed homes, blue church domes and ancient ruins was a visual feast.
The whole experience was packed with memorable moments but if we had to pick a few; Swimming in the waterfalls of Krka National Park, Croatia, climbing the incredibly scenic mountains in Slovenia Alps, discussing communist times with locals in Albania and Bosnia, visiting the unique and historical towns of Matera and Alberobello in Italy, hiking on the Aletsch Glacier, Switzerland, an early morning boat ride in Konigsee, Germany, visiting the mind-blowing flower gardens of Keukenhof, The Netherlands and the bone churches in The Czech Republic and Serbia.
Tips for anyone wanting to campervan in Europe for a few months or longer:
– Many people seemed reluctant to visit Albania, Bosnia and Herzegovina, and Serbia due to safety issues but we found these countries some of the most welcoming in Europe.
– Plan your basic route but also stay flexible enough to 'feel your way' and allow yourself to be spontaneous. Locals will be keen to give you tips to lesser known places.
– If you are hiring a van we use, and love Motorhome Republic, who were able to get us better deals than when we approached the van hire companies direct.
What are 3 life-changing lessons travel has taught you?
Being in our early 50s now, life itself has already taught us quite a few life changing lessons, which have brought us to where we are now. Not waiting for our 'One days…'
Our travels have confirmed our belief that we weren't crazy, brave or stupid and that anyone could live this life if that's what they really wanted.
So many people tell us they would love to do what we are doing – 'One day'.
We hope that by following our life journey for two, others will be inspired to start fulfilling their own dreams.
What countries/activities are still on your bucket list?
Continue our Overlanding Africa trip
Galapagos Islands
Road trip through the US and Canada
When we're worn out and old … we'll spend the rest of our days road tripping around our home, Australia
Do you have any favorite travel books/movies/TV shows?
Lars' head is always in a book on photography and I'm normally reading travel writing – lots of anthologies and varied styles to help me improve my own travel writing skills. Of course, I love Matt's work, Chris Oldfield's book The Dogs of 'Nam, and I have just finished reading David Farley's An Irreverent Curiosity.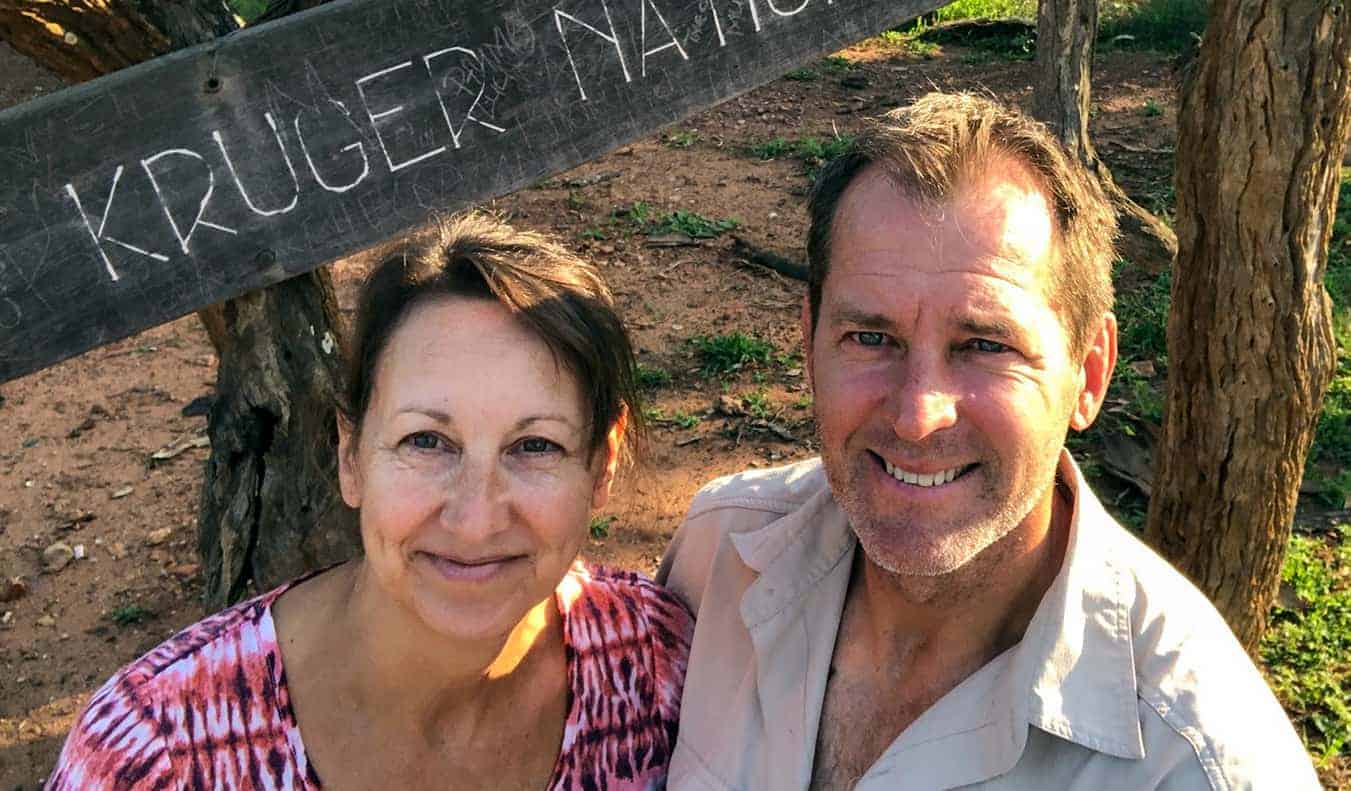 Tell us about your blog!
We started our travel blog, Lifejourney4two, at the end of 2017 when we were halfway through our Europe year in a campervan. There was lots of information we couldn't easily find that we thought would be of interest to others and might save them faffing around on their road trip as much as we seemed to in our first year.
We had read a blog post telling us how easy it was to start a blog which promised us that we'd have it up and running in 30 minutes. Yeah right!
It wasn't until mid-2019 that we really started to take the blog more seriously, realizing how little we really knew about it all. I'd like to think we are passed the hours of 'blood, sweat and tears phase' and now slip sliding down the other side of that vertical learning curve. Still heaps of room to develop and grow but being a member of Superstar Blogging and also taking the travel writing course with David Farley has been invaluable.
We write about our travels as we road trip around the world, with a mixture of itineraries, advice and stories. Our aim is to help make travel easier and to inspire others to start making their travel dreams a reality now. Our motto is, Make your One day…Day one.
What is one thing that has surprised you since you started blogging?
The main thing that surprised us was how many different facets are involved with building a successful travel blog. Social media, photography, SEO, design and marketing all play a huge part. You certainly have to be a Jack and Jill of all trades!
How do you balance blogging and travel? Is it different?
With difficulty. Currently enjoying having the time to catch up on content while unable to travel due to COVID. Because we are normally full-time travellers, combining the two makes for a knackered, but happy couple!
What tips do you have for new bloggers just starting out?
Do it because you love it and want to be in it for the long haul – it can be all-consuming.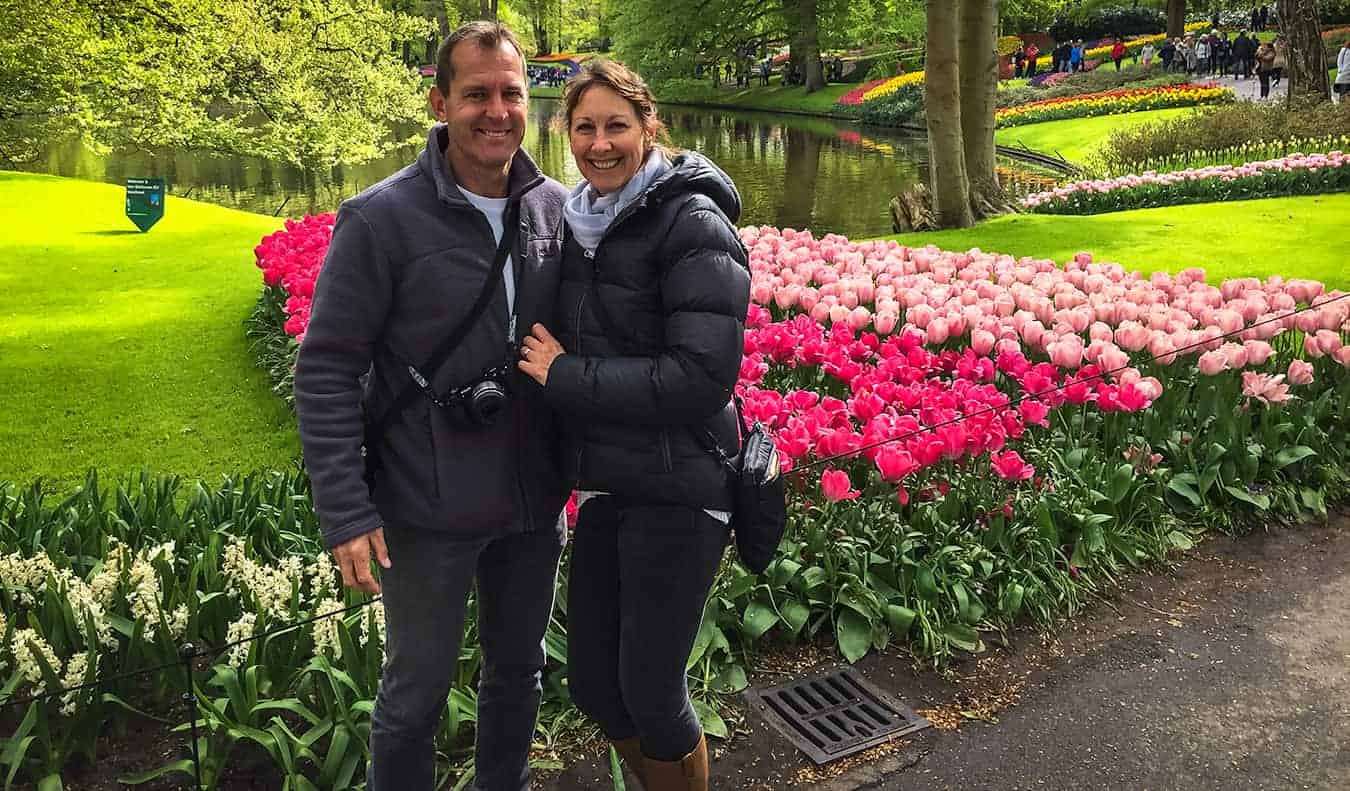 What are your blogging goals for 2021?
Our goals for 2021:
Make the most of COVID restrictions on travel to catch up on creating content, before we return to our 4×4 with tent on top (in storage in Africa).
Develop our photography and travel products in our newly opened ETSY store and link to relevant articles in our blog
Time for the lightning round!
Plane or train? Train
Aisle or window seat? Me (Shelley) window seat which leaves Lars on the aisle;)
Beach or mountains? Mountains
Chill cafe or adrenaline activities? Adrenaline – as long as it doesn't involve bungy jumping or jumping out of a plane!
Where can we find you online & on social media?
You can find us online at lifejourney4two.com. Our Etsy shop is here and you can also find us on Facebook and Instagram.