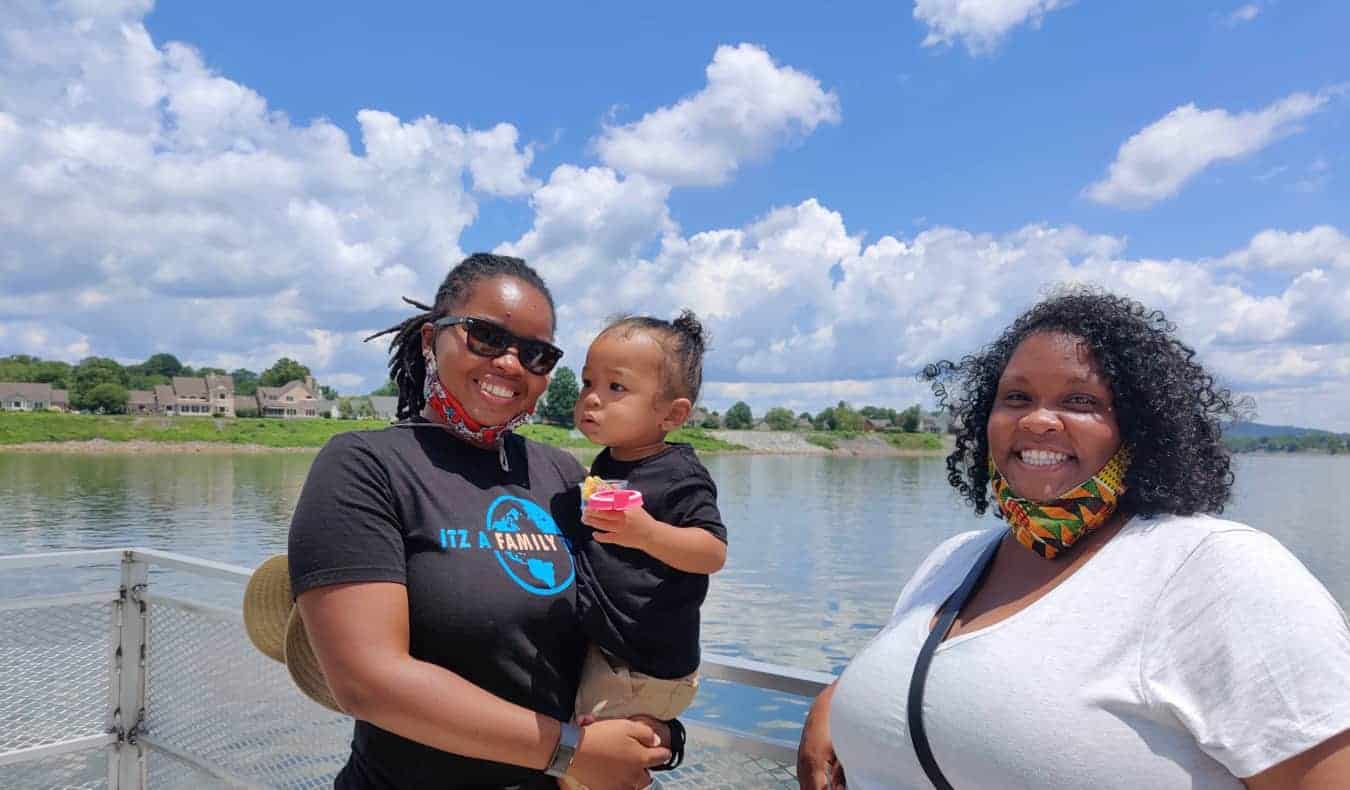 In this community interview we're joined by Corritta from Itz a Family Thing. She shares her family's travel journey, blogging advice, and tips for would-be family travelers. Check it out!
Tell us about yourself!
We are the Lewis Family. My name is Corritta and I do most of the writing and background work for our blog. My wife Mea handles the social media aspect. Honestly, the real star is our 2-year-old son Caleb. He is the one that everyone loves when we travel!
My wife and I are initially from Ohio, but we spent the last several years in San Diego, California. We called San Diego home until we decided to sell everything, pack up our lives, and travel the world in January 2020.
Honestly, we are boring, except for traveling. Since we have a little one in tow, our idea of fun is a little different. We spend most of our time getting to know locals in our area and exploring. The best thing about traveling with kids is you get to be a big kid. I like to say we go to LEGOLAND, Sesame Place, aquariums, and places like that for our son, but I think it is more for me than him. Having a little one allows you to be a kid again (not a fan of the paying part), but it is a blast.
Since we currently live in Playa Del Carmen, we spend a lot of time at the beach. We spend a lot of time finding some of the best places to eat, hidden gems, and working with locals in our neighborhood.
When we travel to other places, I am always on the hunt for a museum. I am a self-proclaimed history buff, so I am always looking for something old to explore.
My wife is the more social one, so she likes to explore and talk to people. Part of our travel has a non-profit component. Mea spends a lot of time getting to know families in the areas we live and offer help with food, clothes, and personal hygiene items for families in need.
Our son is the perfect ice-breaker because he is a social butterfly. He is still learning words, but somehow everyone understands what he is saying.
When did you start traveling?
Our first international trip was to Thailand and Tokyo in March 2018. That is when we fell in love with traveling. In our community, traveling outside of the country was never a possibility.
While we were in Thailand, we went to an ethical Elephant Sanctuary, snorkeled at Phi Phi Islands, hung out at Patong Beach, toured temples, ate delicious food. Our time in Tokyo was short, but we explored the city and went to DisneySea. The best part is we did it all with less than $2,000, including flights, accommodation, and all of our activities.
After we returned for our time in Thailand, we decided we wanted to travel full-time. Although we were planning to have a baby, we decided we would do everything possible to live our dream life.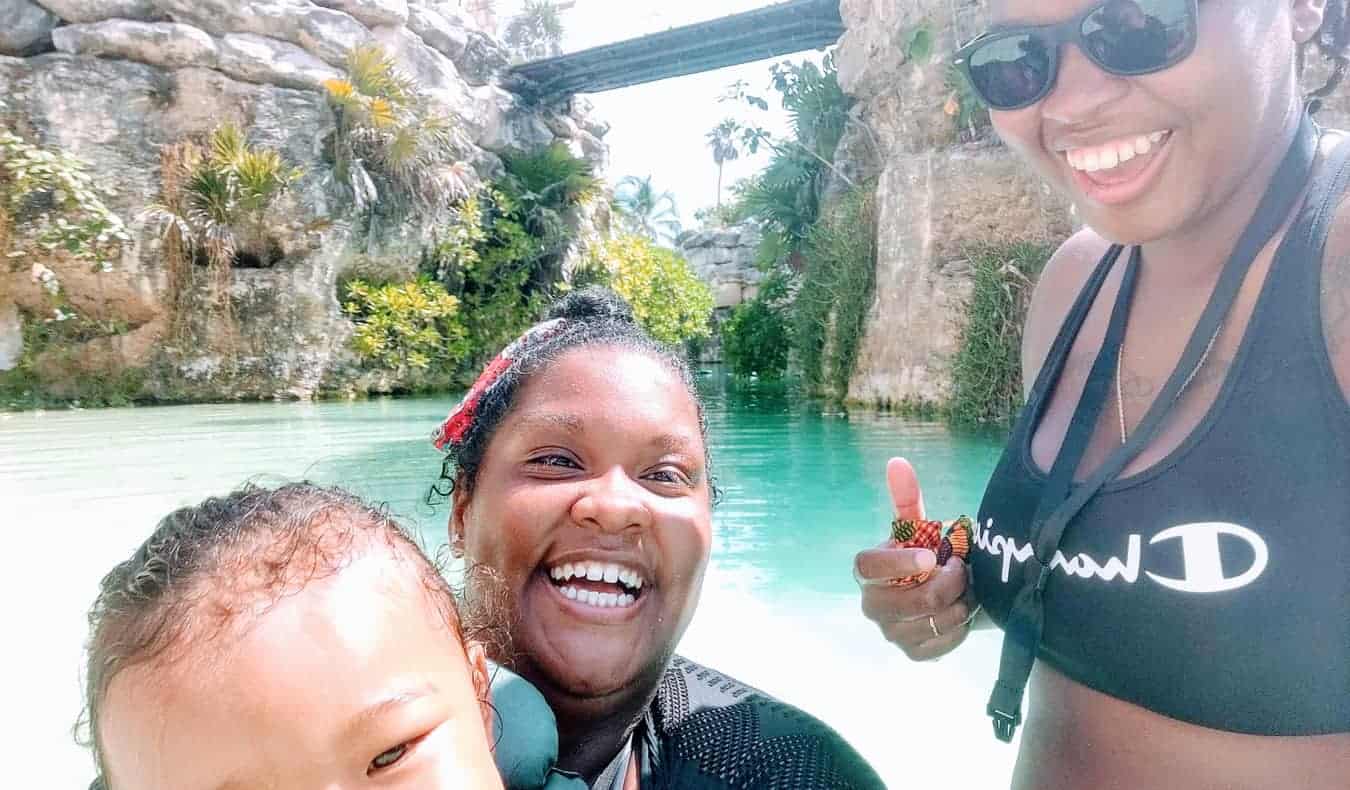 You visited Tokyo & Thailand on an impressive budget. What budget travel tips can you share with new travelers?
This was our first international trip, so I was making it up and we went lol. The things we did do to save money were getting an Airbnb further from city center, so we reduced our cost of accommodation, and we got a chance to explore local areas. We stayed away from touristy places, so prices were a lot cheaper. One thing that I do to stay on track is take out all the cash for our duration of a trip, and once it's gone, it's gone. We try not to use credit cards for small purchases, so using cash keeps me on strict budget.
What have been some of your favorite places or activities so far?
My favorite place so far has been Playa Del Carmen, Mexico. We have been living here for the last six months, and there is something special about Playa Del Carmen. I like the people more than the place.
When you step outside of the tourist areas, there is nothing but kindness, strength, and family. To our surprise, the community has welcomed us in a way I never imagined. As two black lesbians traveling with our young son, we have been treated with nothing but kindness, which is not always the case in other places.
If I had to pick a specific experience that will stay with me forever, it would be the day I walked on The Great Wall of China. As a kid, I always wanted to travel, but I never thought it was possible. I was obsessed with the movie Mulan growing up, and to be able to stand on the Great Wall of China was an honor.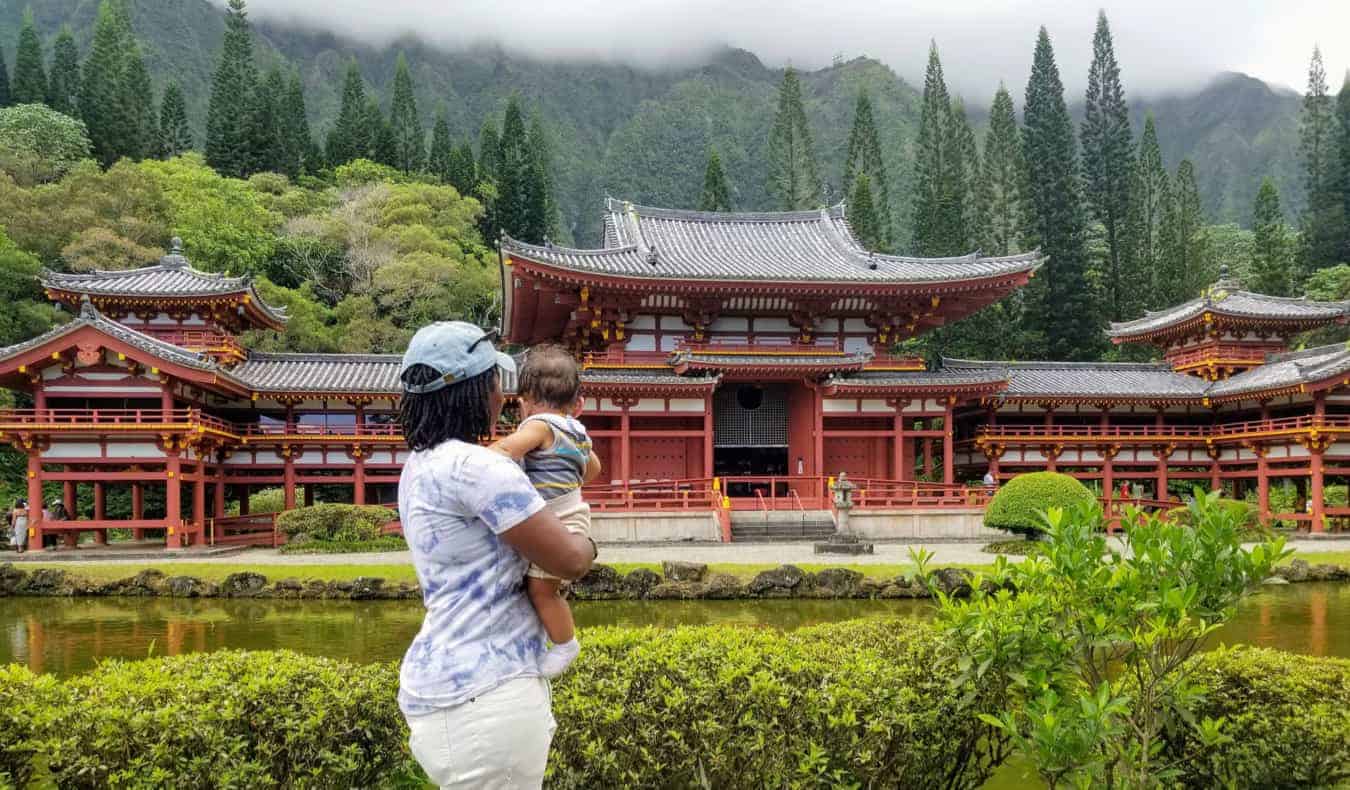 Have you had any misadventures during your travels?
There always seems to be a misadventure when we travel, but it always tends to work in our favor. Misadventures always find us because we have a terrible sense of direction. Luckily, we have gotten better over the last year, but we have ended up at cool places by accident.
The best place we stumbled upon was ancient ruins in Oahu that overlooked Waimea Bay. While heading back to Waikiki, we took a wrong turn and ended up heading straight up a hill that did not have a place to turn around. I decided we should keep going up to see what was at the top, and it did not disappoint. The view was gorgeous, and it turned out to be a hidden gem on the island.
When you travel with a baby and now a toddler, things are bound to get interesting. Sometimes we let him lead us, and we stumble onto cool street art or find a delicious restaurant.
Our latest mishap was last week while in Cozumel. We followed our GPS, which took us on a bike path (complete accident), so we ended up driving down a bike path on an island, trying to find a specific beach.
When I finally got us back onto the road from the bike path, we stopped at a roadside drink stand. We were all a little cranky, so we figured we could stop here to hang out on the beach before going back to our Airbnb. It turns out we were at a topless beach lol.
Luckily, everyone had their clothes on, and we ended up having one of the best mojitos ever. Our 2-year-old played in the sand and drank a smoothie, so we started as a terrible day ended up being a lot of fun.
Another misadventure we had was when we were questioned in China because they thought we kidnapped our son. You may think that is crazy, but when you see two black women and an Asian-looking baby, most people have a few questions. Although it was a simple misunderstanding, it was a scary moment for us. We thought they were going to take our 5-month-old baby.
We all know how transformative travel can be. What are three life-changing lessons travel has taught you?
The number one thing travel has taught me is to be grateful. We are distracted by material things that we forget about what truly matters.
Another life-changing lesson travel has taught me is to be in the moment. In a world where everyone has to take a picture or video, there is something special about being present in the moment.
The most valuable lesson travel has taught me is to give more than we take. When we travel, we forget how much of a privilege it is.
We have the opportunity to see some of the most beautiful places in the world, eat delicious food, and have unbelievable experiences. Oftentimes, we forget that is not possible for everyone.
Many of the locals in the places we travel to can only dream of some of the activities they see tourists participate in every day. It is important to us that we are mindful of this. As a general principle, we want to give more than we take wherever we are in the world.
Is it hard traveling and blogging with a kid? What tips can you share for other blogging parents who want to travel more?
Yes, it is very hard, especially for someone like me. Blogging isn't hard, it's time management that difficult. When you are a parent, especially with a toddler, they need a lot of attention, so having the time to blog is difficult.
The number one tip for parents wanting to travel more is to just do it. Oftentimes we imagine the absolute worst, and it rarely happens. More often than not we regret the things we didn't do more than the things we did do. Trust me, you'll remember the fun you had more than the terrible flight. Plus, traveling with a toddler is awesome because they get into most places for free.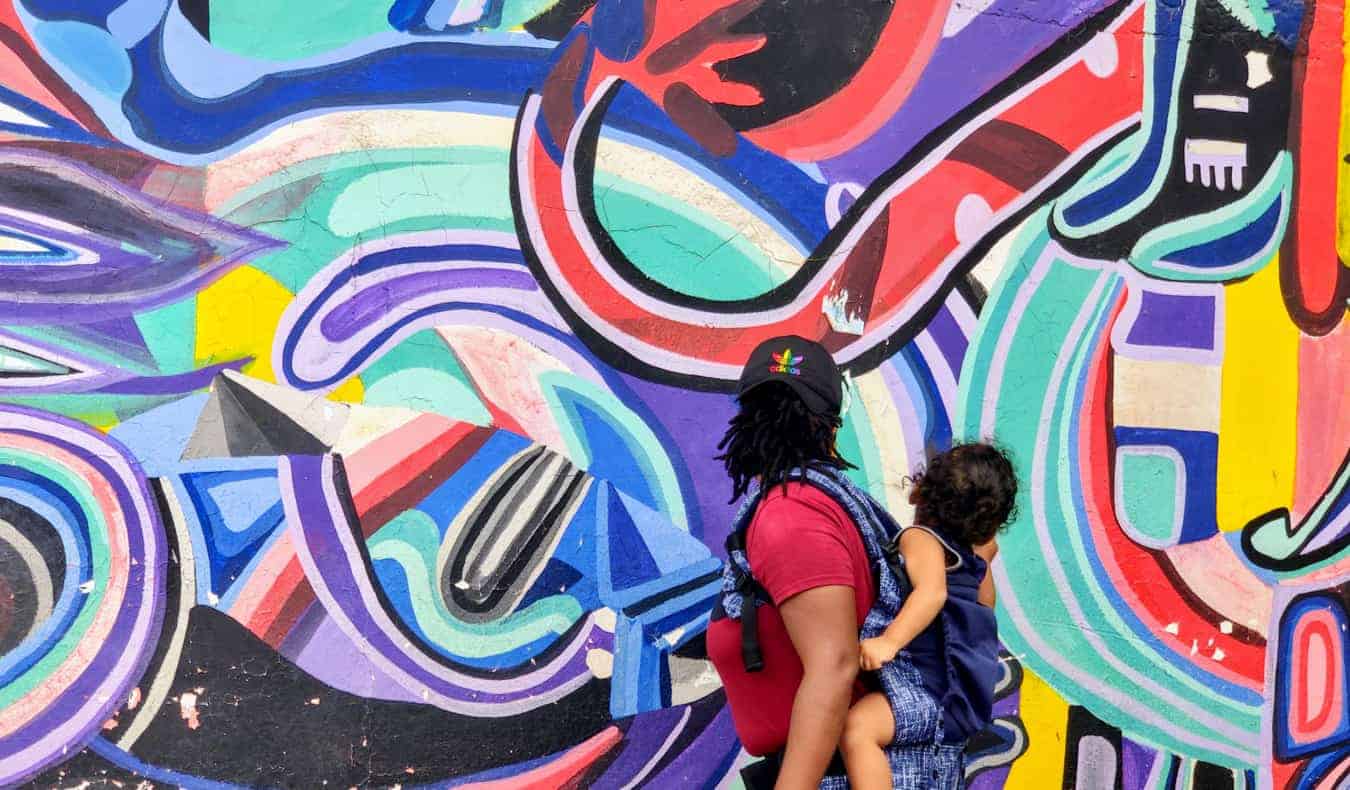 What countries/activities are still on your bucket list?
When we left California in January 2020, we initially wanted to visit 100 countries in 5 years, but the pandemic changed that goal. Now we are interested in volunteering and helping children in different parts of the world. Travel has taken on a new meaning.
I want to see the modern-day seven wonders of the world. I plan to drag my family on my history-inspired bucket list. So far, we have scratched off two modern-day wonders, so we have five more to go. Luckily, we have a plan on how we will do everything we want on our bucket list. I am lucky enough to have an amazing partner, so we work together to do the things we want.
My wife Mea wants to explore more of Asia and go on safaris in Kenya and Tanzania. She's all about elephants, so we're always looking for ways to see animals in their habitat.
We want our son to have a bucket list, so we plan to include him in our travel plans as he gets older. For now, he's just along for the ride, but we always find fun things for him to do when we travel.
Do you have any favorite travel books/movies/TV shows?
We do not watch a lot of travel-related shows. We watch whatever keeps our son's attention. Recently, I have become a little obsessed with Hostile Planet on Disney+ National geographic and their series on habitats around the world. That is the only travel-related content that we watch after our little one goes to bed.
Tell us about your blog!
In April of 2019, we took our son to Beijing, and he was terrific. He did not cry a single time there or back on a 14-hour flight, and from that moment, we knew our little guy was going to be a traveler. From that time on, he flew with no problems on over 40 flights.
We started our blog, It's a Family Thing, to make money while taking our family gap year. We decided to sell everything, travel as a family, and document it on our blog.
Our blog is all about helping families travel with kids. We provide family-friendly itineraries, family travel gear recommendations, travel tips, and resources to help parents travel with their kids. There is a misconception that you can't travel with kids, and we want to put that myth to bed. It is possible to travel with kids, without spending a lot of money.
We also started our blog because we noticed a lack of diversity within the travel industry. When you look at Instagram or popular bloggers, they all look the same. We believe that representation matters. As two black women with a biracial son, we believe we can be part of the change that the travel industry needs. Not everyone looks the same. There are different versions of family.
What is one thing that has surprised you since you started blogging?
The one thing that surprised me since I started blogging is how difficult it can be. Many people think it is just about writing a post, but it is so much more. You have to be a jack of all trades when running a blog, especially in the beginning.
How do you balance blogging and travel? Is it different?
I find it hard to balance family, travel, work, and blogging. Honestly, it's a work in progress. I still work full-time, so dedicating as much time as I would like to our blog is hard.
The one thing that blogging does is make a vacation feel like work. As a family travel blogger, we work hard to find the best kid-friendly activities, so some days fun isn't just fun. At times it can be hard to determine where work stops and vacation starts.
There are times where my wife has to tell me that we are going somewhere for family time, not work, so I am present in the moment.
There is a time for family, fun, and work. I have to remember that work will always be there, the most important thing is family. That is the reason we started traveling in the first place, to be together as a family.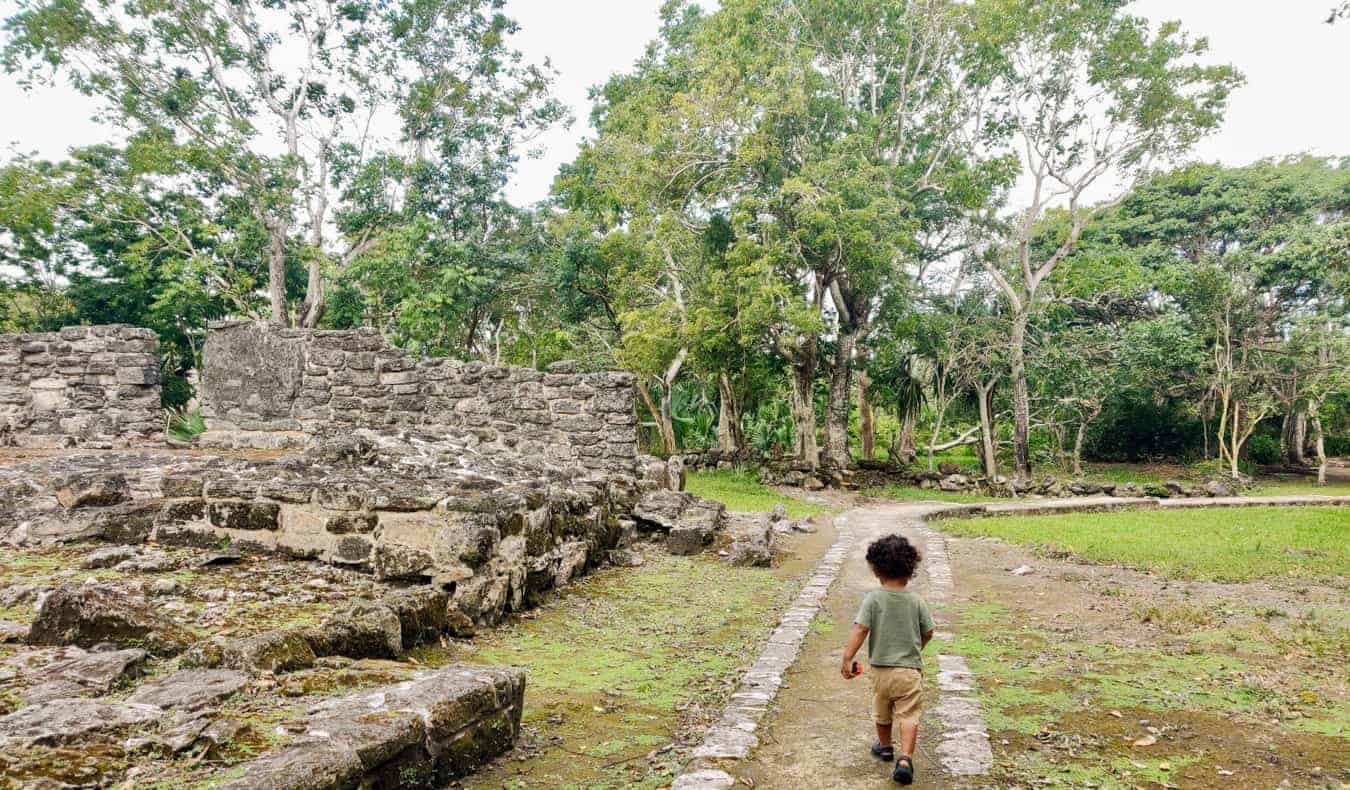 What tips do you have for new bloggers just starting?
The best tip I can give is to be yourself. You have something unique to offer, and you can't share that trying to be like someone else. You will find your voice.
Something that I wish I would have known in the beginning was to not waste time on things that do not matter. The most important things bring value to your audience. Creating content that solves your reader's problem should always be your priority.
What are your blogging goals for 2021?
For now, we are focusing on scaling and create more great content for our readers. Our blogging goal is to reach 50,000 page views to qualify for Mediavine by the end of the year. So far, we are on track to hit 15,000 page views by the end of the month.
Achieving this goal will give us more passive income, which will eventually allow me to leave my job to blog full-time. Also, we've started to find success with Google, so we are starting other niche sites to create more revenue streams.
Time for the Lightning Round!
Plane or train? Train (for space)
Aisle or window seat? Window seat to sleep
Beach or mountains? Mountains
Chill cafe or adrenaline activities? Chill cafe
Lastly, where can we find you online & on social media?
Our Blog: It's a Family Thing
Instagram: @_itzafamilything_
YouTube: It's a Family Thing