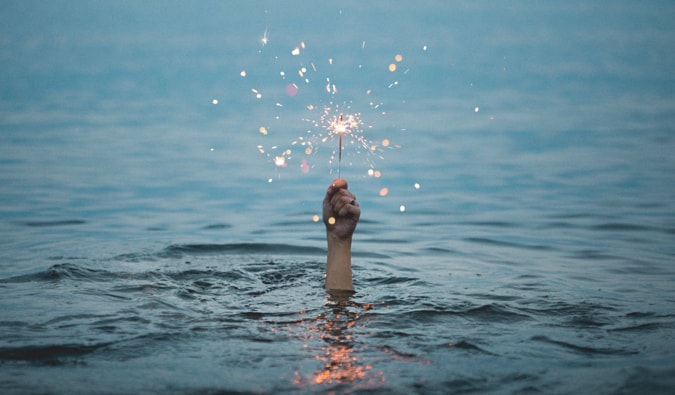 There seems to be a never-ending number of blogs, vloggers, Instagrammers, and "influencers" these days. The field is way more crowded than when I started back in 2008 (wow, that was a long time ago!).
Why?
Because (a) there are so many more platforms, (b) there are so many more people trying to make money online, and (c) the barriers to entry and social stigma are lower, and the ubiquity of Wi-Fi is so much greater.
As someone who runs an online blogging course and speaks at a lot of events, I'm always asked about succeeding in this modern, saturated, and competitive environment.
"What you did ten years ago won't work now," the questioners say. "With the field so cluttered, what hope is there for me? How do I get my message heard?"
It's true that I had the advantage of starting when fewer people were trying to make a living online and there were fewer platforms to contend with.
But business is business is business. The principles that worked then still work today — they just need to be adapted to people's fractured attention and changed reading habits.
The first thing you need to know about rising above the noise is that you, in part, are the noise. You need to accept the fact that people don't go check their RSS feed anymore (Most people reading this post just went "What's RSS?"). They don't scan your Facebook page or click on your blog to see if you updated it.
They want your content wherever they happen to be, wherever they see, and as easily as possible.
So you need to be everywhere. You have to be on as many platforms as possible.
They will interact with your content when they see it.
These days, I'm everywhere (except YouTube and TikTok because I don't like video): That means email, Instagram, Facebook, Twitter, and Pinterest.
Yes, it's a pain to schedule all these posts but there are tools that can do that for you. If I want people to read my stuff, I must accept that I have to be where the people are! You don't have to spend all day and night being active — you just need to post regularly. Focus on the platforms you like the most and ignore the ones you don't.
That also means doing lots of guest posts and podcast interviews. The more places you can be, the better.
Second, remember that most online creators are going to quit. Most don't get rich and successful right away — and when they find out this whole online thing is actually hard work, they quit. There were a lot of people who used to be my "competition" who just quit! They don't want to grind it out and put in the work to make it happen. They want the cookie without doing the baking needed!
Success online also has a lot to do with outlasting your competition. Stick it out, and you'll get heard above the noise — because a lot of the noise fades away.
Beyond those two principles, there are five specific things you can do to be proactive about getting heard above the noise:

1. Stop Talking Only to Your Peers

Yes, it's important to talk to your peers. You definitely want to get to know them. They are your co-workers. The people who understand your industry, are going to network with you, share your content, and do collaborations with you.
But don't talk only to them. That's not going to move your site forward in a big way. That's not going to make you stand out.
You need to go where your competition isn't.
You need to go to events outside your industry, where you are different. Be the person in your industry everyone outside it knows.
For example, I became "the travel guy" for so many other industries because I constantly went to events outside travel, knowing I'd be the only travel person there. Those people got to know me — and when they needed someone in travel, they came to me!
Do the same. The more you do this, the more places you'll be and the more your brand will be known.
2. Produce Better Content

I'll be honest: most content out there sucks. Anyone can produce content, but, in truth, most people don't have the skills to do it well (or the desire to improve).
Take a course or two to improve your skills and you'll be better than 80% of the people out there. I am constantly amazed by the people who don't work to improve their skills or get mentors. I've learned from so many people smarter than I am. Get a teacher and you'll burn past your peers.
3. Create Reader-Centric Content

It's not about you. It's about your readers. Produce content that helps your readers! The most successful people are the ones who wake up and think about how they make someone else's life better, who do whatever it is they do for a reason beyond themselves.
As my friend Clay says, create "Learn from me, not look at me" content.
Most people are just naval gazing and talking about their #bestlife.
If that is all you do, the Internet will quickly tire of you. No one wants to read the story of someone doing things they can never do. "Inspiration porn" only goes so far.
We all want people that solve a problem we have in our life. That can be anything from the mundane ("I need to know how to dress better") to the esoteric ("What do I do with my life?"). If your mission is reader-centric, you'll stand the test of time.
4. Meet People in Real Life

The best connections are made offline. Face-to-face, in-person networking trumps everything. You'll no longer be just another random person on the internet. You'll be someone they know. And people help people they know.
People don't help the thousandth person to message their inbox with a request for a collab.
One way to meet new people is to attend conferences. Here are a few of my favorite conferences to help you get started:
5. Leverage All Your Platforms and Build Your Mailing List

Just because you have to be everywhere doesn't mean you can't make all these platforms work together. You don't need to be fragmented.
Your ultimate goal needs to be to get people to your website, or at least your mailing list. You own that. You aren't at the mercy of any changing algorithm. And you'll always be able to reach your audience.
I don't care if Instagram changes, because I'm always trying to pull my readers away from it anyway. Grow your social media while funneling people off of it and into your website/mailing list. Constantly ask them to sign up for your mailing list.
Also, get people from all your platforms to follow you on other platforms. That way if one platform underperforms, you'll have other platforms to fall back on.
***
It's amazing the number of people who, when asked what they do to grow their following, simply say "post online."
That's not enough. You need a strong network (see points #1 and #3) if you are going to succeed online. No one can do this alone. No one can just put content out there and expect it to be heard.
You need to leverage other people's networks too. Do as many guest posts, collabs, and podcasts as possible. All collabs are good collabs.
Put yourself out there. Many people will say no when you ask, but that's OK. As you grow, you'll get more people to say yes! Produce great content, build your mailing list, and leverage those networks.
If you do those things — while understanding that this is a long-term process — you'll be better off than your peers and you'll be able to grow your followers and be heard above the noise.