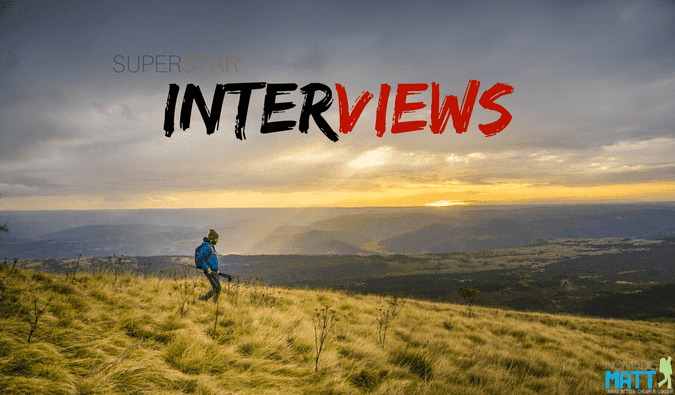 Rick is a member of The Business of Blogging course and he is in the process of launching his first book. In this interview, he shares a bit about his travels and how being in the right place at the right time helped make his publishing dream a reality.
Hi Rick! Tell us about yourself!
I was born and raised in Arizona, and earned a degree in anthropology from Antioch College in Ohio. I've always loved road trips, and I've traveled by road all over North and South America, as well as parts of Europe and North Africa. When I finished school, I shipped a four-wheel drive truck from Houston to Cartagena, Colombia, and I spent the next two years driving all over the northern Andes.
I'm also passionate about photography. I wanted to get my work into magazines, so I started writing articles to go along with the photos. I actually had some success with that, but sadly the money just wasn't good enough to pay the bills so I took a "regular job," just temporarily, to build up a little cash reserve before taking another shot at freelancing. Then life intervened: I met a beautiful girl, got married, bought a house, and became a father. That changed my priorities, but it didn't put an end to my dreams.
My temporary job turned into a career with the Federal Government that lasted almost 35 years; that probably sounds horrible, but it wasn't as bad as all that. I ended up doing interesting, important work, with a great salary and benefits, and I came out the other end of the tunnel with a paid-off mortgage, grandchildren, and a civil service pension that's almost as good as winning the lottery! That gave me the freedom to pick up where I left off, all those years before, with no need to worry about making a living. Since retiring I've indulged my road trip habit in spectacular fashion, driving my Jeep to Alaska and back, and then all over Mexico. I started a website and blog to showcase my travels, and that led to an opportunity to write a book about road trips in the southwest. Dream job!
How did you get started traveling? 
Some friends of mine joined the Peace Corps and were sent to Peru. I wanted to go down there and visit them, and I decided, pretty much on a whim, to go overland the whole way instead of flying. I was pretty young and very naïve; I had no idea what I was getting into, but the trip went wonderfully well. I made it to Peru, visited my friends, camped out in the ruins at Machu Picchu, and then kept going, all the way to the end of the road in southern Chile, hitch hiking almost the entire distance. (Mind you, this was almost 50 years ago, when hitch hiking, even in wild and wooly South America, was still a perfectly fine way to get around.) That trip lasted three months, and completely changed my life.
What have been some of your favorite trips so far?
My road trip through Mexico a couple of years ago was some of the best fun I've ever had. A friend and I started out from Austin, crossed the border at Laredo, and drove a total of 8,000 miles by the time we got home to Arizona. We visited 14 sets of Mayan ruins, drove all over the Yucatan, and joined in the merriment at street festivals in a half dozen Colonial cities, including the truly wonderful Day of the Dead celebration in San Miguel de Allende.
Closer to home, I really love road tripping in northern Arizona and the four corners region. There's a stark beauty to that landscape, and a tangible sense of history, both geological, in places like the Grand Canyon and the Bisti Badlands, as well as human: the extraordinary Anasazi ruins in Chaco Canyon, Canyon de Chelly, and Aztec National Monument outside of Farmington. There is such extraordinary beauty in our world, but you don't have to travel the world to find it. Some of the most incredible sights on the entire planet are right here in the USA.
Have you had any misadventures during your travels?
Haven't we all? During my years in South America, I had enough misadventures to fill a whole book, but there was something more recent, on that road trip through Mexico, that makes a pretty good story. On the highway south of Villahermosa, we ran into a roadblock put up by the rebel group known as the Zapatistas, who were engaged in a standoff with government troops. They had shut down all the roads leading into the Mexican state of Chiapas to protest a variety of social and environmental issues, and we were told that the protest was going to last for several days. That totally messed up our plan to drive to the Mayan ruins at Palenque, so I studied my map and found an obscure dirt road that looked like it might work as an alternate route. We tried it, and even though it was a terrible road with zero traffic, we ran into another Zapatista roadblock, much smaller, manned by six young Mayan guys with machetes and a menacing look about them. I rolled up slowly to the spot where they'd stretched a chain across the road, and stopped; they informed me that the road was closed. I asked them, with all the innocence I could muster, if it might be possible to pass if I paid a "toll," and if so, how much would it cost?
The young man's eyes widened. "That will cost you everything you've got," he said gruffly, brandishing his machete.
"How about I give you ten Pesos?" I replied amiably, pressing a large coin into his hand. Ten Pesos was worth about 60 cents; I don't know what the heck I was thinking! He stared at the coin in utter disbelief, clearly unsure whether he should laugh out loud at my ridiculous offering, or chop us into pieces to feed to his pigs. His companions, who were a few yards away, mistook his stunned silence for approval, and dropped the chain. I hit the gas, and we were past that roadblock and out of there, quick as a blink. We made it to Palenque about two hours later, after running a second roadblock, where they tried, unsuccessfully, to shove boards full of nails under my tires. I love driving in Mexico. Stuff like that never happens north of the border!
What's the biggest lesson you have learned from travel?
People are good-hearted by nature.  If you show kindness to a stranger, you'll generally get kindness in return, and that transcends all barriers, linguistic, cultural, religious, everything.
Now, you're about to launch a new book. How did that come about?
As I mentioned, I built a website and started a blog to document my travels and show off my photos. That was a lot of work, and I really wanted people to see it, but I had no idea in the world how to go about promoting a website and attracting visitors. The whole concept seemed quite hopeless, and I might well have given up on it—but then I got an email from Nomadic Matt, touting an online course he'd put together called "The Business of Travel Blogging." I read the prospectus, and it sounded like just what I needed, so I ponied up the fee, then set out to learn all sorts of essential stuff that I seriously needed to know. For one thing, my blog needed a focus. Me and my travels? That simply wasn't good enough; I'm not a celebrity, so aside from my family and friends, who the heck cares? After reviewing all the possibilities, I revised my mission statement, and focused my blog on "Road Trips." Matt agreed that the idea showed promise, but he said it still needed a sharper edge. He told me to check out my competition. Were there other blogs focused on road trips? Was there an underserved niche in that market that I might be able to fill? He also advised me to network with other road trip sites, offer to "guest post," anything to get my name out there in the road trip arena.
The first thing I found was a road trip planning site called RoadTrip America; it took less than a minute to determine that these people were kindred souls, and the site had a very active user forum. That couldn't have been more perfect; I posted some stuff on the forum that immediately caught the attention of the site's owner, who struck up a private conversation with me over email. He liked my style, and offered me an opportunity to write some articles for his site on a freelance basis; short pieces about roadside attractions on the Alaska Highway.  That went quite well! I was actually getting paid, and with each article, I got to include a link to my blog. Suddenly, I was getting referral traffic on my site, which is one of the best, fastest ways to raise your SEO score. That led to more traffic from the search engines, and a rising tide of visitors to my site from all over the world! I was feeling pretty smug about that, but then came the real bombshell: my new friend, the owner of RoadTrip America, was in the process of launching a book publishing business, Imbrifex Books (Latin for "rainmaker"). Did I have a book in me? You bet I did! I had a brainstorm of an idea for a book about road trips in the southwest, "Scenic Side Trips" that started at an exit off the Interstate Highways, led travelers through the countryside on beautiful backroads, and then brought them back to the Interstate at the end.
The publisher asked for a detailed proposal. I gave him a good one. The next thing I knew, I had a contract, a generous advance for expenses, and a book to write! I worked with a wonderful editor, a brilliant graphic designer, a talented map artist, and the world's most supportive publisher; I drove 11,000 miles, took 7,000 photographs, did an enormous amount of research, and after about 18 months, start to finish, I gave birth to a seriously beautiful book!
What has been the most challenging part about making/launching your book?
Holding down the word count! My book covers a vast territory with hundreds of points of interest and thousands of years of fascinating history. I created the format for this book, and I created the routes. All the decisions about what to include and what to leave out were mine, but there was a practical upward limit to the length of each chapter, and to the overall length of the finished book. Each chapter, each side trip, was like a separate project, with a new set of challenges. My first drafts were invariably too long, sometimes almost double my nominal limit, so a LOT of stuff that I'd worked hard on, stuff that I liked, had to be cut. It was a standing joke with my editor; we could have filled a companion volume with my outtakes!
How did you decide on the marketing plan/promo tour? What marketing tips can you share with us?
I was extremely fortunate to have a publisher who was willing and able to handle the bulk of the promotion for me, not just with his own contacts and expertise, but with a hired team of east coast publicists who put together a very aggressive marketing plan. The publisher and I decided which cities to include on my tour, and which venues in those cities might be best for a book signing. The events were set up several months in advance, and the publicists sent out a blizzard of promotional packets that included that schedule, along with information about me and my book, to virtually every "short lead" magazine, newspaper, and media outlet in the region, offering review copies of the book and the opportunity to interview me for feature stories, targeting publication dates that bracket my book events, for maximum exposure in each market. At a book signing, you'll always sell a few books. If you get a little media buzz going around that book signing, good odds you'll sell a LOT of books! They've also sent packets to nearly every "long lead" publication in the travel industry, those being the national magazines that plan their issues months in advance. The publicity firm we're using is very well known and has significant credibility, so the response has been fantastic! Reviews are already starting to appear, and, so far, they've been overwhelmingly positive. Earlier this week I was interviewed over the phone by a radio station in Dallas, and more interviews like that are in the works, including NPR affiliates, and one or more of the locally produced morning shows on Phoenix metro TV stations. All of that, and the book, which is my first, hasn't even been released yet!
It would certainly be possible for a writer to send out promo materials such as this on their own, but unsolicited queries from unknown authors tend to go into what's called a "slush pile," meaning they might get to it, eventually, but there are no guarantees that it will even be opened, much less seriously considered queries from a trusted source, like a publicist or an agent, are pretty much always reviewed, and much more quickly; it's a bit like jumping straight to the front of the line. Independent authors, even those with self-published books, can hire publicists, just as we did; you just need to be aware that the only true guarantee is the expense, which is significant. If you believe in your work, really believe in it, and you have the resources, it might well be worth the investment. Short of lighting your hair on fire and running naked through Times Square, it's tough to get yourself noticed these days, so paying someone to give you a boost is hardly an extravagance. It's after you get noticed; that's when the quality of your work gets to shine.
What tips can you share for someone looking to do something similar?
It takes more than talent to succeed as a writer (or anything else). You have to be in the right place at the right time, and that will never happen if you don't put yourself out there. (Call me a case in point.) Overnight sensations do occur, but that's not the way it usually works; all the rest of us need to be patient, and very, very persistent. No matter how good you think you might be, you can always get better, so never stop honing your craft.
What's one thing you wish you did differently regarding your upcoming book?
I wish I'd given myself more time, especially for the field research. I drove all the roads and loved every minute of it, but there were times when it felt rushed. In retrospect, I wish I'd set a slower pace for myself, and really savored all the amazing scenery! That's good advice for life in general: it's a marathon, not a sprint, so slow your roll, and get the most out of every mile.
Do you have any other projects you'd like to start, once you're done with the upcoming promo tour?
The publisher liked my "Scenic Side Trip" concept so well that he's planning a whole series of travel books based on the format I created. Let's just say I've got my foot in the door. I'm in an enviable position, in the sense that I'm doing what I do, purely for the joy of doing it; there's no urgency, it's all choice. In just two more years, I'll be turning 70. I'd like to think I don't look it, but there are times when I most definitely feel it, so I know there's going to come a point when I'll have to slow down. I plan to keep hard at it until then–or until it stops being fun, whichever happens first. That's when I'll kick back and write my memoirs; I've had an interesting life up to now, and with any luck at all, the best is yet to come!
Where can we find you online/on social media?
My own website is at rcquinn.com, but I'm still involved with Roadtripamerica.com. I have a new blog in support of the book at arizona-newmexico.scenicsidetrips.com.