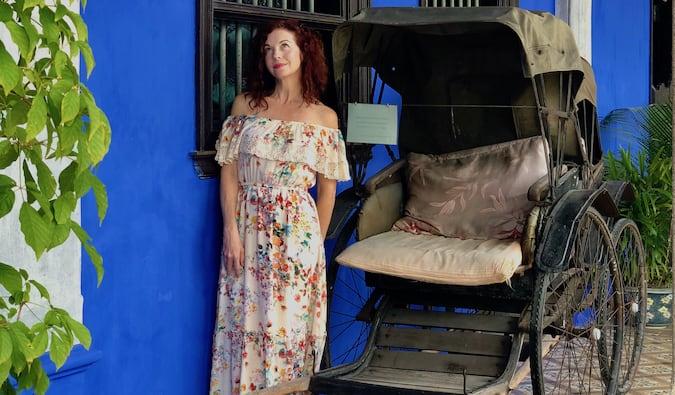 In this community interview, we sit down with bigger and expat Kirsten from Sand in my Curls. She shares her blogging journey and tips in this wee'ks conversation!
Hey Kisten! Tell us about yourself!
I'm from Chicago, but I've been living in Penang, Malaysia, since 2013.
I grew up in the suburbs of Chicago. I had a wonderful, safe upbringing. But when I looked around, everyone looked like me, and I knew there was more out there.
As soon as I could take the train into the city, I would spend most of my waking hours downtown. Just watching the diversity. Listening to people speaking other languages. Smelling the ethnic foods that couldn't be found in my town.
After college, I knew I didn't want the 9-5. I wanted to travel, have friends in every port, envelop myself in something different.
When did you start traveling?
After college, in 1995, I was determined not to live the normal lifestyle. At that time, most people got out of college and went straight to work. I was having none of that.
So, for 6 months, I volunteered at two archeological digs in France and Greece. I bought a one-way ticket and made no plans after the digs. I was going to travel wherever the wind blew me. And I was happily going solo.
Six months turned into 3.5 years.
I spent a year in London, four months in Brazil, and two years in Cape Town. But after all that time away, I felt the need to settle down and get a real job—silly me.
After settling down in Chicago for many years, my husband and I decided it was time to start a whole new adventure. So, we sold it all, including our home and our businesses, and moved to Penang. We needed to rewire our lives and get off the American hamster wheel and wanted to do it in another country.
Moving away from family and closing that chapter was one of the hardest decisions we've ever made, but also the most rewarding.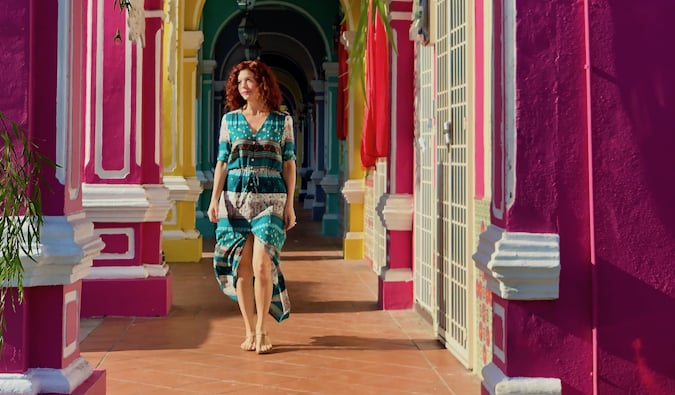 What tips do you have for travelers and bloggers considering expat life somewhere abroad?
Just go. Don't wait for the perfect time. There isn't one. Ever. If you aren't sure, dip your toes in the expat water by starting off somewhere for 3 months. If you love it, you can stay longer. If not, you can go elsewhere. It's not the total commitment of moving to another country, it's slow travel to see if you'd like to live there.
Remember that no place is perfect, and there are always pros and cons with each location.
We sold our businesses before we moved to Penang, and it is one of the biggest regrets we have. Reinventing yourself is complicated and even more challenging in a new country. If you don't have to start all over in life and in business, go that route. I suggest keeping your job and working remotely if at all possible. If you are earning dollars, your money will go a lot farther in most places. Plus, then you don't have to worry about finding work or starting over.
How have you found life in Penang? Any tips for would-be visitors?
Penang life is just what the doctor ordered when I was trying to leave Chicago's rat-race behind. And 7 years later, it still is. It's a cosmopolitan island with loads of rich history and street food to die for. Nobody leaves here without putting on a few pounds. Plus, all the UNESCO heritage sites, temples, and cafes keep everyone busy.
For visitors, I'd say to find a place in George Town (the island's heritage-rich capital) and stay there. Wander the streets, get lost in the back alleyways. There is something extraordinary around every nook. It's very multicultural – there are mosques, Hindu temples, churches, and Buddhist temples all within a few blocks of each other. Explore them all.
However, if you want a beach holiday, don't come to Penang. Go to Langkawi, Perhentian, or Tioman for that.
What's the first trip you're going to take once COVID is over?
Back to America. I miss my mom – it's been 2 years since I've seen her. We are planning to travel to the US. Visit friends and family on both coasts and Chicago. If everything goes as planned, we'll spend a few months in Mexico after the US.
What have been some of your favorite places or activities so far?
I'm a sucker for wildlife. And will travel for monkeys. So, my stand-out travel experiences were:
Trekking mountain gorillas in the Bwindi Impenetrable Forest in Uganda.
Playing with baby chimps in Ngamba Island, Uganda
Swimming with whale sharks in Holbox Island, Mexico.
Playing with baby lions and tickling rhinos in southern Africa.
Watching proboscis monkeys in the wild in Borneo.
There are loads more on my reverse bucket list post, but those are my all-time faves… so far.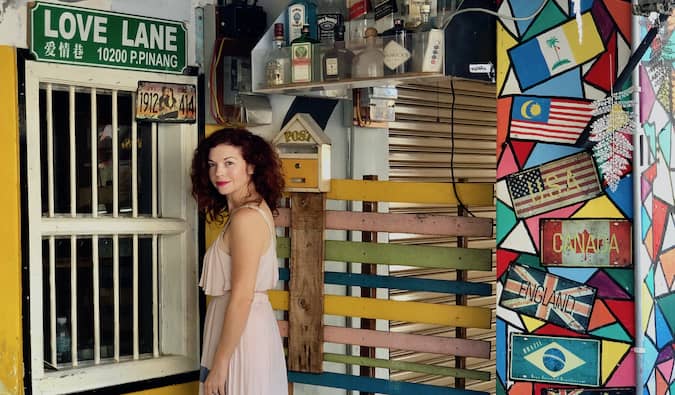 Have you had any misadventures?
I've been bitten on the foot by some sort of bitey-insect in four different countries. Not in the jungles or forests where you'd expect those kinds of nasty creepy crawlies. But in places like the Royal Palace in Phnom Penh, in the middle of Davao, Philippines, and on the beach in Costa Rica.
Not just any insect but poison-spitting egg-laying a**holes that have landed me in the local clinics in all four countries. It's such a part of my travels that I now bring my own lancing kit to cut open the blister and clean out the poison/eggs and save myself a trip to the doc.
Not sure this is a real misadventure, but it certainly adds flavor to my travels.
What are 3 life-changing lessons travel has taught you?
1. The American way is not the only way, nor is the right way. Before I traveled, I assumed the world did things like we did. It was naïve. I was naïve. But when you travel, you realize it's not only one way. Expat life and living in Malaysia has made me realize that some of the rules in the US are too stringent.
2. People are kinder than we assume. Maybe coming from Chicago, I have my guard up. Still, sometimes I don't automatically believe in the goodness of people or the kindness of strangers. But travel has proven me wrong time and time again. There is a big world full of lovely people out there.
3. Not everyone hates Americans. When I was young, many Americans pretended to be Canadians. We assumed everyone hated us. Truth is, they only hate the ugly Americans. But so do I. After traveling so much, I've learned that people are so curious. They want to know what makes us tick, just like we want to know what makes them tick.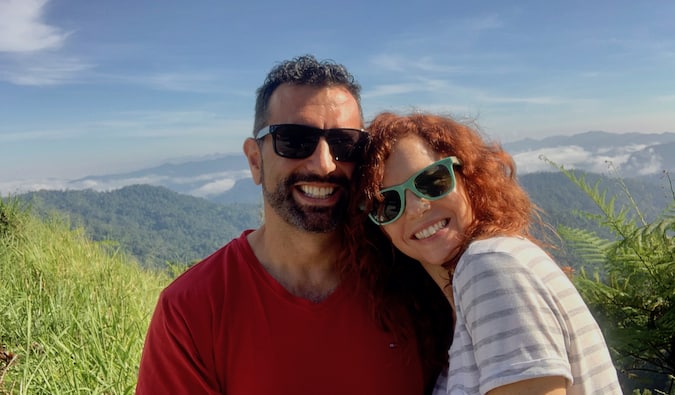 What countries/activities are still on your bucket list?
It's a very long list, but here are some of my latest bucket list items.
Stay in a riad in Morocco.
Go to Turkey and hang glide over the Pamukkalehot springs.
See lemurs in Madagascar.
Travel the Japanese countryside staying in ryokans.
Go rum tasting in Cuba.
Go on a Tiger Safari in India.
Go to a Dia de los Muertos celebration in Mexico.
Do you have any favorite travel books/movies/TV shows?
I was a huge Anthony Bordain fan (who wasn't?), so I loved all his shows. I don't read many traditional travel books, but I read a lot of historical fiction that centers around different countries.
I love Gift of Rain by Tan Twan Eng. It takes place in Penang during the Japanese occupation, and his writing is beyond.
I also love Poisonwood Bible by Barbara Kingsolver about missionaries in Africa.
Now, tell us about your blog!
Sand in My Curls is the blog that I started in 2015. I didn't get serious about it until mid-2019, and I've been consistently blogging since.
Honestly, I don't have a good reason why I started it. I just thought it would be fun to do and didn't put too much emphasis on it. But when I started being more consistent and looking at it as a business (thanks, SBB), I decided to work on the business side rather than just blogging for fun. It's definitely been a learning curve.
Initially, I wanted it to be a travel blog, but it's evolved into an expat lifestyle blog with Malaysia travel as a focus. There are so many reasons to visit Malaysia, but it's often overlooked by travelers. I'm here to brag about my adopted home.
I love writing about the truths and realities of expat life – the good, the bad, and the ugly.
I've learned so much from living in multiple countries. I think it is essential to share that with others who are thinking about moving overseas.
What is one thing that has surprised you since you started blogging?
I had no clue how much work it would be or how many hats I'd have to wear. I've sold million-dollar homes and owned a fashion wholesale agency, and neither career was a much work as blogging.
As a blogger, I've learned how to be a web designer, a writer, an SEO master, a Pinterest marketer, an affiliate marketer, and a social media manager. And do it all timely because I'm a freelance writer and Pinterest manager, as well. Blogging is my very time-consuming love child.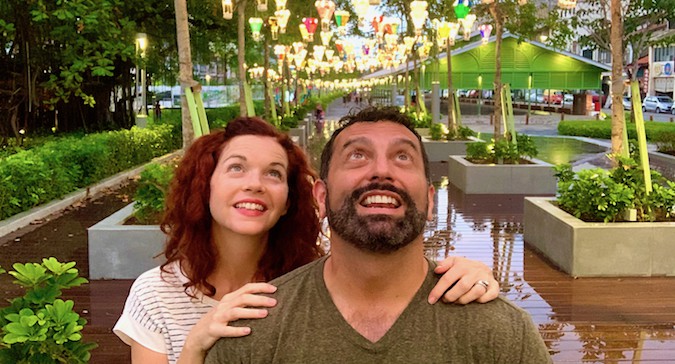 How do you balance blogging and travel? Is it different?
When I was working as a correspondent and traveling for the magazine, I made sure to either split the days into part work and part play or work for a few days and then take an extra few just to chill.
If you are a travel blogger but never see anything because you are working, then what's the point? Might as well stay home and do the research from there.
There needs to be a balance but, it's the hardest thing to achieve sometimes.
What tips do you have for new bloggers just starting out?
Be consistent, even if it's once a month. Never skip a month.
Find a community that can answer your questions and is there to support you. You don't have to reinvent the wheel nor go it alone.
Create a lead magnet from the start so you can collect people's emails asap.
What are your blogging goals for 2021?
Monetize. Monetize. Monetize.
I've been working so hard but haven't really focused on monetizing until this year. And I'm just getting started. Just made my first dollar on Amazon. Literally, it was $1.20!
Start using ads. Ideally, I'd hit Mediavine's requirements, but I'm a ways off.
Get 1,000 emails on my list.
Time for the lightning round!
Plane or train? Plane
Aisle or window seat? Window
Beach or mountains? Beach (with a side of mountains – I hate to discriminate!)
Chill cafe or adrenaline activities? Adrenaline activities first, then cocktails after.
Where can we find you online & on social media?
My blog is Sand in My Curls and you can also find me on Facebook and Instagram