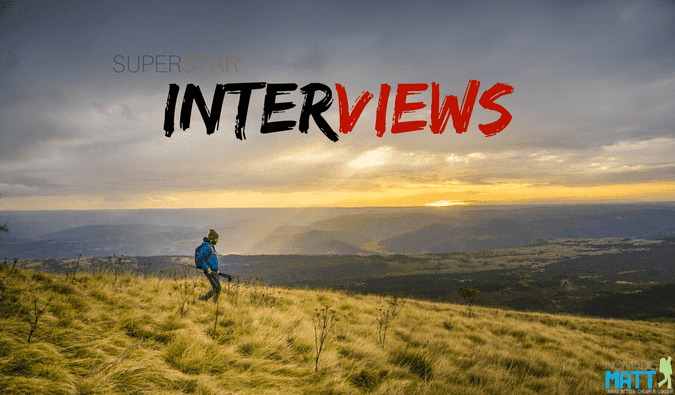 This week's Superstar Interview is a bit different. After hearing that a member of the Business of Blogging course had successfully been pitching to larger blogs and brands, I wanted to reach out to see if they would share their experience and any tips they might have. Nate, from Travel Lemming, has had some awesome guest post successes, so this week he will be sharing his insight into how YOU can boost your traffic by guest posting!
Hey Nate! Let's start with a quick introduction – tell us about yourself!
I'm an American attorney from Denver, Colorado who, like many here in Superstar Blogging, took a career break to travel the world and kind of got lost up in it. In addition to traveling, I love running, dancing, and following politics (though less so over the last year…for obvious reasons).
And how did you get started blogging?
I left my home in the USA to travel the world for a year or so last September. I had originally planned to write a book along the way, but kept putting that off. Then when I finally did get started on it I realized I need to first establish some credibility before pitching publishers. So I opted to start building a blog as an entry point.
In May I started writing at TravelLemming.com, where I write about travel to emerging destinations — places like Almaty, Kazakhstan and Myanmar. The idea was to build a social following and an email list that might make me attractive to publishers down the line, as well as to test drive some of the first-person narrative content I intend to include in the book.
Now, you've been successfully pitching guest posts. Tell us about that process!
Well, mostly I just vociferously followed the suggestions made in the course. I started researching blogs that accept guest posts. Unfortunately, it's a moving target and most lists on the internet seem outdated, so I keep a running spreadsheet for my own use. I then spent a bunch of energy creating content to pitch. While I've certainly been rejected quite a bit, lately I've been managing to get about half my pitches accepted.
The two biggest pieces so far were a photo diary of Chernobyl I had published over on The Planet D, as well as an interview-format piece at the blog Million Mile Secrets. I've got another list-style piece awaiting publishing at another even larger site, and this one will even be financially compensated in addition to linking back to me.
As it says in the course that you have to pitch your very best content as guest posts. The day I went to Chernobyl I knew had some photos that would stitch together nicely in a photo piece. I was enormously tempted to just publish it on my own blog. But I took his advice and went about searching for a large site that might be a good fit. The Planet D had a ton of articles on Kiev, but didn't have anything about Chernobyl (one of the largest attractions for Kiev visitors). They also have extremely specific guest posting guidelines, which I followed to a T while submitting my post. Along with it I sent a brief explanation of why I though the piece was a good fit for them. Fortunately, they loved it and published the piece fairly quickly.
The Million Mile Secrets post involved a different approach. I'm a longtime reader of that blog, basically since its inception, and I know they regularly feature readers who've used credit card points to do super cool things. I knew the tone of those posts and knew my story would probably make compelling material. So I told them my story and they were kind enough to feature me in a piece along with a few different links to me.
The compensated post I have in the works basically followed the same approach as what I did with The Planet D — I pitched something that should fit in very well with their existing content. I've got a few others in the pipeline that hopefully will be finalized as well soon.
In addition to the bigger sites, I've also gotten some posts on smaller blogs, as well as collaborations with folks from the Nomadic Matt Facebook group, who have all-around been great folks to worth with. It's not all about the big sites, and it's really helpful to work with your peers as well.
Have you used HARO to secure any guest posts/writing opportunities?
I participated in a collab post with Jessie on a Journey through responding to a HARO. I've also had quotes featured in MSN Travel, HuffPost, and US News and World Report through HARO. I was even featured in a short story on The New York Times, though unfortunately they didn't mention my blog (and they misspelled my name!).
What tips do you have for helping other bloggers when it comes to finding guest posts?
While I know some people have luck just pitching concepts, as a new and unproven writer I've found that what really helps is pitching a full complete post. It's arduous, for sure, but the blogger can see exactly what they are getting and I think this ups the success rate quite a lot. You can always take the post elsewhere or publish it yourself, so the work won't be lost if you get turned down.
I also think that a lot of people take a "throw anything against the wall" approach, blasting out pitches to a ton of different blogs in the hopes that something will stick. I 100% understand the appeal because it can be so frustrating to get repeatedly ignored. But I've found that it's better to really take the time to craft a targeted post personalized for the specific blog you are pitching. If you don't get the tone of their site right, or don't have a compelling case for how your post would fit in with the existing content on their site, it's easy to get ignored.
Lastly, I think it's important to make a quick, concise pitch about why the guest post is likely to perform well for them. Explain concretely how your post is positioned to do well on social media or SEO, or lay out a marketing strategy that you think could be useful in helping the post get traction. Bottom line: show them that you will add value to their site. That is why they will ultimately say yes.
What sort of impact has writing guest posts had on your blog?
Guest posts definitely do give a bump in traffic. Most of it is ephemeral, and the traffic subsides within a couple days. Hopefully there will be some residual traffic once the posts rank, but at the moment it hasn't been enormous. I definitely wouldn't do guest posts just for the traffic.
But, thankfully, traffic is not the only benefit!
The backlinks I've gotten have been enormously useful from an SEO perspective. I'm still a very new site in Google's eyes, so don't receive a ton of search traffic yet. But, after three months of nothing, I am finally starting to see it come in. My hope is that will only continue to grow.
The other major benefit is credibility for getting future guest posts. I think having that first big piece out there is really useful to help provide a proof point for future pitches. New bloggers come and go, and larger bloggers know that, so it's really helpful to start to establish yourself as someone who is worth their attention.
Can you share an example of a successful pitch?
Below is a pitch I made that resulted in this article on The Planet D: https://theplanetd.com/chernobyl-pictures/. As of the time I'm writing this, the post has indeed broken onto the front page for the keyword I mention, which is great since it means I'm starting to see some residual traffic through that.
Deb and Dave, 
I'm an American long-term traveler who writes at my fledgling blog TravelLemming.com. 
I adore your site and I'd love to be featured as a guest poster. I think I have a pitch would fit well within The Planet D and also has some decent traffic potential: A photo diary inside Chernobyl today. 
It seems like this would be a good addition to your existing Ukraine posts, and offer a chance for you to do some more deep-linking to those. 
My keyword research shows that "Chernobyl pictures" get a fair amount of traffic (5k+ monthly in the US alone). Although the top three hits are from high domain rated news sites, I think with your DR you could break into the top 10 for this or a number of related keywords. 
Besides SEO, other photo diaries of Chernobyl have done well on social media and I think what I've drafted has the potential to get some traction there. 
Below my signature and attached as a Word doc is a full draft in HTML format. I've also shared you on a Drop Box with the proposed pictures. I've tried to follow your guidelines to a T and make it easy for you to plug-and-play, but if you need anything else or a different format, don't hesitate to ask. 
Please do let me know if you are uninterested, as I'll take this elsewhere if so. 
Thank you, 
Nate 
PS – For the Pinterest photo, I've included the iconic Ferris wheel of Pripyat. But for greater impact, you could use the photo of the doll – it will definitely stand out on Pinterest, but you might find it a little too creepy 🙂 
How do you decide what to pitch and what to keep for your own blog?
I think that, at least when you are starting out, your best bet to get a guest post on a much larger blog is to pitch your very best content. For example, over the summer I wrote up a post about exciting new budget travel destinations and just intuitively felt like it was one of my better pieces. I wanted to share it with my audience immediately but decided to try pitching it instead. I'm glad I did because I got it accepted by one of the larger sites out there, and am waiting for it to publish soon. It's hard to part with your best content, and it can be frustrating to have to wait in a guest post queue. But as a relatively new blogger the main thing I have to offer is just the content itself — so above all else, you have to make sure it's great!
The other thing I'm currently trying to experiment with is pitching outside of just travel blogs. For example, I happen to be an attorney. I don't write my own blog from that perspective because that's not my target audience. But I can credibly write interesting content from the lawyer-specific perspective, and there are plenty of high-volume legal blogs out there. So I'm working on pitching those blogs with content tailored to their audience from the unique perspective of an attorney who has left his job and traveled the world. In that case, it's not content I would necessarily post on my own site, but I can leverage other aspects of my personal experience to create content that might be a good fit elsewhere.
Where can we find you online and on social media?
In addition to my blog, you can also find me on Facebook, Instagram, and Twitter.