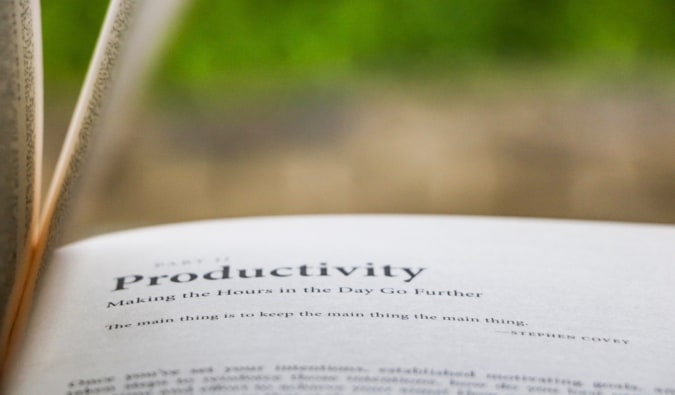 Time: it's our most valuable resource. Yet more often than not, we waste it. Mindlessly surfing the web, thumbing through Instagram as we half-ignore the person we're talking with, habitually checking our phone for updates every five minutes.
We all do it.
Myself included.
While social media and technology have their place, they shouldn't be the driving factors of how we spend our time. Yet all too often they are.
If you're struggling with time management, productivity, or bad habits, I want to share some books that I've found helpful over the years.
While I still have my fair share of bad habits, I've used the tools and tactics in these books to drastically increase my productivity and improve my time management. These books have offered me freedom — and they can do the same for you!
While we've talked about productivity before, there is always room for improvement and there are always new things to learn. These books will help you understand how to make your life run more efficiently and give you the skills to master your schedule and kick bad habits to the curb.
Here are my seven must-read books for anyone looking to break bad habits and level up their productivity:

This book is often cited as the reason many people started working remotely and embracing the unconventional lifestyle of working online. Even a decade after being published, it's just as relevant for anyone looking to escape the 9-to-5 and live life on their own terms. If you're planning to start your own business but want to make sure you maximize your time and freedom in the process, this is the book you'll want to read first.




This is undoubtedly one of the most famous books in the world — and for good reason. If you haven't read it, you should. Reading it was eye-opening and shed light on how I could create a better lifestyle. It does a great job at articulating the small things I often forget to do, and illuminating the process of self-improvement. Planning out your week, sleeping more, being proactive in life, creating win-win situations — there are tons of concrete, actionable tips in that make this book worth its weight in gold. Even if you learn just one new productivity or self-improvement tip to better organize your life in this chaotic world, it will be worth it.


Cal Newport is one of the world's leading experts on productivity. His book explores the vital importance of focused, uninterrupted work, and how embracing it is the only way we can get ahead. In a world of constant distractions, focus is the new currency.
I found this to be one of the best books on productivity out there. It's simple and makes a clear case against the dangers of distraction and multitasking. If you struggle with procrastination and staying on task, this book is a must-read.


Why do we do what we do? That's the central question of this book. Are we hard-wired to repeat bad habits? How do we break them and replace them with good ones? This best-selling book will show you how. It not only highlights how we form habits but provides specific strategies for breaking bad ones and kick-starting good ones. It really made me think about the negative habits in my life and helped me take active steps to change them. Thanks to this book, I started sleeping at a more regular time, reading more books, drinking less alcohol, and being more productive. I really can't recommend it enough.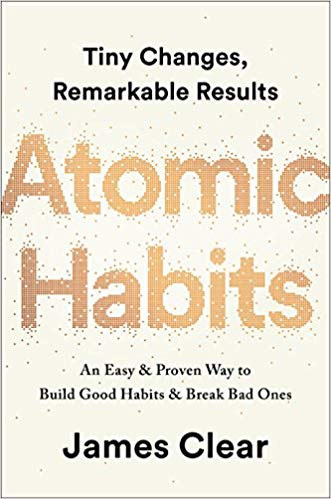 This book offers readers a reliable framework for daily self-improvement. Much like The Power of Habit, it discusses how habits are formed and outlines concrete, actionable strategies for replacing bad habits with better ones. Clear talks a lot about the systems we use to break habits, offering clear (pun intended!) direction to anyone struggling to overcome them. If you've tried unsuccessfully to kick a bad habit, this book will be able to help you try again — and succeed!




This is the newest book by Cal Newport, and it focuses on how we can embrace a life with less digital influence. Social media and mindless web surfing devour countless hours of our valuable time every week. And we're all guilty of that — even me!
Cal outlines a convincing case for embracing a life less reliant on social media and mindless technological use. He provides some startling research and helpful strategies to live a life with more freedom from technology. If you're wasting hours and hours on Facebook and Instagram each week, this is the book for you!


This book talks a lot about the systems hospitals and doctors use to reduce medical errors — which might not seem applicable to travel blogging. However, there is a lot one can extrapolate from it. No matter what you're working on, there's power in mastering checklists. They ensure that nothing is missed and help you verify the work that has been done.
Reading this book changed how I view the importance of procedures and how this website operates (my team now has procedure documents for everything we do, in order to keep us all on the same page). But more than that, it gave me the idea to create lists and structures in my personal life — which was just as helpful.

***
While none of these books will single-handedly solve all your time management and productivity issues, they will arm you with the tools you need to improve.
But success won't happen overnight.
Like everything in this industry, it takes time. It takes effort. This is a marathon, not a sprint.
But by embracing the tactics and strategies in these books, you'll be able to take back your life, increase your productivity, and have more time for the things in life you enjoy.
And to me, that's a priceless investment.
For more books on productivity, leadership, entrepreneurship, marketing, and more, check out my Recommended Reading list!