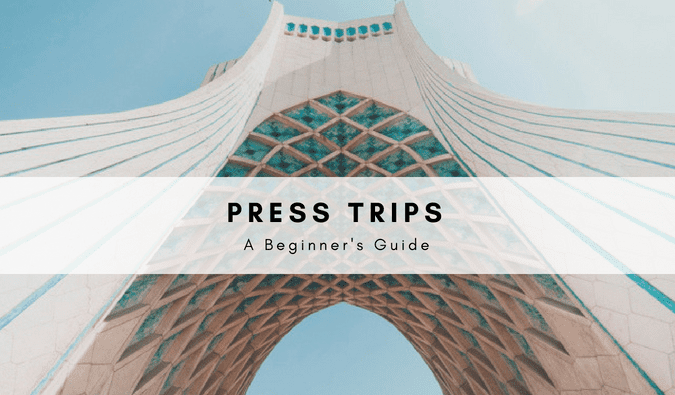 Press trips are one of the many ways a blogger can connect with brands and DMOs, get free trips, and even make money. But it's not as easy as it looks. In this Superstar guest post, Joan from Against the Compass shares his tips and lessons learned from his first press trip.
A few weeks ago, I did my first professional press trip with a tour operator based in Iran. For 8 days, this company showed me around and paid me a salary for social media posts, articles, and some drone footage. Whereas this may seem like an awesome deal, the truth is that it was far from ideal as I made a lot of mistakes.
Based on this experience, I have put together this mini-guide which analyzes the pros and cons of going on a paid press trip.
Now, one of the questions many beginner travel bloggers ponder is:
When should I start pitching travel agencies and tourism boards to work with? How do I know if I am ready?
To be honest, there is no numerical answer to this — it depends on a lot of things. It could be when you think you have a decent amount of traffic or a certain number followers on a social network, for example. Personally, the day I decided to pitch agencies was the day I reached 60,000 monthly views and had already been featured in a couple of relevant media outlets. In short, I felt I had a good story to tell. However, you can try to pitch a company with much less traffic than that if you feel that you're ready and have something to offer.
Some people don't have a huge number of visitors but they have a great following on Instagram for example. I know quite a few bloggers who have much less traffic and social followers than me, yet, I always see them going on awesome press trips.
Whatever you think you are good at, remember that it doesn't necessarily need to be a very remarkable thing but just something that may differentiate you from the others (like a very targeted audience, for example).
How to Find Companies to Work With
There are several ways to pitch and contact different tour operators or tourism boards. The most obvious one would be sending them a cold email but, to be very honest, since you probably don't have any past working experience to share it would be more difficult to convince them to work with you (unless you have an awesome, relevant that will stand out).
Therefore, I strongly believe that for first timers, the best way is to attend to a travel conference where there are hundreds of companies attending, many of them with a potential interest in you and your audience. You can usually book meetings with brands and companies at these events, which is a great way to introduce yourself and your brand. Before sending a request to meet with them, do some research about the company. Then, if you think it is a good fit you can send them the email.
Just make sure you contact the right people.
Since I didn't really look at who I sent meeting requests to, one of the first mistakes I made was setting up meetings with the wrong people, as I contacted micro-agencies with very tiny budgets. For example, I remember meeting one person who had a small trekking agency of 2 or 3 employees in Pakistan and who said, "Come to Pakistan and I will take you on a 5-day trek, for free."
Sure, if I travel to Pakistan, I might contact him, but I didn't come all the way to the conference and spend so much money to just to get this type of deal.
Instead, you should contact tourism boards or tour operators. Tourism boards are ideal, as they tend to be governmental organizations who don't really care about sales but awareness of the destination. This is particularly useful because your posts will not be as commercial, as you are not promoting any specific company.
After tourism boards, big tour operators should be your second option, as they are the ones who can afford your flight ticket, your accommodation, and pay you. But don't be in a rush to go on a press trip. It is better to refuse jobs than to pick the wrong operator and lose credibility among your audience. Remember that brand equity is key. Be very picky and pitch an agency that fits your niche!
How to Convince the Agency You are the Best Option to Work With
Once you have set up all the meetings, it's time to work on what are you going to say. For this, you can build a PowerPoint presentation which communicates your message strongly.
The first thing you need to ask yourself: What am I good at?
This will be strongly related to the reason why you felt confident enough to pitch a company in the first place, so this is the time to materialize your strength in a presentation. You need to summarize your message very well, telling that person that your strength would be enough reason for them to work with you.
Are you the only blogger who has written thoroughly about that destination?
Is your audience coming from a country which is extremely interested in that destination?
Have you ever been featured in a famous media outlet?
As you can see, besides traffic and social following, there could be many other considerations.
In my case, the main slide of my presentation was a graph that showed my traffic evolution during my first and last 14 months of blogging, where I went from 0 to 60,000 monthly views. My core message was that, despite being a young blog, I managed to get all this traffic, thanks to a good SEO strategy (mostly coming from Google) and a very targeted audience, as all my content focuses on travel off the beaten track, which is what my readers are looking for. You can download my presentation here.
Moreover, in order for them to believe me, I also showed them live results. For example, during a meeting with a tour operator from Turkmenistan, I showed them that I rank very high with competitive words such as traveling Kyrgyzstan and backpacking Kyrgyzstan. Basically, I convinced them that I could achieve the same results with 'traveling Turkmenistan' and, thanks to this, I am currently in the negotiation process with them.
In short, you want to make it clear what you're offering. Telling them how good you are won't be good enough to close a deal. They want to hear your proposal, which can include, vaguely, specific promotions that you have in mind. Tell them the specific materials you can deliver, like SEO-friendly articles, drone footage, etc.
When the Time to Negotiate Comes
To be honest, I really suck when it comes to negotiation but this means that, at least, I can tell you what not to do. For me, since this was my first time I was afraid that they would not accept my offer; I was very naive and offered them much more than I should have. So, instead of offering a price for each asset you deliver (blog post, social media posts, etc.) you should set a price "per day traveled."
I think that some bloggers might disagree with that but I think that you should charge per day spent traveling and then say that, if they want any extra material, you will charge extra for it.
How much should you charge? After talking to many bloggers, I considered that my starting price should be €100 per day, which is the minimum acceptable for a beginner and first-timer blogger. If you charge less than that, you are depreciating the market and underestimating the work of a blogger, according to many other bloggers.
Here, the mistake I made was that, since I wanted them to know why I charged such amount, I gave them the price per asset delivered, which in the end was the exact same price but I just wanted to give more clarity. The problem I had was that sometimes they were extremely disorganized, so I had to stay with them for 2 extra days because they had a problem with finding a guide. Because I charged them for asset delivered, I couldn't ask them for more money. If I had charged per day, I am sure they would have been more organized and, if not, I would have gotten €200 extra!
Additionally, don't offer to do more than you should! Straight away, I said that I would translate all the articles into Spanish and they could use my photos and videos with their own copyright. In addition, I promised to do two different drone movies and an Iran visa guide, mentioning them as the top tour operators to help sort you out the visa. After the press trip, I spent 7 days working like hell, so if I count the money I earned per hour, which included 8+2 days with them plus 7 days of stressful work, it was not that worth it.
Also, have everything written, down to the very last detail When I told them that they could take all my images with their own copyright, I committed the mistake of not specifying the exact number. What I had in mind was to give send them, in high-resolution, the 4 or 5 images that would accompany each article.
It was not enough for them.
When I sent the first wave, they asked why I had only sent 5 photos, when they saw me taking hundreds. Well, editing a photo properly takes me 10 or 15 minutes plus I just select the best ones. Most agencies will not understand how this works. They think that you take photos, put them in a folder and send it but they are not aware that there is a tedious process behind it. They didn't like it but they just had to agree in the end.
Don't underestimate your work, as a blogger. Even if they ask you for an extra post on social media, arguing that it doesn't mean any extra work for you, remind them how many months and years took you to earn this following, so it is not about the amount of work, but about the value of it.
Final Thoughts
So, was it worth it or not?
It was OK for the experience but, seriously, this is not what I want to do for the rest of my life. First of all, it is not that enjoyable, as basically, you are kind of their traveling servant. You have to go where they want, eat what they tell you and it's just extremely tiring. They made me wake up at 4am on two occasions and the post-press trip work was too much.
Moreover, when you are on a press trip, you cannot do anything else, meaning that you cannot work on something else, like growing your blog. A brand campaign won't really help on your SEO or increasing your traffic. This press trip meant 17 days of really hard work for me, a time I could have spent writing several guest posts and working on my newsletter.
It was all right but I am very clear that, from now on, I will just do press trips with companies offering trips which both I and my audience will truly love.
Please note that these final thoughts are just a personal opinion and I am just saying that my audience and content doesn't really match with promoting tour companies, unless they are special cases like with the one I worked with. Perhaps, your niche is more prone to this kind of trip and you are going to absolutely love it!
Key Takeaways
Think of what is your top strength and try to build a story around it. Everybody has one top strength!
Only look for those companies that are a real fit to your niche and go on those press trips that your audience will like
Remember that press trips are not as enjoyable as they seem, so don't abuse them and don't make them your main source of income!
To follow along on Joans off-the-beaten-track adventures, be sure to check out his blog!